Installation & User Manual – Woo Additional Product Fields Plugin
Installation & User Manual – Woo Additional Product Fields Plugin
ExportFeed plugins will install easily on any latest version of the WordPress installations. These plugins allow you to list and sell your products on the merchant sites. However, this plugin will help you to add "brand", "UPC", "Shipping cost", and "Notes" to your individual products.
1. Install and Activate Feed ExportFeed Woo Additional Product Fields Plugin
Installation link Video for Installation in the WordPress

Usual Way

Log in to WP Admin Dashboard
Find the Plugins on the left side and click on it.
Click on Add New plugin
Search "ExportFeed – WooCommerce Additional Field Plugin" and Install it.
Click on Activate button after the installation.

OR,

Go to Plugins menu on the WP Admin Dashboard
Click on Add New button
Upload the .zip file that you downloaded.
Within the Plugins menu find ExportFeed plugin.
Click on Install Now and Activate "ExportFeed – WooCommerce Additional Field" Plugin
As this plugin is offered for free by ExportFeed.com you'll not require to enter any license key.
After installing, this plugin will not add any sub-menu in your WordPress admin panel. However, it will add extra fields to allow entering UPC, EAN, Brand, Shipping Rates, and Product Notes. These values you enter will be used by ExportFeed product feed plugin when you create feeds for merchants.
2.  Go to WooCommerce > All Products and Click on Edit link

3. Add the values for each individual products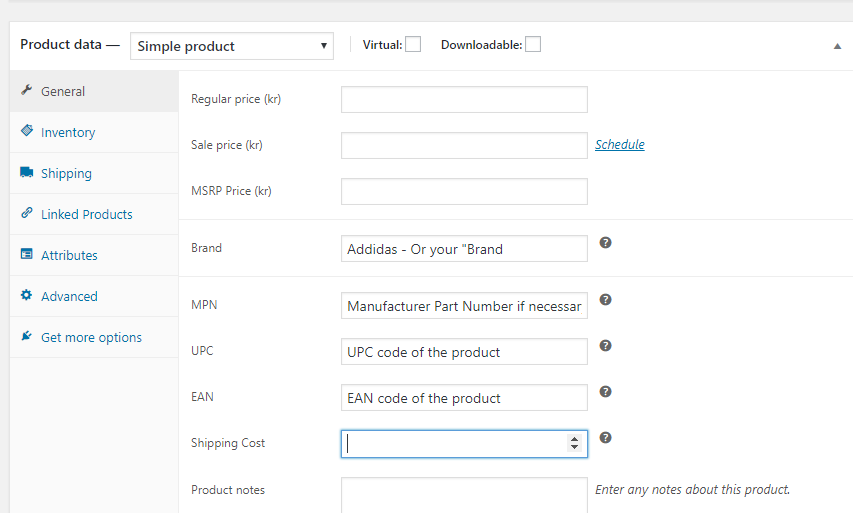 Brand, MPN, UPC, EAN
Provide the Brand value for each of your products. If you are selling on Google Shopping and Amazon, you'll also need to add UPC codes for your individual products. At times, if you have Brand and MPN value in your product feed, you can skip the UPC value.
Shipping Cost
While adding Shipping Costs, please note that it will be added to your product feed if you are using ExportFeed plugins, but they may be disregarded if you have Shipping settings on the marketplaces.
Product Notes
If you add product notes, they will be added to your product feeds and sent to the merchants.
4. Save the values you entered 
After adding the required values, simply click on the Update button on the right side to save the values that you added.
Note: If you want to display the Brand value in the front-end of your eCommerce site to make it visible for your site visitors, please feel free to contact our support for further documentation.
Get plugin that supports creating feeds for 40+ marketplaces
Want to sell on Amazon? Here's the ExportFeed WooCommerce to Amazon Seller Central plugin.
Interested to grow through eBay? Get the ExportFeed WooCommerce to eBay Seller plugin.
Looking to list bulk products on Etsy? Check our ExportFeed WooCommerce to Etsy marketplace plugin.