Shopify to Etsy Products Guide
Shopify to Etsy Connection Configuration & Product Listing Manual
Manufacturers or sellers of handmade products know well about the Etsy marketplace. Etsy also allows you to list your unique or antique products of Shopify shops. If you are selling craft tools, you can also list those on Etsy even if they are not manufactured by you. Few of the top product categories to sell on Etsy are home decors, jewlery, clothing and similar others. If you're looking to sell your Shopify Products on Etsy using ExportFeed's Etsy Integration & Sync, please follow this manual and contact us in case of any confusion.
Go through these simple steps to create feeds and upload in Etsy from your Shopify store.
1. Install ExportFeed App from Shopify App store:  https://apps.shopify.com/etsy-integration-sync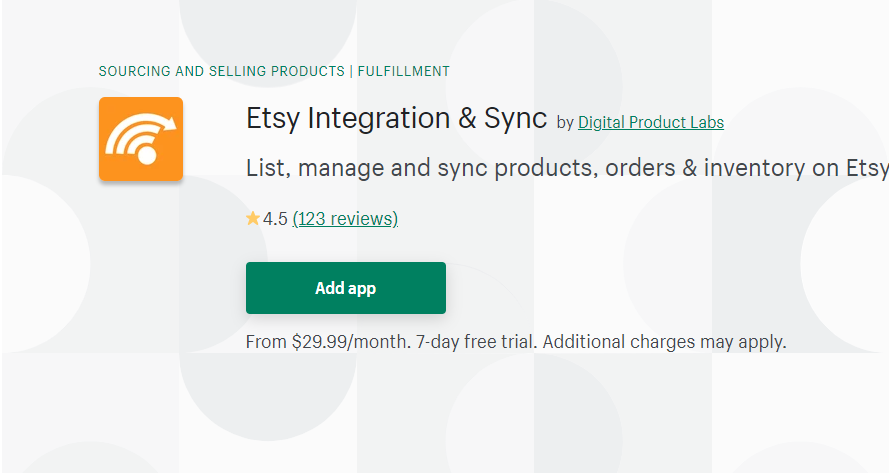 Note: When you install the app, you will be requested for pricing plan approval based on your store's SKU count. Please approve the plan as Shopify will only charge you after the end of 7 Days Trial Period.
2) After you have installed ExportFeed App, your shop will be synced with the ExportFeed cloud service. After that,  go to the sales channel and add Etsy: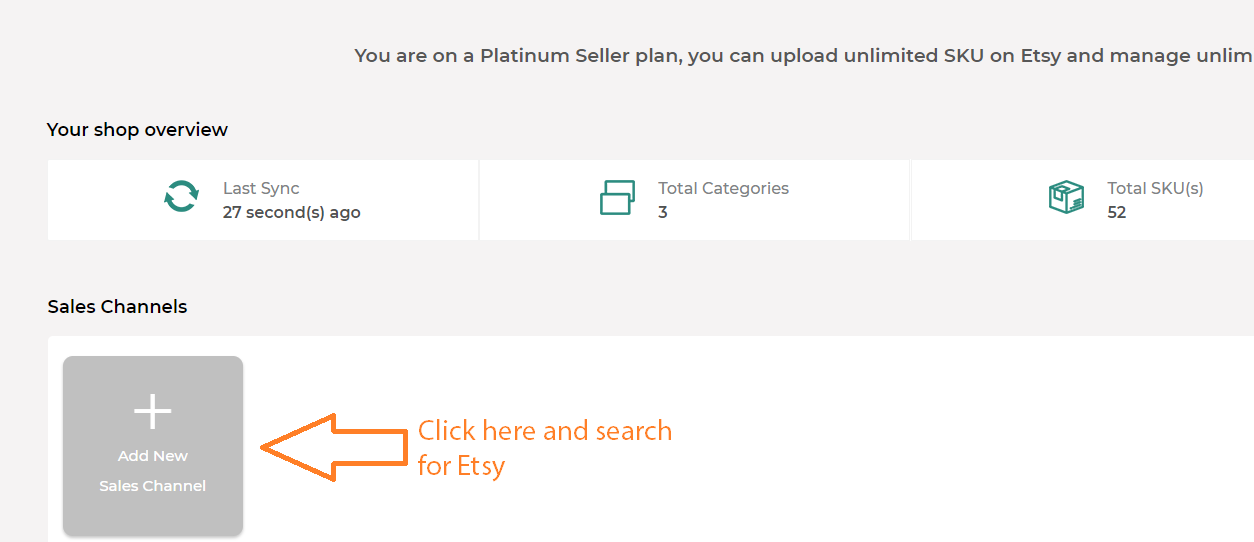 3) Once you add Etsy as a sales channel, you will be asked to choose your preferable sync option including Order and Inventory Sync, Inventory Sync Only and No Order and Inventory Sync

4)The next page will redirect you to login on Etsy Marketplace. If you are not logged in to your Etsy seller account.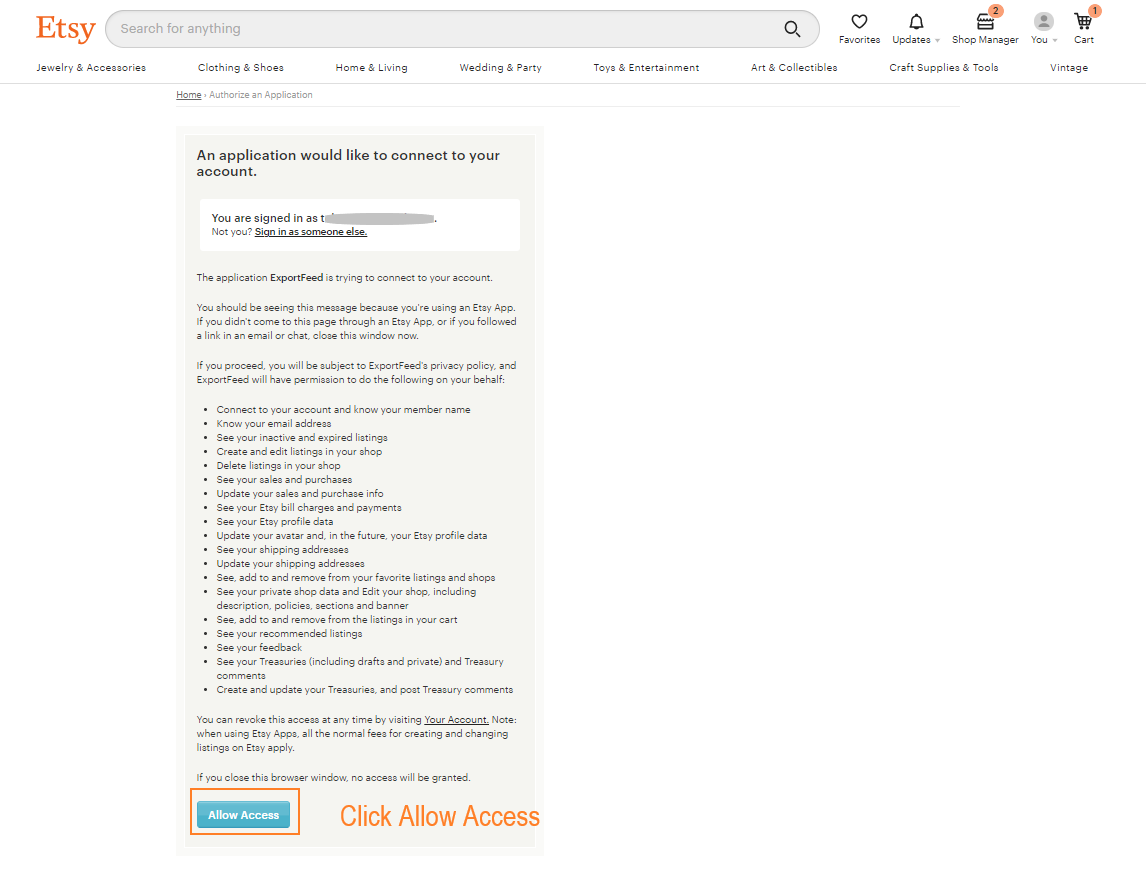 5) After signing in, you will find an Authorization page where you need to click on Allow Access at the bottom of the page. This will create a connection between your ExportFeed account and your Etsy Account.
Shipping Profiles to list products on Etsy

If you had created a Flat Shipping profile on Etsy, establishing connection between ExportFeed app and Etsy Account will allow to fetch that shipping profile. The fetched shipping profile will be displayed and you can choose to use the profile to use as default when listing products.
A Flat Shipping Profile is needed to list your bulk products on Etsy by using Etsy API (which ExportFeed uses) so if you don't have a flat profile, create it on Etsy and Fetch Shipping Profile on ExportFeed or Create a Flat Shipping Profile on ExportFeed and make it default to send bulk products to Etsy.

You can add multiple shipping profiles to your store. However, you will be asked to choose one as the default shipping profile.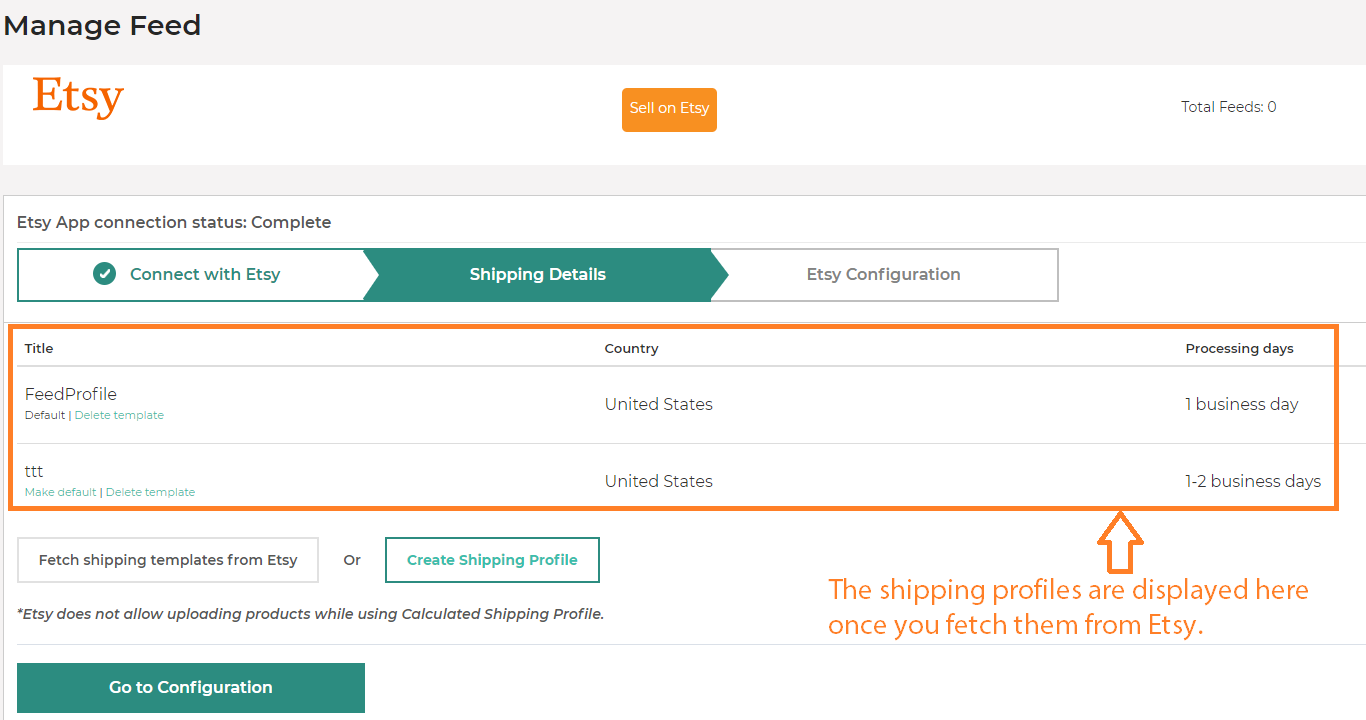 After you create and save your Flat Shipping profile template or Fetch your existing on from Etsy, you only have one more setting to adjust in ExportFeed for a clear listing on Etsy. This settings has default values so, you can also skip checking these. To change the values, click on Details below Sell on Etsy button on the Dashboard. Then provide some information about your product and save it.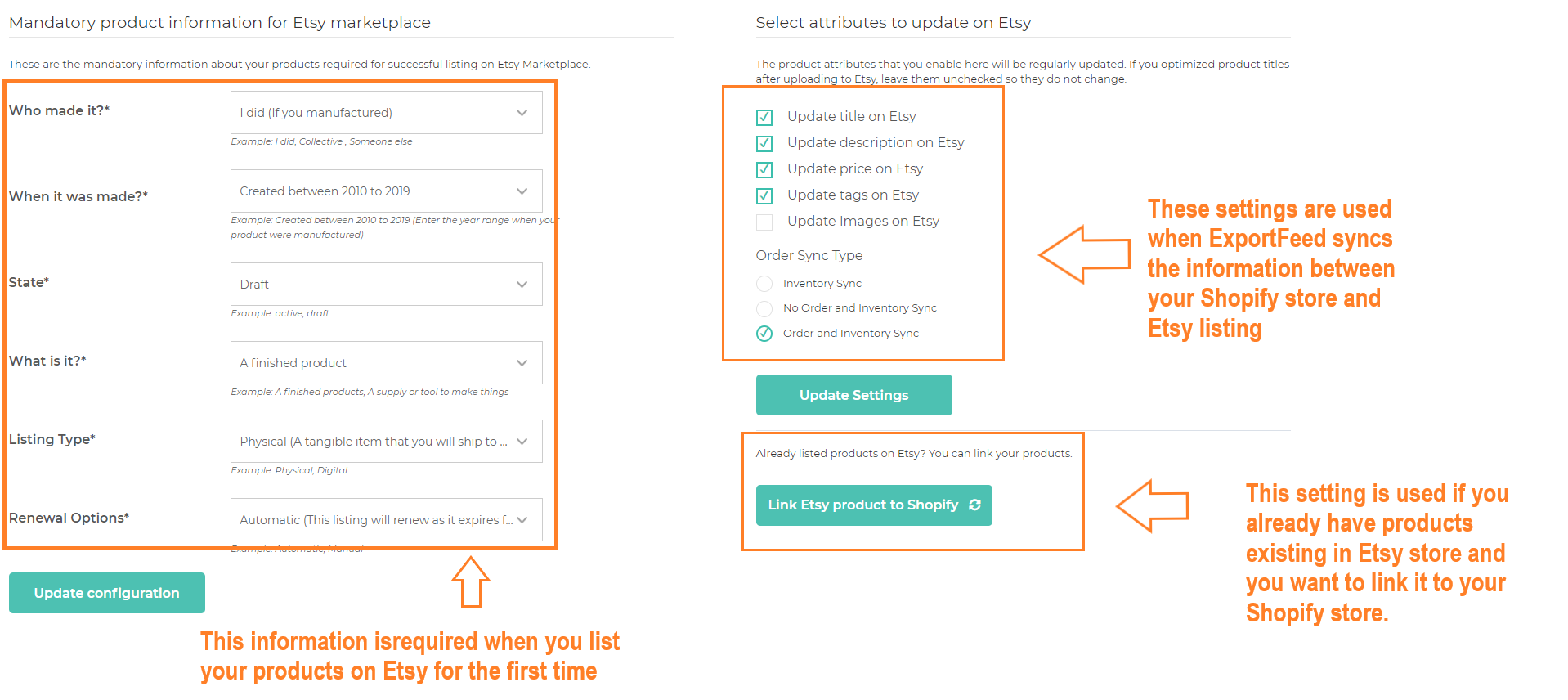 Note: We recommend you to send your products in Draft State so that you can check the draft product listing before making the products live on your Etsy Store.
5) Now you can start with the feed creation process, for that click on Sell on Etsy

6) You will be redirected to the Feed creation process. Select your local category and Etsy category as shown in the figures below and click 'Continue'.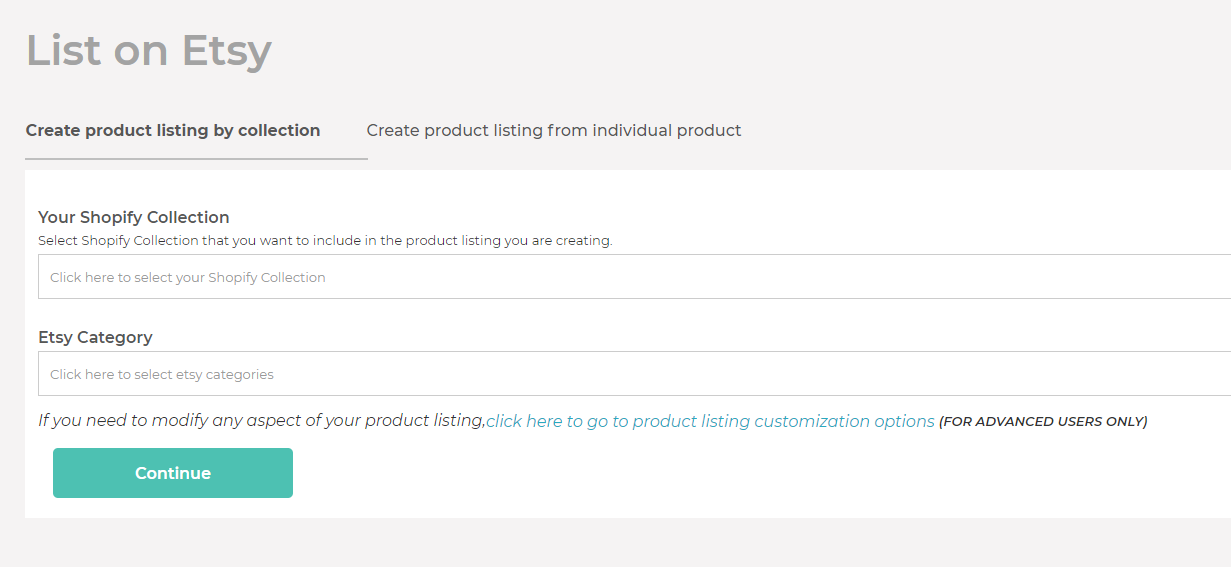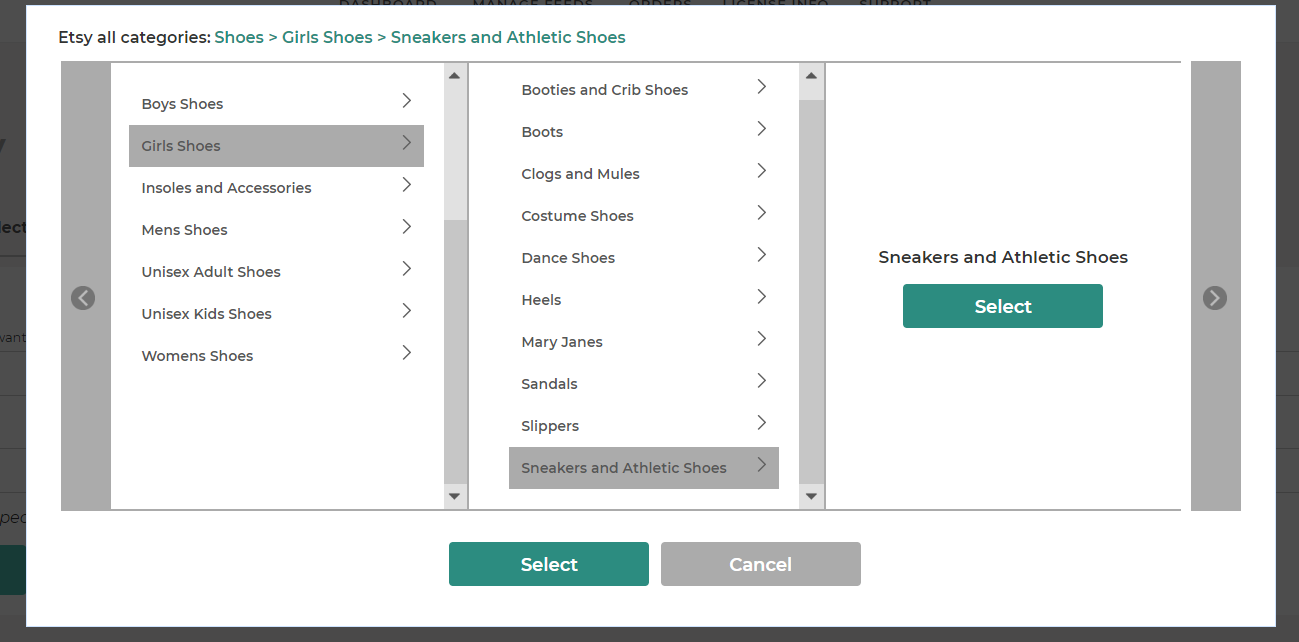 7)After that give your feed a name and click on Create product listing.

8) After clicking on Create Product Listing, you will be redirected to this page that displays a list of products ready to be listed on Etsy. Click on the "Upload to Etsy" button. You do not have to check any boxes here, all of the products displayed will be listed on Etsy automatically.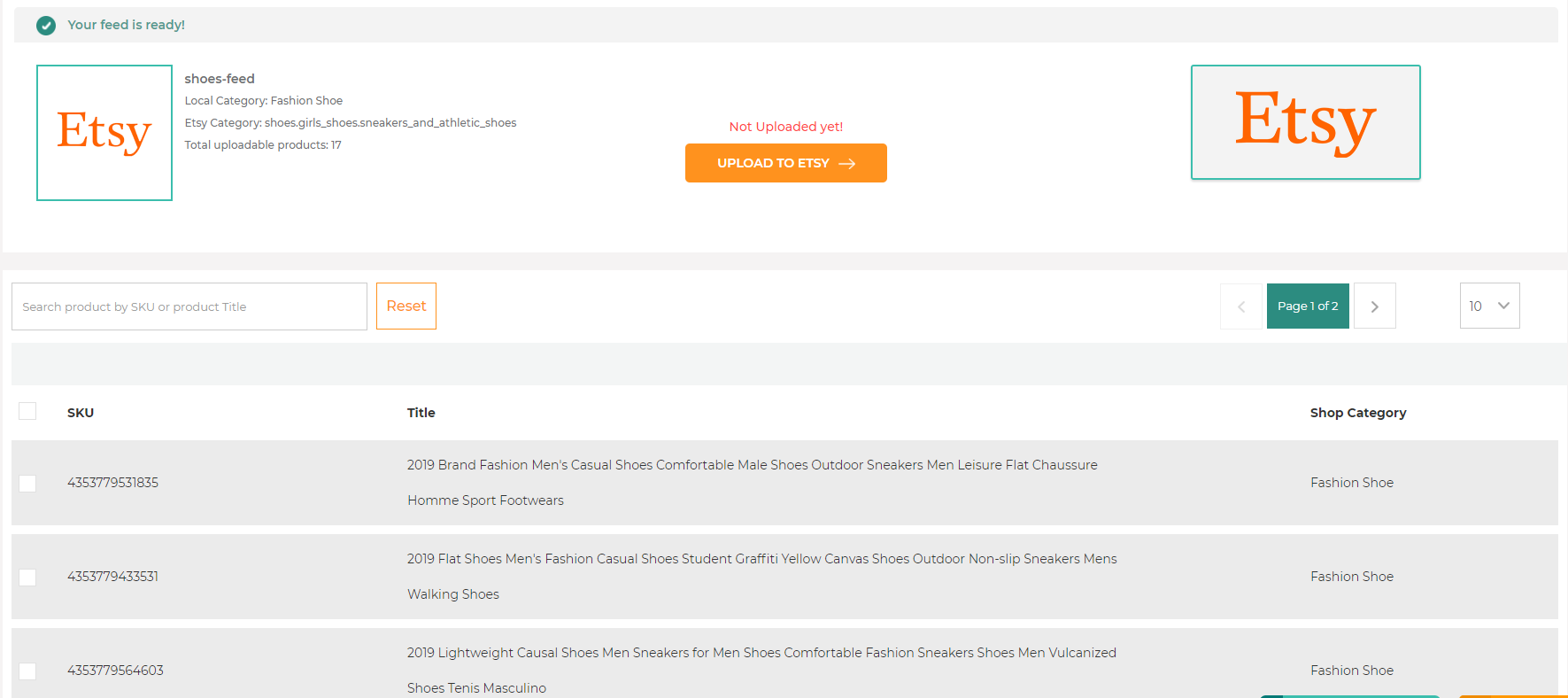 9) After submitting feeds to Etsy we will be able to see the report of the product upload as shown below: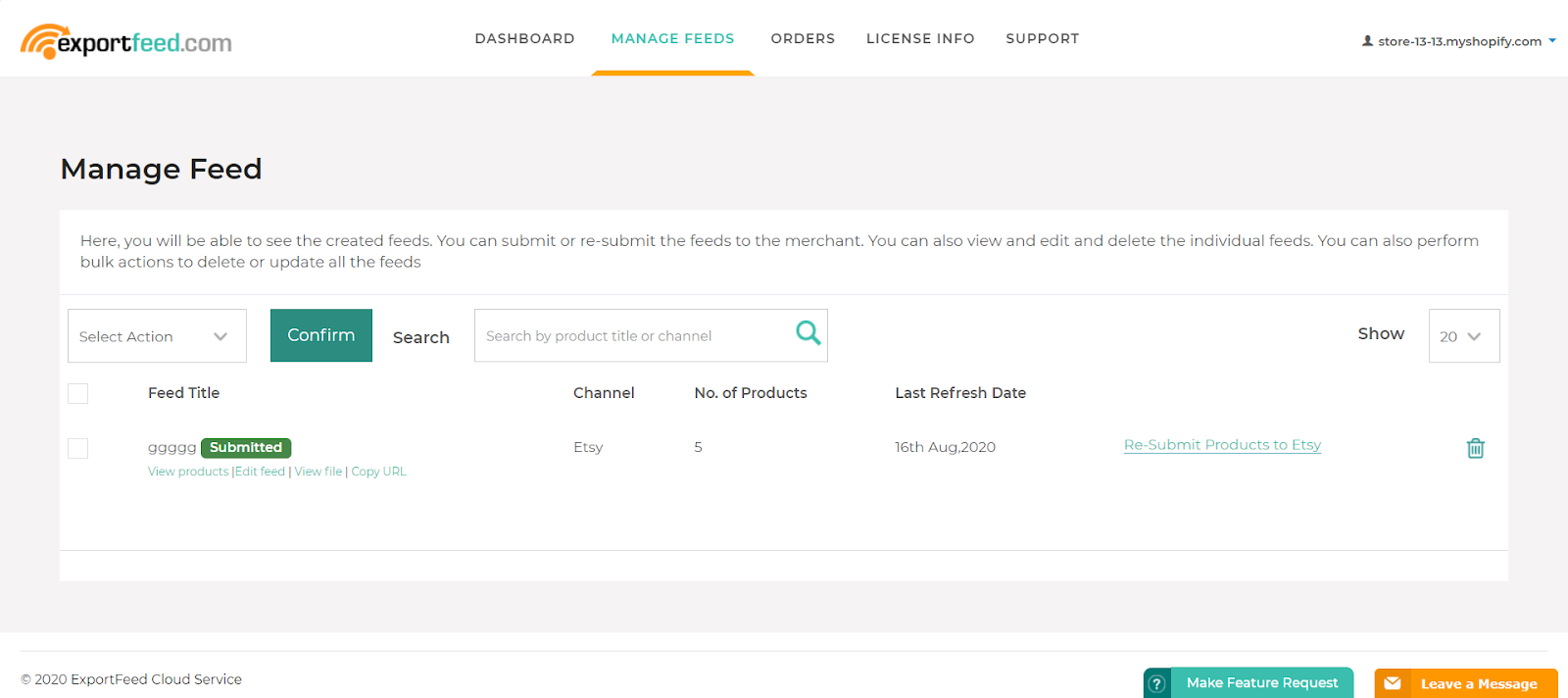 10) Once the products have been successfully uploaded go to your Etsy Store>Shop Manager> Listing to see the listing in your Etsy store.
Notes: 
i) As Etsy API will only allow bulk listing by using Flat Shipping Template, your calculated shipping template cannot be fetched from Etsy.
ii) For your Shopify products with more than 10 images, due to the limitations on Etsy API, only 10 images per product will be listed on Etsy.
iii) As Etsy allows to list 13 tags in total for your individual products through API connection, ExportFeed will only export 13 tags per products.
iv) If you are using Custom Variant types for your products in Shopify store, please contact our support as Etsy requires mapping of these custom variation types to certain available attributes when uploading bulk products through the API.
Feel free to contact us in case of any further concerns as we're only an email away.