AmmoSeek Integration Guide
AmmoSeek
AmmoSeek.com lists ammunition, reloading supplies (bullets, brass, primers, powder, reloading_misc), magazines, and guns.
AmmoSeek Feed Requirements
The feed must be real-time or updated at least every 5 minutes.
The feed should include only in-stock/available products.
The feed should contain (in each record) an indicator of the product type the record contains.
Detailed feed specifications can be found here .

Ammoseek Feed details
The feed will contain a list of records. Each record in the data feed will correspond to a single product in your catalog, and will point directly to the product page where the product can be purchased. Each record must contain at least the following: (shown for each product type)
Step-by-step How To's
1. Install and activate plugin: https://wordpress.org/plugins/purple-xmls-google-product-feed-for-woocommerce/
2. Register for trial license key from here: http://www.exportfeed.com/start-trial-now/
3. Save the trial key.
4. Go to 'Create New Feed' option on plugin menu.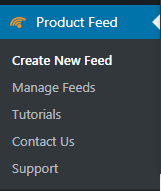 5. Select AmmoSeek from "Select Merchant" drop down.

7.Select "Feed By Category"
8. Choose your Woocommerce product category to include in WooCommerce to Ammoseek product feed.
9. Select the appropriate Product Type in Category name, a list will appear, select one from the list.
10. Give a name to the product feed file you create for AmmoSeek merchant.
11. Click on 'Get Feed'. You can also view your recently created feeds from the Manage Feed tab.

12. Click on 'View Feed". You will get a feed in a new tab of the browser.
In case of any concerns please contact us for support.
As you develop your feed, you can use AmmoSeek's Feed Tester to verify that things look correct.
Once your feed is ready and you think it meets all required criteria, submit it to Ammoseek for review using the form.