AmmoSeek Integration Guide
AmmoSeek
AmmoSeek.com lists ammunition, reloading supplies (bullets, brass, primers, powder, reloading_misc), magazines, and guns.
AmmoSeek Feed Requirements
The feed must be real-time or updated at least every 5 minutes.
The feed should include only in-stock/available products.
The feed should contain (in each record) an indicator of the product type the record contains.
Detailed feed specifications can be found here 

Ammoseek Feed details
The feed will contain a list of records. Each record in the data feed will correspond to a single product in your catalog and will point directly to the product page where the product can be purchased. Each record must contain at least the following: (shown for each product type)
Step-by-step – How-to create a product feed for Ammoseek
1. Install and activate the plugin:
https://wordpress.org/plugins/purple-xmls-google-product-feed-for-woocommerce/
2. Register for trial license key from here
http://www.exportfeed.com/start-trial-now/

3. Save the free trial key
If you face any issue related to the license key, please contact us and we'll respond with high priority. To avoid limitations of the trial key, please consider upgrading to the premium version.
4. Go to the 'Create New Feed' option on the plugin menu.
5. Select AmmoSeek from the "Select Merchant" dropdown.



6. Select "Feed By Category" or "Custom Product Feed"

In order to send all the products of your WooCommerce Category,  please start creating your Ammoseek feed by selecting Feed by Category. If you need to select multiple products of different categories on your WooCommerce, please select the Custom Product feed.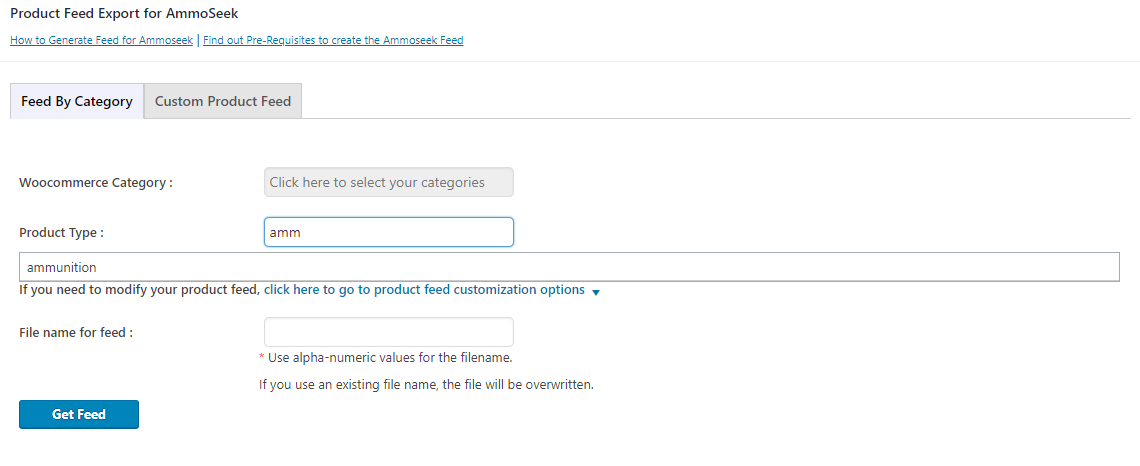 7. Choose your Woocommerce Category

If you selected Feed by Category tab, you'll find that you need to define the WooCommerce category. Here, select the WooCommerce category from the dropdown. Products belonging to the product category that you select will be included in the Ammoseek product feed file.

8. Provide the Product Type

When you select the category of your WooCommerce, the next step is to provide Product Type that AmmoSeek recognizes. Start typing the appropriate product type for your products like "ammunition" and select from the dropdown list that appears.

9. Give a Name for the feed file

There's not much of a naming convention. You can name your feed file as you like but it is the best practice to make your feed file understandable. The only rule for naming your feed file is to keep your feed name alpha-numeric.

10. Click on 'Get Feed'

When you click on the Get Feed button, you should get a success message about feed created successfully. If you get an error,  please feel free to contact our support team to get the solution.


11. Click on 'View Feed".

After successfully creating a feed file, you can send your products to
In case of any concerns please contact us for support.

12. Submit your feed file to Ammoseek

As you develop your feed, you can use AmmoSeek's Feed Tester

to verify that things look correct.

Once your feed is ready and you think it meets all required criteria, submit it to Ammoseek for review using the form in this link.
In case you face any confusion when creating a feed for Ammoseek or listing your products, please feel free to contact us.