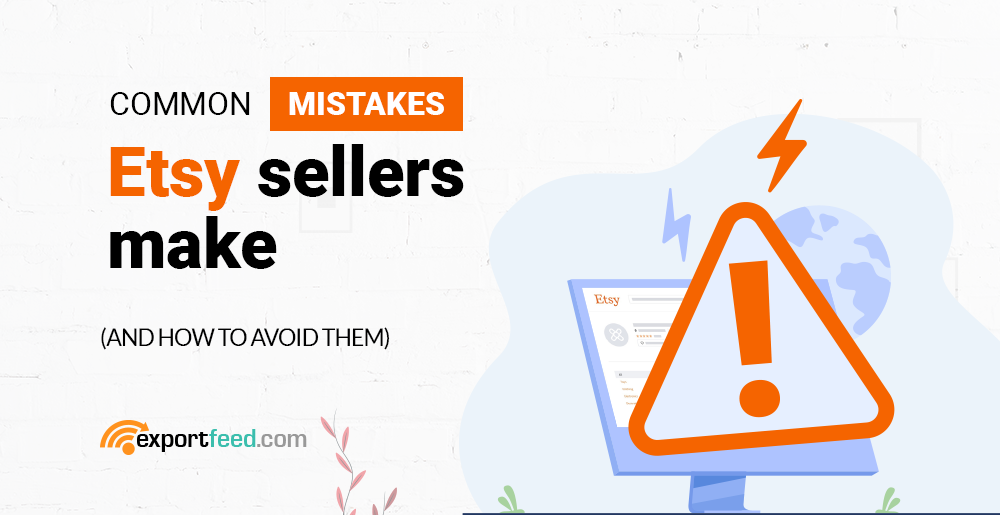 Joining any new selling platform can be overwhelming – especially when it's a platform that has strict policies like Etsy.
Take your worries and throw them out of the window because you've come to the right place to help you avoid the most common mistakes Etsy sellers make.
Let's dive right into it.
1. Getting your Etsy shop name wrong
It might seem awfully obvious but there's a reason this is on the top of our list. 
Etsy only allows you to change your shop name once. 
Save that one chance for anything the future might bring and not lose it on something as small as a typo. 
2. Not collecting email addresses
You could make hundreds of sales on your first day selling on Etsy. 
This does not mean you can sit back and wait for new customers to magically appear every day. 
Collecting email addresses helps you promote your other products instantly. Something as simple as a thank-you email can work wonders!
3. Ignoring Etsy policies
It sure is exciting setting up your new Etsy shop and even tempting to go full throttle on listing and promoting your products.
That is one of the most common mistakes a lot of Etsy sellers make who end up regretting it. 
You do not have to know every single point of the policies but at least make an effort to research which policies apply to your business.
4. Using unclear product images
By unclear I mean pixel-wise as well as its purpose. 
Your product image alone should be able to explain exactly what your product is capable of.
You never get a second chance to create the first impression. Here are some tips to help you get the most out of your product image.
Use professional images with a white background

AVOID using black-and-white pictures

Include only what the customer will receive; accessories that are not part of the product should not be shown
5. Writing poor titles 
Your title alone gives you a very short window to create an impression on your potential customers. 
Avoid writing something short and vague like 'old vase'

Avoid writing something long like 'great world war II lost and forgotten vintage vase on sale'
Here's what you can do instead
Make sure the first 7 words include a good description of your product

Use numerals (3 instead of three)
6. Writing poor descriptions
A common mistake most Etsy sellers make is stuffing their product description with unnecessary keywords in hopes that it'll help their SEO.
This will ironically make your listing's rank worse. 
Here are some good pointers that you can follow to write a clear description of your product.
Describe the major product features and list product information including size, age and style

Keep it short, but include critical information.

Include accurate dimensions, care instructions and warranty information

Use correct grammar and complete sentences
Now that you know all about the common mistakes and how to avoid them, you might want to take a look at whether you want to sell on Shopify or Etsy (or both).
Run through any trouble with Etsy and having a hard time solving it? Feel free to contact our trusty support team!