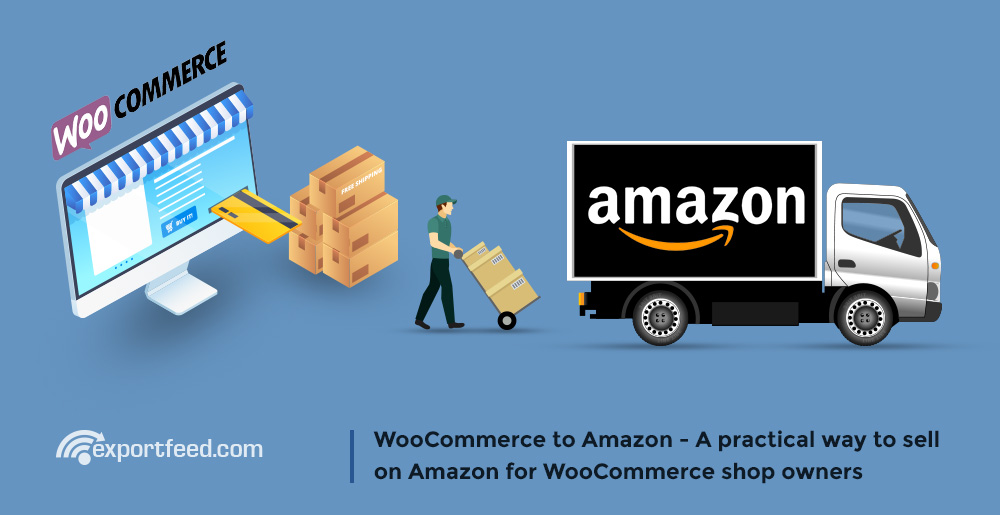 Starting your shop based on WooCommerce is easy. It is time and cost effective. And it is also an almost hassle-free process. However, bringing the customers to your site and creating a compelling environment to make them purchase from you is not that simple. So, while you're working on SEO, SMM, CRO, and others, why not send products from WooCommerce to Amazon? It's always better to make the products available where the customers are.
Is it a need or an option to send products from WooCommerce to Amazon?
Amazon has a global reach. It encompasses the products from almost all product categories. A few products require approval and some of them are restricted to sell on Amazon. Looking at it from this perspective, sending your products to Amazon is an opportunity for growth.
Also, Amazon is not a stagnant as a company. It keeps on growing while presenting the opportunity to grow for its retailers. Newer marketplaces are added and even new services are added every time any analyst cares to look into it.
Where there is an opportunity, businesses bloom. So if you've been looking at your competitors, they have probably started selling their products on Amazon already. What this means is that you are losing the percentage of total market share. This way, WooCommerce Amazon Integration is definitely a necessity for you.
It is also a need from the perspective of trust and loyalty. Majority of online customers are attracted to buying from Amazon. Amazon gift cards, easy payment system, the focus on customer satisfaction, etc are just a few of them to keep.
Key points to keep thoughts about for WooCommerce Amazon Integration
When you are starting on the route of integrating your WooCommerce with Amazon marketplace, the first decision that you need to take is "Where are your customers?" If you start sending your products to Amazon Canada when your customers are at Amazon Germany, that would make very less sense. But, if you can fulfill the demands of global customers and limit yourself to a few Amazon marketplaces, that wouldn't be a good decision either.
There are seller rules for Amazon marketplaces which you hardly apply when selling through your own WooCommerce platform. However, missing to adhere to the rules set by Amazon marketplace will cause problems ranging from reducing your ROI to getting you banned from the Amazon marketplace.
Next point to consider is that your products are sold from your WooCommerce store and your Amazon marketplace account. Any mistake in keeping the product quantity in perfect synchronization may cause a dent in your brand and deplete your goodwill. Customer satisfaction is the main point that Amazon focuses even while setting your seller rating. Using ExportFeed plugin will help to solve this problem.
Providing enough product information to Amazon while sending your WooCommerce products is crucial to listing your products on Amazon for increased sales. You need to provide the product information, including variations and the most important part is GTIN for Amazon. Staying the rules of Amazon seller marketplaces is mandatory but being able to provide the additional attributes is definitely recommended.
Real tools of the trade to send WooCommerce products to Amazon Marketplaces
WooCommerce is the plugin on your WordPress which gives you the eCommerce functionality. It holds all your products data but you need to send them to Amazon. For this, you can rely on the features of ExportFeed plugin for Amazon. With minimal server requirements and your effort – as less as it can be, you will be able to send your products over to Amazon.
Professional seller account of Amazon Seller Central account is the next mandatory requirement for listing bulk products on Amazon. Why list bulk products on Amazon? The more products you submit on a specific niche, the higher your chances to get the deserved exposure and listing your products.
If you are not planning to store your products rather work on the dropshipping model, the most commonly used tool is the AliDropship plugin which is compatible with your WooCommerce. This allows you to avoid the hassles of even listing your products on WooCommerce by simply importing them from Ali Express.
Another tool that is effective to win you the Buy Box is Jungle Scout or something similar. These tools help you decide the pricing for your products to make the best offer on Amazon. When you have this information, you can set the rule for pricing from ExportFeed and update your product feeds to update listings from your WooCommerce itself.
Shipping plugins are also very widely used when you are selling your WooCommerce products on Amazon. You can use plugins from EasyShip or similar providers that integrate well with your WooCommerce. Along with that, for the products that you list on Amazon using ExportFeed, you will be able to receive the orders on the ExportFeed dashboard on your WordPress itself. So you can easily shippings without even visiting Amazon.
Prepping your WooCommerce Store for Amazon Integration
If your products are already selling through your WooCommerce and you want to increase the sales by Adding Amazon channel, you can do that with a little preparation apart from the basic requirements. You can customize all the product attributes when you use ExportFeed to create product feed for Amazon marketplaces. However,  it will be effective if you are following the Amazon seller rules.
Adding UPC to your products is mandatory. Also, keeping the titles without promotional texts, adding product images with a white background and other similar rules will reduce the errors when you submit the product feed.
Starting to use ExportFeed for WooCommerce to Amazon integration
If you are just starting to sell on the Amazon sales channel for the first time, we recommend you to start with the trial version of ExportFeed for Amazon. Also, you can continue using the plugin even after the trial plan ends as it will still support up to 100 SKUs. Here's how you can start using ExportFeed for WooCommerce to Amazon integration.
Login to your WordPress backend and on the sidebar, click on plugins and add new.

Search for ExportFeed and click Install on List WooCommerce Product Feed to Amazon Marketplace and Activate it.

Now, connect your ExportFeed Amazon plugin with your Amazon marketplace by providing the connection details.

Start selecting the products and send them over to Amazon following the intuitive process.
What ExportFeed plugin offers?
ExportFeed offers you to list, optimize and sync your products on Amazon marketplaces. Create your product feeds for Amazon, send them over to Amazon, get error reports or sales orders, reduce product from WooCommerce and from Amazon when the sales take place.
By using ExportFeed plugin, you'll also be able to connect multiple Amazon accounts with your WooCommerce shop. Amazon recommends you to create only one account in one marketplace. However,  different marketplaces will have a requirement to have different accounts. So, ExportFeed allows you to connect different Amazon accounts.
We also offer untiring support to solve your product listing problems. We also provide you with a dedicated personalized demo to train you how to use the plugin to meet up to your expectations.
Coming Soon…
With all the benefits of selling through different Amazon marketplaces, your competition is rising every day. And as ExportFeed offers you to customize your products for higher rankings on the Amazon product search and for sellability, you have the tool necessary to win remarkable profits through Amazon. ExportFeed will also provide a trial version with full functionality, the question is not why to start with the ExportFeed plugin but the question is why not start with ExportFeed for WooCommerce Amazon Integration?