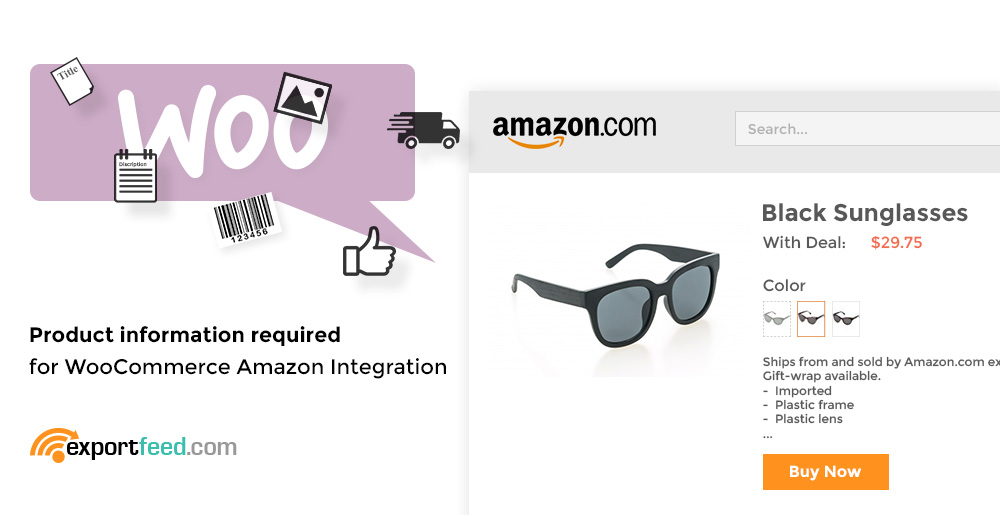 WooCommerce Amazon Integration is undoubtedly the best way to increase the sales of your WooCommerce shop. However, for starters, the scope of this topic is rather unclear.
Does it simply mean listing the products on Amazon?
Does it mean sending products on Amazon on a regular basis?
What type of WooCommerce data needs to be synced with Amazon?
Is it only sending your product data or other information also from your WooCommerce shop to the Amazon?
Does Amazon send back any information to your WooCommerce shop or not?
These are only a few of the basic questions.
WooCommerce Amazon Integration – What it actually means
The integration of your WooCommerce and Amazon means that the products of your WooCommerce shop are in continuous sync with the specific marketplace of Amazon. Like, if you have connected your WooCommerce with Amazon Australia, the increase or decrease of your inventory level on WooCommerce will have its effect on your product listings on Amazon.
Also, if your products are sold on Amazon, they have an effect on your WooCommerce shop – creating a new order on your WooCommerce and decreasing the inventory quantity.
Some would also ask for the shipping integration to fulfill the orders created through Amazon. That can be attained by using different plugins available on the WordPress plugin repository. However, making sure that your WooCommerce Amazon product integration plugin is compatible with the shipping plugin that you plan to use for shipping integration will be a necessary step.
Source of required product information for a successful WooCommerce Amazon integration
For WooCommerce Amazon integration, it will be easier if you manage your products in your store. Those stores that have maintained stock level, added appropriate product titles and attributes, added images with white background and high resolution and provided external product it will have an easier time to create your WooCommerce Amazon product feed.
The source of all the product information required for properly listing on Amazon is the Inventory Loader template or Product category template. (Listing loader template).
These templates differ based on the product category or product type that you want to sell on Amazon. In these templates, you will get detailed information about which fields are mandatory and which are optional for the different products.
Here we'll check the information provided to Amazon for a product listing that is mostly error-prone and causes unexpected results.
Amazon Product Category and Item type keyword
Find the product category of the products that you want to start selling through Amazon marketplace. Amazon Seller Central has provided a neat tool to help you with this – Product Classifier. Here simply enter the product title and you will find the categories that your products fit into.
If the primary sales channel of your WooCommerce site is Amazon Marketplace, it will be really easy for you to start categorizing according to Amazon's category. This way category mapping will be almost effortless when you use the Amazon listing tools.
SKUs & product id and product id type
Almost all of your products need to have a unique identifier. This is one of the main reasons that produce errors while submitting and/or listing your products on Amazon. Maintaining product SKUs on your WooCommerce site is among the basics.  But, the missing values are mostly the product id and product id type.
Product ID: These are the alphanumeric values that uniquely identify your individual products. These values are necessary when you are listing your products on major marketplaces like Amazon, eBay, and others. These values are immediately below the barcode of the product.
Product ID type: There are different types of global trade identification numbers (GTIN).  In the online retail market, these uniquely identify a product in detail. Here, the product ID type refers to the UPC value, EAN, ISBN, and Amazon's native ASIN.
If you do not have a GTIN number and cannot obtain it from somewhere and instead of purchasing it from the GS1, you are looking for a workaround, you may find the GTIN exemption cases useful.
There are a few more common errors while listing your products on Amazon for WooCommerce Amazon integration and these Amazon listing errors are discussed here.
We, here, at ExportFeed have been helping our clients sell their WooCommerce products on Amazon and other marketplaces.  So, if you have any questions, please feel free to contact our support team or you can start your…