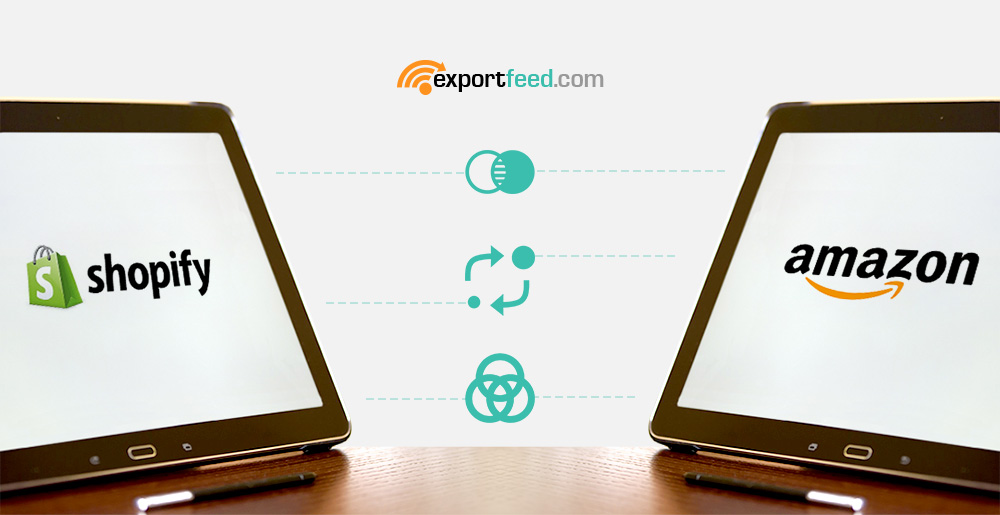 Shopify is the latest buzzword in eCommerce arena and it seems like this eCommerce platform is here to stay.
Needless to say, but Amazon, on the other hand, is a pure sales oriented eCommerce store, a merchant, a marketplace and everything else for the retail industry.
Any business owner that wants to get online and get selling can benefit from both of these platforms. However, the benefits offered between these two platforms will cover up for the main differences. So let's start with them:
Common Differences between Shopify and Amazon for a Retailer
Ownership
When you start selling through Amazon, you are simply listing your products there. Listing your on Amazon gives you the ability to change product listings or remove them. But you only have the control over your products. Any visitor on Amazon can choose to simply view your products and move over to other listings to buy from your competitor.
Next concern about the ownership is that Amazon can choose to shut down your account or particular listings anytime. This is not usual but if you don't follow the Amazon seller rules, it is possible to happen.
However, Shopify is an eCommerce platform which gives you total control of your Shopify shop and a plethora of tools to get started. You don't have any product listings that don't belong to you. So, there's no chance that a visitor on your site can buy products from anyone else than you. Wait! Where do you get the visitor from?
When you are selling through Amazon you get all these benefits but you lack the ownership and if you sell through Shopify, you take the workload yourself but you retain the ownership and flexibility that comes with it.
Marketing Strategy for retailers
Selling products through Shopify site means, you need to work on the visitor acquisition by using different SEO, SEM, SMM, Affiliates, Email Marketing and similar eCommerce marketing techniques. and even optimize your site for conversion.
Along with that, you also need to online work on the conversion optimization techniques such as A/B testing, Multivariate testing, create product differentiation, work on abandonment recovery and a lot of other such techniques.
On the other hand, selling products through Amazon means that you pay the seller fees and list your products on Amazon. Then you can enjoy till you get an order from Amazon upon which you have to start working on fulfillment as soon as possible.
However, listing your products on Amazon is not that easy even after you have the seller account. You need to take care of the Product title, images, description, product attributes, and variations and get everything right.
Cost
If you are selling a few products on Amazon, you don't need to worry about the seller fees. You can just pay a certain percent of the sales to Amazon and walk away with your profits or continue selling products in low volume. However, selling a bulk amount of products on Amazon will require you Professional Seller Account and that will cost you on a monthly basis plus the nominal seller fee. But if you are planning to make some serious profits through Amazon, you have to step forward to get the Professional Seller Account. This would cost you $39 per month for the USA marketplace.
About starting and selling on the Shopify store, you would need to subscribe to the plans of Shopify which range from $29 to $299. And about the seller fees, if you want to use the internal payment gateways provided by Shopify, you won't need to pay an additional amount as fees. But if you are using external payment gateways, you will incur additional transaction cost from 0.5% to 2% depending upon your Shopify subscription plan.
Differences may have put you in a bit of dilemma but we will clear it up for you in a while. Before that, let's look at the similarities between Shopify and Amazon from the viewpoint of a retailer.
Similarities between Amazon & Shopify for Retailers
Market expansion opportunity
Whether you are selling through your own Shopify store or through Amazon Canada, Spain or any of the other Amazon marketplaces, you expand your market. Your products are online 24/7 and they can be accessed and purchased from any part of the world (unless you put some restrictions).
No technical hassles
Both of these platforms keep you away from the technical hassles. You don't need to worry about any coding, designing or server related issues. These points have scared away many sellers but selling online isn't that scary after you begin using either Shopify or Amazon or both.
Great Support System
Amazon provides an extensive list of documentation and tutorials to help sellers effectively use their platform and grow business. Along with that, you can also get reliable and quick answers from Amazon sellers in the seller central forum. Also for Shopify, you can lodge support tickets, access text, and video tutorials or get personalized support.
Low Setup Cost
If the cost of setting up a brick and mortar store is taken into consideration, then starting to sell on Shopify or Amazon will have a radical cost benefit. Even if you combine the costs of promotions and selling using both Shopify and Amazon, the cost of starting a brick and mortar will still be higher. Not just the start-up cost but even the operating cost of your physical store can be higher than starting and running your Shopify and/or Amazon stores.
We checked the common similarities and we checked the differences. After all that information, we now understand that it is not a good idea to miss the benefits offered by both. But the question is HOW?
Combining the power of Shopify & Amazon to Grow your Business
Start your Shopify store using the free trial package.
Setup the theme and apps on your Shopify store.
Add products and detailed information to your Shopify Store.
When you are happy with the trial, go for the premium.
Run some marketing campaigns to acquire visitors.
Register a professional seller account on Amazon.
Install ExportFeed app on your Shopify Store.
Provide Amazon credential on ExportFeed to connect accounts.
Use ExportFeed to create a Shopify product list and submit products to Amazon.
ExportFeed makes your Shopify Amazon integration easy and profitable while providing you all the help you need if you are just getting started. And if you have already started with Shopify shop but looking for a way to integrate your products with Amazon, check out the free trial offered by us.