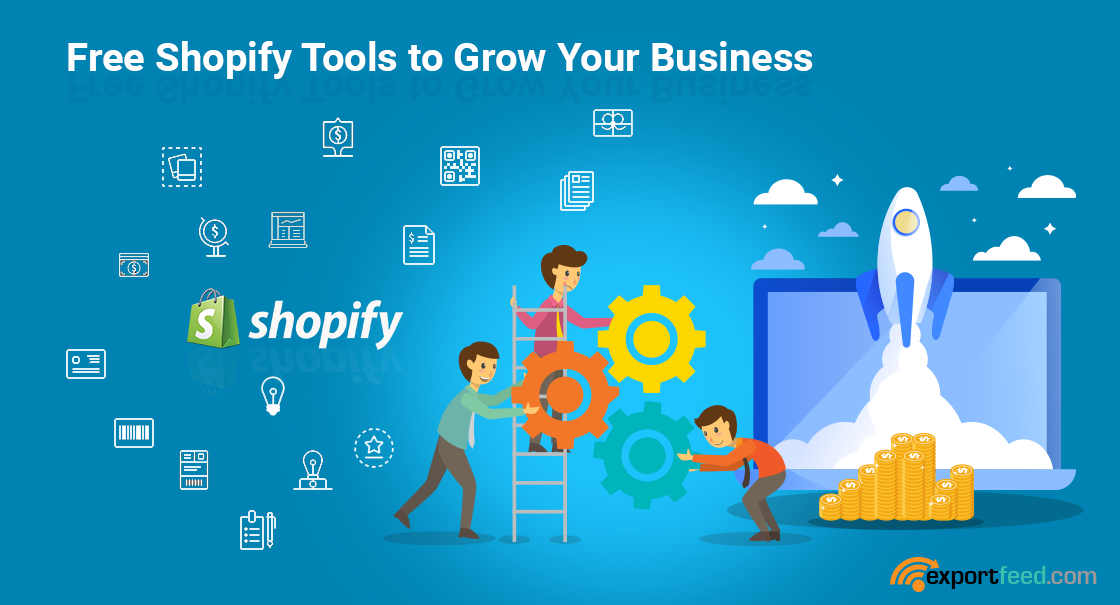 Shopify not only provides you a great platform to create eCommerce site. As a  proof that it actually wants you to grow your business, it has provided a lot of free tools. When you start using these Shopify free tools, you not only start to organize your eCommerce business but also make an impact on the niche you've set your business. 
Let's take a look around these tools get some idea on how to use these free Shopify tools
Logo maker
Create a logo for your business. It makes an impact on your customers. This tool is easy to use also. And, if you ask why a logo is necessary – remember a symbol is easier to remember than a website URL.
Business name generator
Have you been looking for a perfect name to represent your business? Just enter the type of business you want to run in this tool. It'll offer you a list of names suitable for your business – simply pick one and jumpstart the activities that count.
Slogan maker
Why miss the opportunity to explain your business better using a catchy phrase? No more sweating over finding the slogan that matches the theme of your business and attracts the customers at the same time. Use this fee shopify tool without a delay.
Terms and conditions generator
You know that without the terms and conditions, you'll be leaving your business with a door open  for threat of law suits. Also, for anyone who reads these lengthy and boring document, it provides a direction on how to use your particular service. And this free tool can help you accomplish these benefits of terms and conditions on the go. 
Pay stub generator
Keeping those people from whom you get money isn't enough. Your employees choose to work with you for a reason. Still handing them the pay-cheque only? Put a good work to use with this pay stub generator tool and share a bit more information.
Are there any other free tools that Shopify offers?
Definitely! There are other tools such as
Privacy policy generator,
Qr code generator,
Business card maker,
Gift certificate templates,
Invoice generator,
Purchase order template,
Shipping label template,
Refund policy generator,
Bill of lading template,
Barcode generator,
Image resizer,
Business loan calculator,
Profit margin calculator and more.
As Shopify will keep on adding free tools, we recommend that you visit this page once in a while and check the new tools. However, if you already have a Shopify shop and want to sell your products through Amazon, Google shopping or any of the 40+ supported merchants, you can contact us without any hesitation.