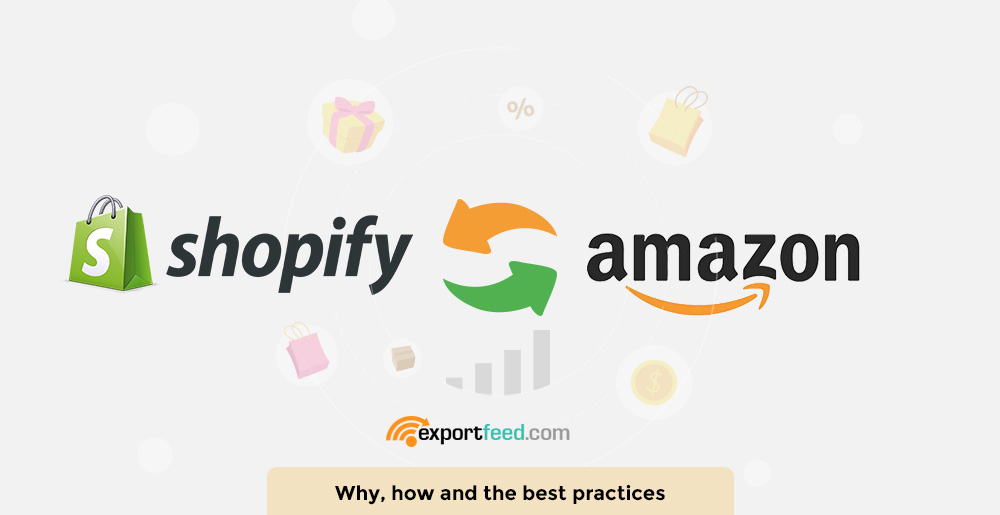 Before starting on the Shopify Amazon Integration, let's recap some of the basics about the Shopify and Amazon platforms.
Shopify is a great hosted platform to start your eCommerce site. It has provided a free trial in order to let you check if it meets your needs. So, if you haven't checked how this platform facilitates your eCommerce store needs, you can start your Shopify trial from here.
Similarly, there are numerous benefits offered by Amazon marketplace like massive exposure, fulfillment services and more. In order to grab the benefits of both these platforms, Shopify Amazon Integration is the only way.
Must know info before starting Shopify Amazon Integration
Why is Shopify one of the most preferred platform?
Shopify also facilitates features addition to websites through the Shopify App Store where many developers have listed their free and premium apps. You can get apps even for Shopify Amazon Integration.
There are a wide variety of marketing apps on Shopify App Store. To add some specific functionality on your site, you can easily visit the Shopify App Store from your Shopify Dashboard and search for that feature. Among the Amazon marketplace integration apps, we have also listed our Shopify Amazon App.
Few benefits offered by Amazon Marketplace…
Amazon is the top eCommerce merchant till date and it offers the retailers to sell your products too. Millions of visitors of Amazon purchase products each day and the product that they buy is listed by other sellers. In order to sell on Amazon, the seller should have a personal or professional seller account.
Why are so many people attracted to sell on Amazon?
Targeted Market Reach
Reach target customers through different Amazon marketplaces; currently, there are 14 Amazon marketplaces
Comparison Shopping Benefits 
Customers enjoy the option to compare prices & offers of products
A wide range of products 
Amazon allows selling over 30 categories of products in the marketplace
Number of loyal Amazon Customers
Not just loyal to Amazon but customers are even loyal to the Amazon sellers
Optimized for Conversion 
Amazon continually optimizes the algorithm, "A9 algorithm" to boost conversions
Affiliate Marketing plans 
Amazon Affiliates is by far the most popular affiliate marketing program
Growth Opportunities and more 
Amazon continually works on improving the marketplace providing new opportunities to sellers
Secure Payment
Seleers' revenue is directly deposited to their bank accounts in regular time period of 1-2 weeks once their seller account is settled.
Brief on Amazon Marketing Strategies
Amazon had initially started from a platform to sell books. But now, it is the leader in the eCommerce industry with a product range that envelopes the need of every Amazon visitor. The initial marketing strategy of Amazon was based on RACE – Reach, Act, Convert and Engage. This can be the base marketing formula for every Shopify shop owner.
Amazon focuses its research and analysis on developing more experiments in order to increase conversion based on user's buying behavior. Mostly the segmentation is based on demographics and psycho-graphic data. That's the key point which has helped Amazon to increase conversions.
Some of the strengths of Amazon are
A wide range of product categories and a strong background
 Focus on customer experience even after the purchase
 Leadership on product cost through a vendor partnership
 Fast delivery of sold products while maintaining expectations
 Effective implementation of the Go Global Act Local concept
How do Shopify retailers benefit from Amazon marketing strategies?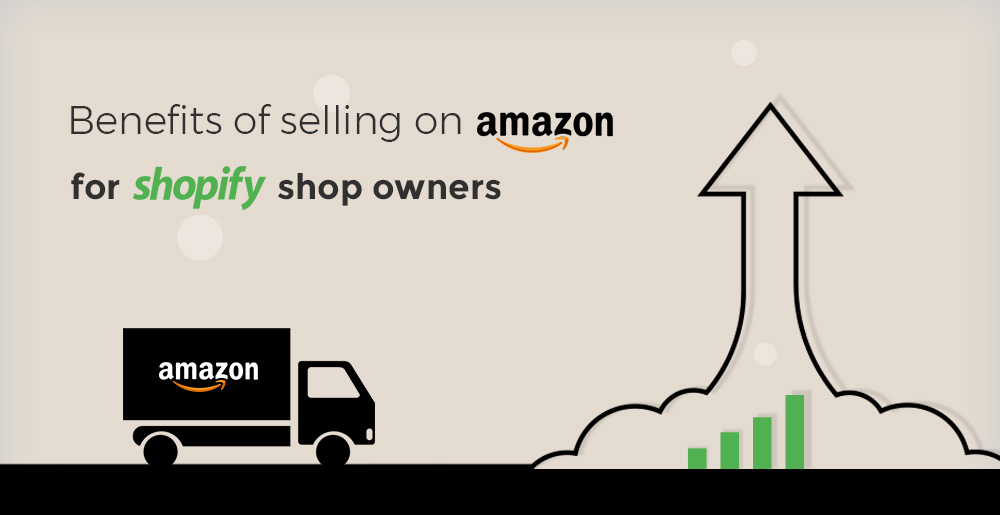 Though Amazon has grown to become the largest eCommerce platform that exists with their research, expansion and acquisition strategies, it also supports the retailers trying to grow their sales.
Any personal finance instructor will add "selling on Amazon" to their DIY finance tip and those who are technologically aware will add "start a Shopify store" to that as well.
But, what's the reason behind this tip? Does Shopify Amazon Integration really help to improve personal finance or is it just an easy-to-give tip? Let's take a quick look.
Shopify is a hosted eCommerce platform so anyone can create and start selling products without facing technical hassle.
Acquiring visitors and optimizing for conversion takes time and effort so listing on Amazon is an easy way to take the products to where the shoppers' buy.
Amazon is a site with millions of visitors and it is optimized for conversion so even with a little marketing knowledge, the sooner you start listing your products, the sooner you will start selling more.
Even if the shoppers are not familiar with your company, they can discover you on Amazon Marketplace while searching for your products or similar ones.
The more products you list on Amazon in the same category, the higher your chances are of becoming a successful seller with a higher seller rating for that category.
And there are a lot of benefits for high rated sellers like their products appear at the top of Amazon search so they can sell and keep growing Shopify to Amazon revenue scale in the long term.
Amazon also offers an affiliate program. This means that the affiliates also market the products that retailers list on Amazon for a specific commission amount.
Can Shopify Integrate with Amazon?
What are the requirements for integration to gain profits through Amazon?
Yes, you can integrate your Shopify store with Amazon. You can list and manage your Shopify products with your desired North American, European or other Amazon marketplaces using ExportFeed.
Shopify Amazon Integration can be as simple or as complex as it can get depending on your choice of tools. If you start to manually integrate the products, your efficiency and effectiveness of your actions are entirely based on you. But there are some tools that can quickly help you to hack such as ExportFeed by streamlining the processes and ensuring effective Shopify to Amazon integration.
A professional seller account on Amazon: There are two types of seller accounts offered by Amazon: The Individual seller account and the Professional Seller Account. The professional seller account is charged $39.99 per month as a subscription fee plus other selling fees based on the product category.
Complete Information about the products you're selling on Shopify store: The manufacturer brand, color, size, and other product attributes that you have in your store are the information required. And more importantly, for your seamless Amazon integration, you will need to have the UPC/EAN or ASIN codes for your products. But if you don't have them, check if you can apply for a GTIN exemption. Also, make sure that the stock levels in your Shopify present the correct values.
A tool to grab information & sync Shopify and Amazon: For this, we have offered the Shopify Amazon App in the Shopify App Store. By installing this app, you can sync your products with our cloud server and perform complex feed operations easily.
Amazon Seller Best Practices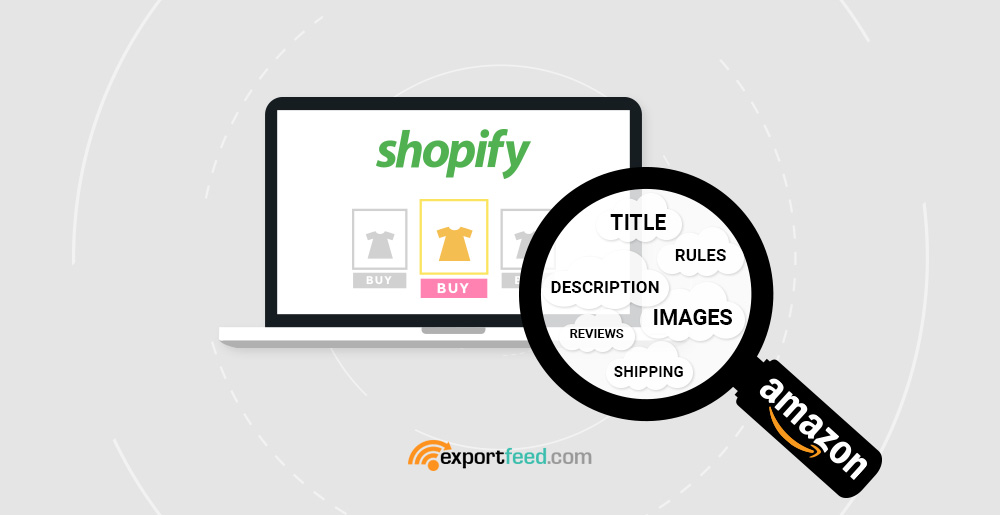 After Shopify Amazon Integration, you will need to know how successful sellers on Amazon operate their business. But generalizing the points, it will come up to following the guidelines provided by Amazon itself. The recommendations to sell on Amazon can be summarized as:
Follow the Amazon Seller rules religiously
Appropriate use of product title, description, and images with high-quality adequate information
Quick service to dispatch the products always goes an extra mile to cheer up the customers
Obtain genuine reviews from the buyers with and implement the suggestions full-heartedly
Offer free shipping as far as possible and other conversion boosting tricks
Use a single Amazon Seller account as far as possible (for Amazon Australia you need to create a different account)
Actively add new products to Shopify store to offer them on Amazon marketplaces
Analyze the Amazon market to find high selling niche based on seasons and occasions
Create well-designed product bundles comprised of different complementary products with a better deal, if you don't have a unique product
Try out new technologies like Amazon re-pricer tool, product research tools and others.
How can ExportFeed help you for successful Shopify to Amazon integration?
There are other best practices, tips, tricks, and techniques too. ExportFeed covers feed creation, synchronization, and optimization while creating your product feed using Shopify Amazon App from ExportFeed. It also offers you to keep the same inventory levels between your Shopify and Amazon listings. Also, you will be able to see your orders under your account of ExportFeed cloud service facilitating to improve your seller ratings on Amazon.
If you have any questions regarding the feed optimization using ExportFeed, you can always contact our support for that or to start the Personalized Demo for Shopify Amazon Integration also. So, how about starting with a free trial now?