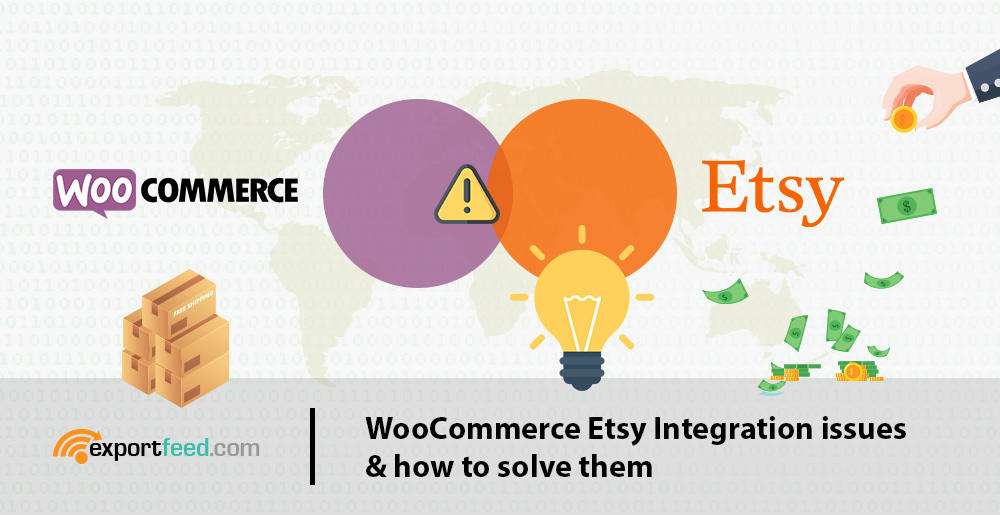 Handmade products are highly in demand in the US market, especially post-COVID.
But reaching out to the customers who are looking for them is difficult in the beginning.  For that, it is a popular practice to use WooCommerce plugin on the WordPress platform to create an online presence.
This is definitely a good idea. But, more people search for handmade products on Etsy than on any specific retailers' WooCommerce based site. This is the reason why WooCommerce Etsy Integration is important which we will discuss here.
Why is WooCommerce Etsy Integration important?
Your own WooCommerce based site is more likely to have fewer visitors and demand more attention to increase your sales. Whether you are following the paid ads or free promotions, it requires a tremendous amount of effort to increase sales. But, if you have been selling on Etsy, you already know this and you can check the common Etsy errors here.
However, for the Etsy marketplace, the only effort input from you is to list your products and keep them updated. WooCommerce Etsy Integration plugin by ExportFeed takes care of this part also to increase your sales revenue.
Etsy offers you free registration and only charges you when you list your products. After selling your products through Etsy, you will be charged a nominal transaction fee. With free registration, it is easier for you to get started and start selling on Etsy.
Listing your WooCommerce products on Etsy will get you the deserved attention and you will be selling from two portals – WooCommerce and Etsy. What if you have limited stock and you oversell your products?
To avoid this, you need inventory level integration to sync WooCommerce with Etsy. Apart from just listing your WooCommerce products on Etsy, this is the main reason why you should aim for WooCommerce Etsy integration.
At present, Etsy has also opened up for wholesale and other products. It is no longer the handmade only marketplace. So, you have the option to list more products in your Etsy store to demand higher viewer's attention.
What are the features you need on a WordPress plugin for Etsy integration?
The "how to search for WordPress plugin?" isn't really the topic but we'll take a quick look on that also.
Login to your WordPress backend and click on Plugins.
Click on Add New and search for "ExportFeed Etsy"
Click on "List WooCommerce Products on Etsy" plugin and install it.
Click on Activate to enable the plugin to use the best WooCommerce Etsy integration plugin.
Now, let's look at the functionalities that you'll need on your WordPress plugin for Etsy Integration:
Connects WooCommerce products with Etsy
If your plugin offers to connect WooCommerce products directly with Etsy,  it is obvious that you will be able to directly upload them to Etsy. This saves you a lot of time. Apart from that, it also offers you the other functionalities like error reports and more.
Matching products to Etsy categories for listing
Listing products on any marketplace should be properly done, with all the required information and on the right place. If you place your listing of the crafted bracelet on Etsy among the woolen sweaters or other unmatching categories, it is highly unlikely to reach the targeted customers.
Enables you to upload bulk products
Obviously, if you are a serious seller, you have a list of products that you want to sell through Etsy. And manually uploading them, filling in all the details is a headache – when they are already in your WooCommerce database.
Connecting your products on Etsy should be an easy task, the difficult part is making the business decision – selecting which products to sell through Etsy.
Allows you to include or exclude product variations
We send products to the specific marketplace because we know it includes specific visitors of our targeted customer group. In order to meet the demands of such customers, it is necessary that you list the available product variations of on Etsy. The plugin that you use should include this capability.
Keeps inventory consistent between WooCommerce & Etsy
The main reason for adding a marketplace is to increase sales. And the reason to use a plugin is to reduce your hassles – not to increase them.
If you sell products on WooCommerce and Etsy, chances are your products with limited quantity will be sold from both portals. This can only be avoided if your plugin continually syncs the product data between Etsy & WooCommerce.
Allows you to edit product information
Apart from the attributes that differentiate the same products (like variable attributes of same products), you often need to change the title, description etc. while listing them on Etsy.
This is mostly done in order to optimize listings to increase conversion value. The WooCommerce plugin that you use for Etsy integration should allow you to do that in bulk.
Gives you pre-information about the possible errors
It becomes hectic and sometimes even causes financial loss if you list your products incorrectly to the merchants. Wouldn't it be time and effort saving feature if you got the errors before you send them over to the Etsy?
Most of the times, you will need to make minor adjustments on your WooCommerce product listing to rectify the errors. But, if you are using the right tool, you can make the changes in your product list that you prepared to upload on Etsy also.
Some common WooCommerce Etsy Integration issues for bulk product upload
For sellers who are only selling a few products on Etsy, you can make the best use of individual product listing. This way you can provide all the required information. Even if you are selling bulk products, we recommend you to make a few individual products listing. Also, you will get the idea of what information is required to avoid the common product listing errors on Etsy.
However, for bulk product feed upload, you need a plugin which will guide you to provide all the required information and set up your Etsy account correctly.
Shop setup: When starting to sell your WooCommerce products on Etsy for the first time, it is a common issue that the Etsy store isn't set up properly. Mostly, people miss configuring their shipping settings or they do not use the flat shipping rates.
The shipping information is necessary to list bulk products on the Etsy marketplace. Also, flat shipping is necessary as the Etsy API will only allow connecting with this configuration as of writing this article.
Configuration: As unique as Etsy marketplace is at its own, it also needs a unique configuration. Regarding the brand value that other marketplaces need, Etsy needs retailers to configure answers for some questions like who made it and such.
This information may not be feasible to include in your WooCommerce shop so ExportFeed has allowed configuring this in the plugin.
Product title: Etsy allows around 140 characters as the title of your product. If your products on WooCommerce have more than that, uploading such products to Etsy will create some issues.
To avoid this type of error, ExportFeed plugin has enabled to remove the words after this limit.
Product Image: The recommended product image width as given by Etsy is 1000px. And the supported image types are jpg, gif, and png. If you are using an animated gif on your WooCommerce site, you need to add non-animated gif image also.
Etsy will not support animated gif. So, while uploading products, you should make the non-animated image as your primary image and exclude the animated one.
Inventory values: If you have managed the inventories of your WooCommerce shop then it will be easy for you while continuing your promotions with WooConmmerce Etsy integration.
The values like "in-stock" are not acceptable in Etsy listing. If you haven't managed inventory in your WooCommerce shop, ExportFeed allows you to set a numeric value as the default for all your products.
If you are facing some other issues for WooCommerce Etsy integration using ExportFeed plugin, please feel free to contact our friendly support team.
Even if you are already using a tool to integrate your WooCommerce with Etsy store, we recommend you to try out the Free version of ExportFeed plugin. ExportFeed helps you with some useful features that empower you to

list your WooCommerce product variations,
upload multiple images on the same listing,
change product attributes for Etsy and
offers more rules to customize your product information for Etsy to avoid errors and boost conversions.