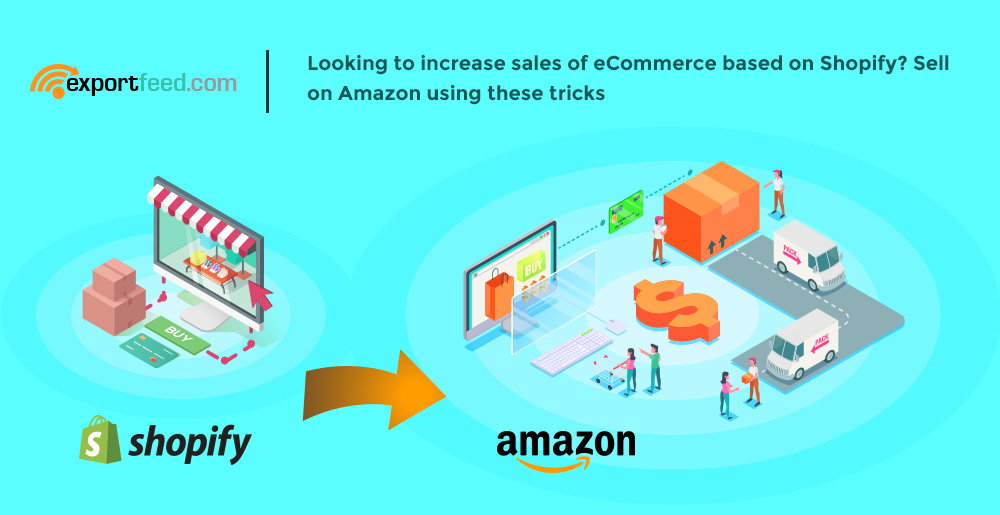 One of the starter tips to increase the sales of your Shopify site is to connect it with the major sales channels. Now, if you had to choose one of the sales channel, which would it be?
Unless you are already comfortable with running PPC ads, the most obvious choice to increase product sales from Shopify-Sell on Amazon! Right?
Taking a look at the Amazon marketplace, it gives a lot of reasons to join.
Brand value and a volume of customers
Cost effective selling plans fit for everyone
Advanced customer targeting & reporting
Continuous optimization practices
Easy to get started and, a tonne of other reasons.
But the question is that if selling on Amazon absolutely the right way to increase Shopify products sales, why do so many eCommerce businesses drop out? A recent scenario – why did Sears file for bankruptcy even after taking the lifeline to partner with Amazon?
The core point here is – you need to know the secrets to sell effectively on Amazon!
Secret 1 – Selecting the right products
If you consult with any drop shipper or experienced Amazon seller, the core point is in product selection. You can list all the products you want of Shopify on Amazon but there'll only be a few which will increase your sales. Focus on improving the presence of that product. And as a rule – if you are in for the long run, it is imperative that you avoid selling the counterfeit products.
Secret 2 – Get the product listing done right!
Make sure that your products are listed correctly and that they always provide the correct information. Along with that, you need to understand the technicalities and of listing your products on Amazon. But there's nothing to worry as we already have taken care of listing and syncing your products on Amazon! Check it out here  
Also, if you are selling products in Shopify that sell best to the Amazon UK customers, listing them on Amazon Canada may not drive a satisfactory sales result. You should also know which marketplace is great for your business if you are selling internationally.
Secret 3 – Be innovative while following the rules
Take the innovative path for those products of your Shopify which are underperforming on Amazon. Change the copy text – replace the manufacturer's description, or change the images of your products – try a different angle for the photo. Be innovative but stay within the Amazon seller rules.
Secret 4 – Understand Amazon product pages
When you send your product information on Amazon, you are not creating new pages for those products, if they already exist on Amazon. Rather, you make your presence against the products that are already available there. This is the reason why you should submit the GTIN. With that information, you should understand that your listing should be competitive for the products that are already there.
Secret 5 – Taking an aim on the Buy Box
Most of the shopper who's purchased through Amazon knows well that the best deal is available at the right of the product detail page on Amazon. This means that every experienced Amazon seller is willing to grab that position for their products. You should aim for the same. However, you need to enable some setting on your Amazon seller central to be eligible for the Buy Box listing.
Secret 6 – Treating the Amazon customers correctly
Amazon is all about how to provide better customer service to the customers. Though they buy from you, they are the visitors of Amazon. And, you need to make sure that they receive the purchased product correctly and at the right time. Customer's rating on Amazon for your product or for your seller's profile is the main point that'll increase your seller's rating on Amazon. If your question is why seller rating matters, this is the main point that'll help you display your listing when the product is searched for on Amazon marketplaces.
Amazon is always focusing on enhancing the customer experience and that's the reason why it keeps on optimizing it's A9 algorithm. Apart from that, it also launched the Amazon Prime with quick delivery for Amazon FBA sellers to ensure a better customer experience.
Apart from that, there are cases where Amazon has also revoked the seller rights to sell products on Amazon just for having two accounts on the same marketplace. The reason for revoke being: It would create confusion among the buyers regarding the identification of sellers.
When you are selling on Amazon, you need to take care of even the minutest point. Whether regarding the product listing or the business decisions, it is important to stand out and stand up in the long run.
This includes implementing the tips that we've provided above, summarizing –
Selecting the right products for the individual Amazon marketplaces

Avoid to list the counterfeit products and follow Amazon seller rules

Make a proper listing on Amazon – provide required &optional attributes if possible

Try to stand out of the competition whether it be through innovation or competition

Take care of the customers as Amazon does for product delivery & customer support
To enable you to make a proper  Shopify product listing on Amazon, we have taken care of all the technical parts. You can…