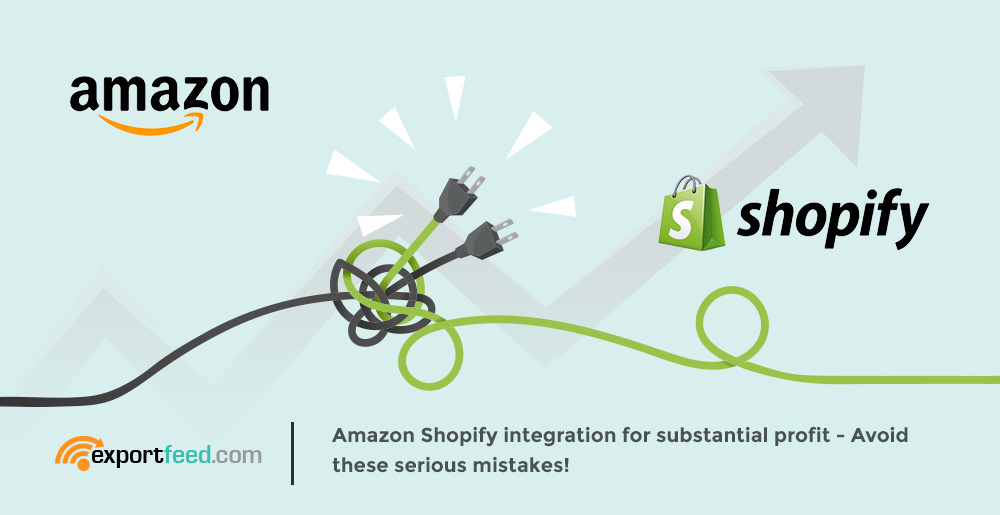 Amazon Shopify integration is probably the most profitable marketing venture for your business, but if you do it correctly. For anyone who just started, you might be thinking – What could possibly go wrong?
Any point on the list below holds the potential of becoming an Amazon sellers' nightmare. There are more but we'll limit to the 7 fearful mistakes:
Product detail mismatch
Incomplete or altered listing
Insufficient product information
Flawed product selection for sales
Tax calculation & regulatory mistake
Fulfillment issues to disappoint customers
Missing out on customer's suggestions
Keep an eye on your listing for information accuracy
First and foremost, if your product information doesn't match the title or image of the product, your customers are likely to despise you for any serious transaction.
This type of mistake holds the potential of being a business killer. So, it is always necessary to check your listings before you move them to the active state from draft state and even re-check your active listings.
If you are listing bulk products, there's a high possibility that out of tiredness, you may create this issue. Or, even if you are creating product listing using a multi-channel selling tool, you need to make sure that you those tools are worth your trust and yield the expected output – nothing less or nothing different than on your Shopify store if it is not your intention.
Again, work on an approximation of efficiency of the listing
One important point to note is that when you're listing your products on Amazon if those products already exist, you're not creating a different page on Amazon. Rather, you're listing your products against that page.
Now, when you're listing the same product, you can make the changes on the title and description but you can't leave them incomplete.
The best seller on Amazon will be the one who'll provide clear and accurate information on the title and description along with the competitive product pricing. Make sure to check the details of other sellers and compare it with your product listing.
Apart from this, if you check the listing guide, you'll find that Amazon has a specified format for listing different products of different categories.
Now, work on empowering listings for Amazon search
Providing the required information in your product feed for Amazon is a must. Without that, your product listing will create errors preventing to get those listed on Amazon marketplaces.
Along with that, if you create your product feed with incorrect product attributes values or mismatched values, the product information validation system of Amazon Seller Central will disqualify your feed for further processing.
For this reason, you should double-check the doubtful products and maintain at least the regularly required attributes. Make sure that your products information do contain the information about GTIN for listing validation.
As Amazon is a marketplace with a lot of sellers selling similar products, buyers have a choice to choose whose product they should buy.
Choosing from among the colors, sizes, materials(if applicable) is a common thing. These and other filters are available when buying from Amazon.
And if your products do not have this information or even the product variations,  you reduce your chances of securing a sale.
Competing with Amazon on their own playground
This is a mistake in the part of product selection. Amazon has its own range of products selling on the marketplace and if you are selling similar products or the same products, you are in for a really tough competition.
Make sure to avoid those products as far as possible. Check the trademark "Pinzon" of Amazon on the textile categories.
Some other categories that Amazon actively participates selling their line of products are Digital contents, Games, Arts, Business supplies, and even snacks. Amazon sells snacks under the brand name "Wickedly Prime".
Even if you plan to sell these products, you are better off selling them through your own Shopify store rather than from Amazon.
Calculation, collection & processing of sales taxes
Selling on any of the Amazon marketplaces needs to be carefully planned if you intend to grow at a mass scale.
Different states of the USA have different tax rates, set aside the calculations for different North American Marketplaces (or countries if we may!).
Make a sale but don't forget to collect your sales taxes. This will cause a dent on your profit margin. If it is easy, you can simply set up your tax settings on the Seller Central and pay a nominal amount to make Amazon collect your sales taxes.
As for paying taxes to the revenue department is your duty and you definitely don't want to pile up your unpaid tax records.
Fulfillment issues for sold products
Delivery delay
 This is one thing that if done right will always be appreciated by your customers. Online shopping is different than buying from a physical store.
As the customers lack the feeling of physically holding online purchased products, the shopping process seems somewhat incomplete.
The sooner you are able to deliver the products, sooner you complete the buying process for customers. And a happy customer is an advocate of your business.
Inaccurate delivery
When a customer orders for a product and receives something else, there's nothing more disappointing to him.
Getting to win the trust back of that customer is really difficult. Being a bit careful while shipping the product, publishing the labels, etc will go a long way to impress your customers on Amazon.
Also, if you are selling through Amazon, a target for you is to beat the delivery time and standard of Amazon Prime and FBA if you've not participated in them.
Voice of the customers can never be ignored
When a customer makes a comment or a suggestion on your Shopify shop, you know, you need to take action. Likewise, Amazon takes the comments of the buyers really seriously through the A9 algorithm.
So, when you are selling your products through Amazon, take special care about the feedback and comments. 
Along with that, many successful sellers who've grown in the Amazon marketplace are actively involved asking for the customer reviews for their business.
Tip: It is better to ask for reviews immediately after the product is sold or delivered. This way your customers have a fresh first perception about you and are willing to help you out to grow your business.
If you're looking for some more information to start your profitable journey to sell products through Amazon, please check these resources:
How ExportFeed helps you grow as a seller on Amazon?
ExportFeed app is easily available through the Shopify App store
We've offered unrestricted Free trial of 7 Days with free support
We'll create your Amazon product feed free of cost for the 1st time
You can map categories and customize attributes as you need
Our support team will help you through each step when you need.