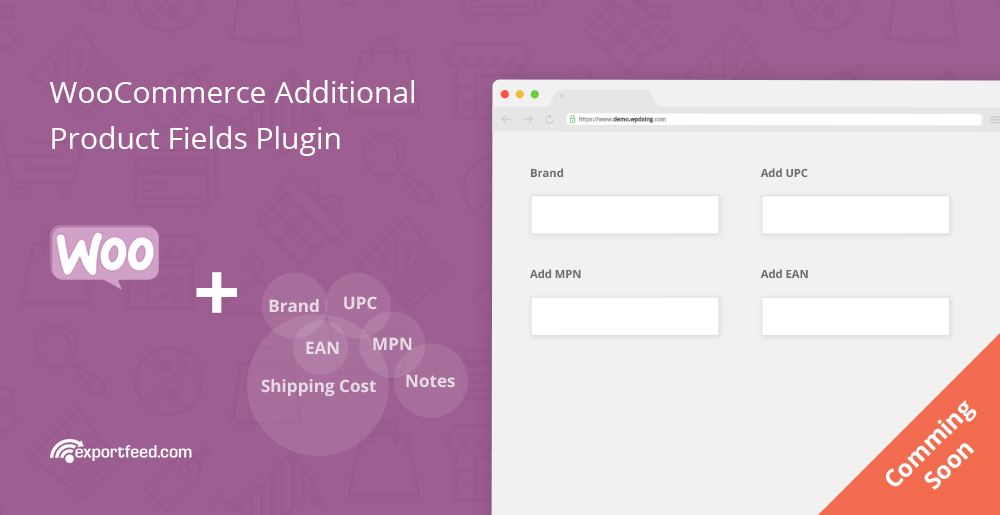 When you're about to add your products of WooCommerce to Google Shopping or Amazon, you'll need to add different attributes of those products. But, it is likely that your products do not contain all the product attributes required by marketplaces.
You are not even able to add that information to your WooCommerce store because WooCommerce doesn't provide you the space to add those fields explicitly. That's when you'll need an Additional Product Fields plugin, which we're about to release soon.
What are the fields that Woo Additional Fields Plugin will help to add?
The most common product information errors when submitting your product fields to Google, Amazon and alike merchants are the Brand and Unique Product ID missing errors. So, This plugin will add specific fields to input that information on your WooCommerce.
As of now, the Woo Additional Fields Plugin is able to help you add these fields to your WooCommerce so that when creating product feeds using ExportFeed plugins, those can be added and sent to the merchants.
Brand value to your Simple and Variable products
UPC value to your WooCommerce products
MPN value to your WooCommerce products
EAN value to your WooCommerce products
Shipping cost to your WooCommerce products
Notes to your WooCommerce products
Are the values in fields you add to WooCommerce using Additional Fields plugin displayed to the visitors of your WooCommerce site?
The current settings of Woo Additional Fields plugin don't support displaying the values in the newly added extra field to the visitors of your site. This plugin is developed in order to make your product listing on merchant sites as smooth as possible.
So, the product information you'll add will be included in the product feed and will be visible on your merchant site listings, based on their settings.
For most of the merchant sites, they may display the Brand and Notes values but may not display Unique Product Identifiers like UPC, MPN or EAN.
If you'd like to know more about this plugin or start checking it before we make an official release please contact us.