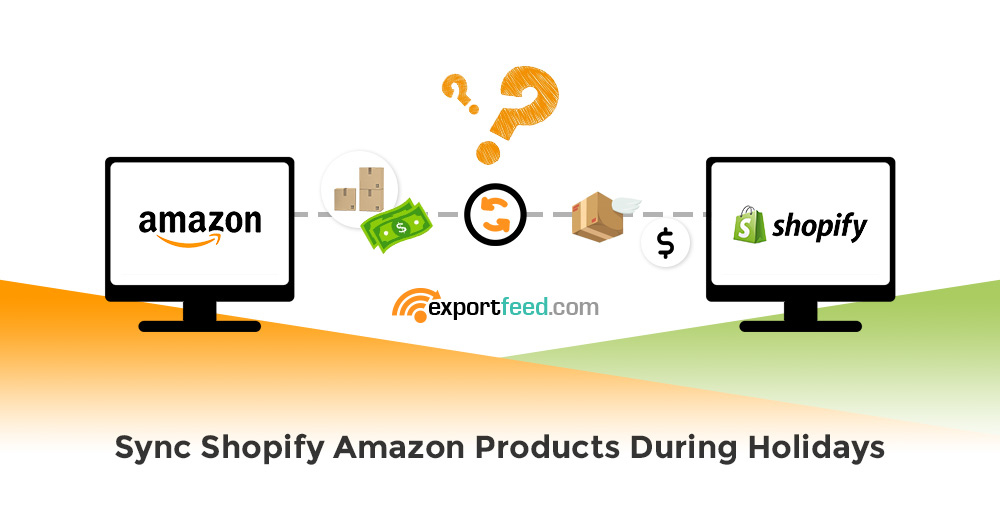 During the holiday seasons, isn't it the target to sell as many products as you can? Simply selling through your Shopify store isn't enough. So, you're compelled and excited about generating more revenue through Amazon. Go ahead and list your products there. But wait!
You have so many products and it is going to take time; like forever. You need an application to sync Shopify products with Amazon.
Saving time and effort is not the only reason that makes a Shopify to Amazon product sync tool necessary.
Reducing manual errors
Apart from saving time to list your products, a product listing management software like ExportFeed will help you to reduce listing errors. Not only you avoid the possibility of making inaccurate listings on Amazon, but you also get the benefits of adding the required information for bulk products.
Helping to avoid overselling
It is holiday season and your promotion efforts and efficiency are at their peak. This means that you have reached out to more potential customers for your Shopify based products.
Furthermore, the products that you've listed on Amazon are also getting more hits and orders due to Amazon's selling tactics. What if you fulfill the orders generated through Shopify just to find out that you have orders for the same products on Amazon?
You can only solve this if you have a supplier ready or you can prevent this issue beforehand – simply by using Shopify Amazon listing tool offering inventories and orders synchronization.
Improving your goodwill
Without the sync functionality, changes in your Shopify product listings are not immediately reflected on your Amazon listings. And if these changes are related to price or quantity available, fulfilling your orders from Amazon will be a problem causing dissatisfied customers and bad reviews. (worse but possible case).
So, why wouldn't you save your business goodwill when it is just about using a product listing management software like ExportFeed?
Increasing your product/seller ratings
Selling your products through Amazon can have unexpected outcomes. If you are willing to create your product listing with adequate information, you have the full benefits of selling through Amazon even when products are searched by applying filters. This gives the added benefit by getting more customers and getting more seller ratings.
Note: Seller ratings weigh more for Amazon's A9 algorithm and increasing seller ratings helps in getting most business through Amazon.
Helping in quick delivery
If listing Shopify products on Amazon plays a key role to increase your sales, being able to quickly deliver the products go a long way for your business. To bring in repetitive customers, gaining positive reviews, increasing the seller ratings and improving your product position on the Amazon search, these are just a few benefits. The main benefit of your continuous quick delivery is that it helps you win the Buy Box on product listings.
What if you are are working on the Dropshipping model on Shopify? Is Shopify Amazon sync still possible?