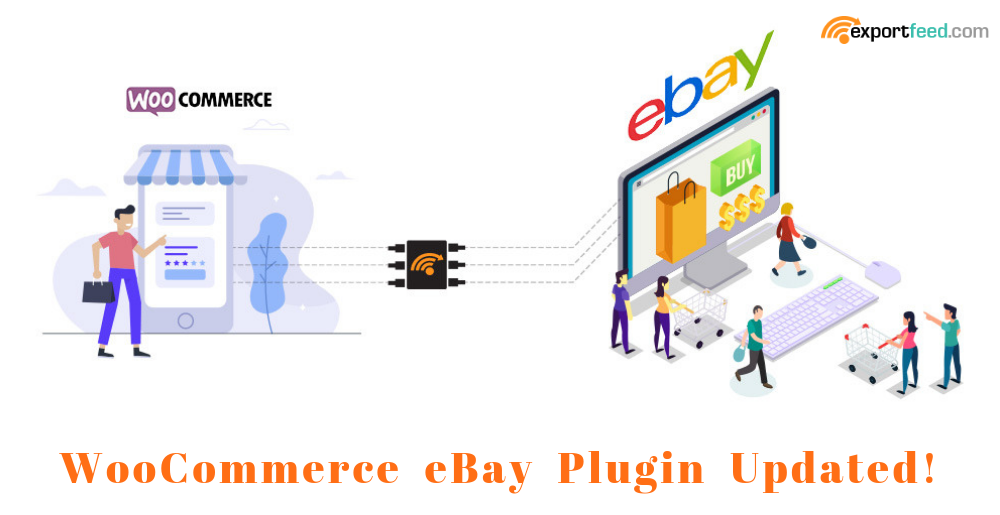 We are proud to announce that we have just released a new version of eBay product feed plugin on the WordPress plugin repository. This latest update allows you to connect the products of your WooCommerce shop with your eBay marketplace account and perform more eBay product listing work easily and quickly.
Quick reasons how ExportFeed helps you to sell on eBay
Creating your listings on eBay marketplace will be easy for few products and for auction type listing. But for bulk products with fixed price listings, manually entering each product one by one is not just a cumbersome task – it is also prone to errors.
When simply installing ExportFeed alongside with WooCommerce and creating your product feed will allow you to create your product listings quickly and accurately, it is just logical to opt in for a free trial package of ExportFeed for WooCommerce products to eBay plugin.
Furthermore, the development of this plugin is in an ongoing state to ensure that latest changes in eBay and the requirement of an online retail market is always met for the sellers using this plugin to increase their sales.
About the latest development on the eBay plugin,
Connection with multiple supported eBay marketplaces 
eBay marketplaces are specific to the countries and if you are targeting to sell your products to the customers of Canada, you should list your products on eBay.ca and not on eBay.com or eBay.co.uk.
Or, if you are selling products that are in demand for both the American customers and the Canadian customers, you can connect your eBay USA and eBay Canada marketplaces accounts using ExportFeed and send your product feed on both these marketplaces. You can check the supported eBay marketplaces here.
Product feed creation with listing optimizations made easy
This update of ExportFeed plugin will allow you to easily make changes to the product attributes of your WooCommerce products in the eBay feeds while you create them.
ExportFeed previously allowed the advanced commands option to set rules for product feed optimization, but some of the most used commands are added as clickable option with this release.
Option to edit existing eBay product feed improved
At times, we need to make changes and corrections. For this, we need the edit functionality. ExportFeed also allows users to create the product feed and edit them to make the required changes.
The edit product feed function is also used by many of the experienced product feed marketers to make customizations on product data to create optimized listings on marketplaces such as eBay itself.
A few minor and unnoticeable glitches were present which have been solved in this update of ExportFeed while improving the edit functionality's use cases.
Option to create custom product feed improved
In general, when creating product feed, most of the sellers include all products from a specific category. However, it isn't case at times. Like, when trying out a new product group or when you have seller limitation of eBay in place. Then, you sell hand-picked products.
For this, ExportFeed has allowed custom product feed creation option. We've improved this part of ExportFeed plugin for eBay is to offer a more user intuitive functionality.
After all this information, if you are wondering "What did I just read?", below is the link to the eBay plugin itself. Feel free to try it for yourself and send us your feedback. Also, if you want our help to set-up your first WooCommerce to eBay product feed free of cost, please feel free to let us know.
ExportFeed's eBay plugin is currently under development and will be released soon.
Reasons why you should start selling on eBay… if you haven't already!
eBay is definitely one of the best marketplaces to sell your products. It has established itself as the marketplace allowing sellers to get the correct value of their product through auction listings. There are other benefits of selling on eBay as well including the offerings that are listed here.
Flexible Marketplace
Apart from the auction listing, it also allows fixed price listing for bulk products. eBay is also more flexible for sellers than other marketplaces. Retailers can define their own shipping policies and refund policies.
Refund Policy
Furthermore, though refund policies help to boost conversions, it is not compulsory. Rather, you can set a 14 days refund policy to boost your customers. Along with that, eBay is competing with other marketplaces to win the trust of customers through the Guaranteed Delivery program.
Shipping Settings
When you list your products on eBay, you can define your own shipping settings. This helps in calculation of the shipping cost but it doesn't end there. In eBay, you are also able to set multiple local and international shipping settings. A part of your business operations is made easy with this setting.
Listing bulk products
Selling bulk amount of products are possible for eBay sellers with the subscription of File Exchange service. Why list bulk products? The answer is simple. Your products get more exposure. And, your sales revenue increases.
This is where ExportFeed plugin offers you to help!