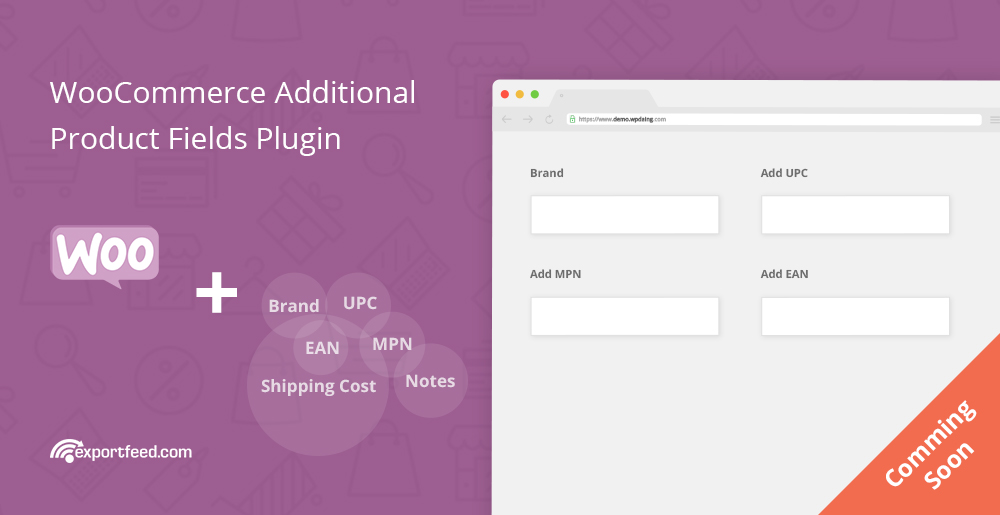 We're happy to announce that we've released the Woo Additional Product Fields plugin that'll help you add the required fields in your WooCommerce products and that'll be carried to the feeds you create for marketplaces using ExportFeed plugins.
Sending products to different marketplaces like Amazon, eBay, Google Shopping definitely helps you reduce your product marketing load. But, in order to achieve the desired sale results or even create a proper listing on these merchants, you'll need to ensure that you provide all the basic requirements, plus additional information.
What is the information that you'll need to add for making a successful listing on these merchant sites?
Brand value to your Simple and Variable products
UPC value to your WooCommerce products
MPN value to your WooCommerce products
EAN value to your WooCommerce products
Shipping cost to your WooCommerce products
Notes to your WooCommerce products
Luckily, this Woo Additional Fields Plugin will allow you to add this information to each of your products!
For more information about this plugin, please refer to this post:
https://www.exportfeed.com/woo-additional-product-fields-plugin-coming-soon/ 
To find the installation and user manual for this plugin, please check
https://www.exportfeed.com/documentation/doc-woo-additional-product-fields-plugin/
To download the plugin, please visit the WordPress plugin repository through this link
https://wordpress.org/plugins/exportfeed-woo-additional-product-fields/
Though this plugin offers full functionality without any license key requirement free of cost, we will still maintain this plugin and release updates.
For this reason, if you have any feedback for this plugin or our other plugins, please feel free to contact us here.