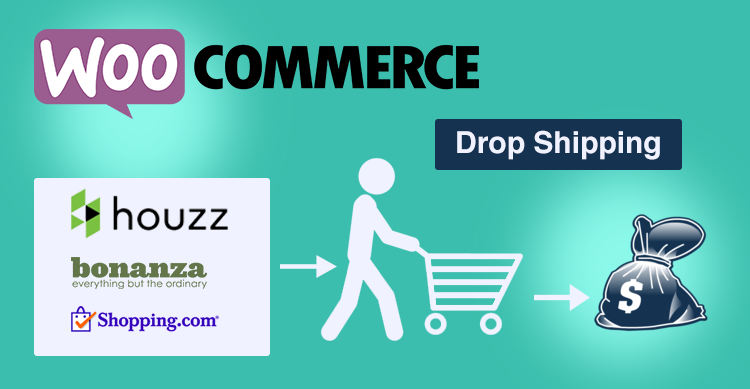 So you've decided to start a dropshipping site but are fairly new to the market and are confused on where to channel your products. There are way too many WooCommerce Dropshipping Sales Channel to choose from and might even be overwhelming at first look.
In order to know the best WoCommerce Dropshipping Sales Channel for your product, you need to be clear about what WooCommerce platform offers. Let's start with what WooCommerce is and how it serves your dropshipping site:
What is WooCommerce?
Imagine having a "one-size-fits-all solution" to running an eCommerce site; regardless of your technical knowledge. WooCommerce is that solution.
WooCommerce, a platform built to seamlessly integrate with WordPress, is a free eCommerce plugin that allows you to sell physical and digital products of any size.
The reason behind WooCommerce's success is apparent with over 30% of all online stores powered by this plugin. You can offer shipping with WooCommerce wherever your business model allows, integrate extensive payment options, customize the look and design of your store and the best part – you OWN all of it FOREVER!
The reason behind WooCommerce's success is apparent with over 30% of all online stores powered by this plugin. You can ship wherever you want, integrate extensive payment options, customize the look and design of your store and the best part – you OWN all of it FOREVER!
What benefits do I get from using WooCommerce for Dropshipping?
There are a number of reasons that make WooCommerce a one-stop-solution for dropshipping.  Few of those reasons are:
Customized plugins and themes, personalized to your needs

Unlimited free WordPress plugins to choose from

Send automated notification emails to wholesalers

Improve business process and even check the automation

Optimize your dropshipping website for conversion easily
The main benefit of using WooCommerce for Dropshipping is the endless possibilities that come with ANY plugin that is supported by WooCommerce.
Why do I need the best WooCommerce Dropshipping Sales Channels?
Think of it this way:
"You are already selling products with a very low margin as dropshipping only works that way. Depending on a single sales channel to earn a big sum of revenue is nearly impossible so you need multiple numbers of sales channels."
Haphazardly choosing every sales channel that you come across won't work either. The dropshipping sales channels that you choose must be unique to its segment or with a large number of loyal visitors for the products you are offering.
On to the next question:
What are the Top WooCommerce Dropshipping Sales Channels?
Based on the products that you're dropshipping, a particular sales channel might be more effective than the other. However, you can still receive high traffic by targeting a niche market of multiple sales channels.
These are the sales channels that you must not miss regardless of what you're dropshipping:
WooCommerce Dropshipping on eBay
Almost every individual with access to the internet knows what eBay is and what it does. eBay is the world's largest online platform to sell goods and is even regarded a household name at this point. You can reach customers around the globe by dropshipping with eBay.
The reasons why eBay is regarded one of the top WooCommerce Dropshipping Sales channels are:
Auction Selling
One of the major factors behind eBay's success is its auction feature that allows sellers to choose between selling products for a fixed price OR in an auction. If you're dropshipping a rare item, put it up for auction, because at the end of the day, an item is only worth what a buyer is willing to pay for it.
Search Engine Optimization
Some dropshippers use their own site as a sales channel but end up frustrated with poor Google ranking. It takes months if not years for your site to get a decent Google ranking, let alone reaching the top. eBay has the best Search Engine Optimization so you don't have to worry about marketing or paying for traffic.
Discount on Shipping
eBay offers up to 20% discount on shipping for its sellers. Any amount of discount on shipping is every dropshipper's dream and eBay makes it come true.
Trust and Brand Recognition
The online market is over-saturated with new and upcoming online stores. But there are only a handful of brands that people trust without a second thought, and eBay is one of them. Since its establishment in 1995, it has massively gained the trust of buyers worldwide.
WooCommerce Dropshipping on Amazon
There is a reason why Amazon went from only selling books in 1995 to establishing itself as an online selling giant in today's world, and it isn't luck. Over 2 million sellers prefer Amazon because they report having almost 50% more sales from the site than any other sales channel.
Amazon is a hugely recognisable brand so you won't have to waste your time explaining people about how you're working. Some of the reasons that make Amazon, a top WooCommerce dropshipping sales channel are:
Lower Stock Holding Costs
Amazon maintains an inventory of its sellers at a minimal annual fee. You don't have to worry about your products collecting dust in your basement. Another plus point is you can expand your inventory as your business expands by paying Amazon much lesser than what you would if you were to do it physically.
Site Visitors
Amazon is one of the highest visited online portals on the web. During the first quarter of 2016, the company stated to have reached 285 million active users! This along with the benefit of SEO sets Amazon as a top WooCommerce dropshipping sales channel.
Fulfillment by Amazon (FBA)
FBA makes your products visible to worldwide Amazon customers while providing fast shipping. As their slogan suggests, Amazon picks, packs and ships your orders to its customers. You only need to send your inventory to Amazon's fulfillment centers located around the world. Your products are stored securely and automatically become eligible for AmazonPrime and free super saver shipping. It's a win-win for your customers because they get free shipping and for you, it's basically free marketing.
Higher Margin on Every Sale
The average margin online is at a 50% markup whereas Amazon's referral fees are below 20%. It allows you to make profits from an already low listing price.
WooCommerce Dropshipping on Google Shopping
There are hundreds of comparison shopping sites but Google is the one that is in a league of its own.The best thing about comparison shopping engines like Google Shopping is that it only displays thy product you have put up for sale so the customer has to be redirected to your dropshipping site to place an order.
Some of the factors that make Google Shopping one of the top WooCommerce Dropshipping Sales Channel are:
Lowest cost of sale while generating the most revenue and traffic

Google Shopping has 21% higher click-through rate than text ads

Option to add custom marketing messages to every ad

Best SEO ranking since Google Search Engine is owned by Google
Other WooCommerce Dropshipping Sales Channels
Bonanza
Bonanza is the best dropshipping sales channel for those targeting the fashion industry. It has over 25,000 registered businesses and is a great option if you're planning to dropship to fashion niche customers. One of the main reasons that make its users love Bonanza is ZERO listing fee! You only have to pay 3.5% closing fee on sales under $500.
Shopping.com
Shopping.com is a price comparison service owned by eBay and operates in USA, UK, France, Germany and Australia. It accepts CPC bidding, where merchants must pay a minimum of $100. Since eBay and Shopping.com's functionalities are getting merged, you should not miss out on dropshipping on this site.
Houzz
If you're searching for the perfect platform for architecture, interior design and decorating, Houzz is the perfect dropshipping channel. It collects 15% commission from sellers on transactions and also offers premium subscription service for home professionals. In a study done in 2015, it was found that nearly two-thirds of Houzz users in the U.S. completed a remodeling or redecorating project.
There are hundreds more to choose from since a WooCommerce is the biggest platform for dropshippers. However, dropshipping manually across all of these platforms isn't an easy task.
How is it possible to dropship to all of these platforms simultaneously?
You're in luck because there is a single solution that lets you drop ship to all of these WooCommerce Dropshipping Channels in an efficient way with the help of ExportFeed.
How does ExportFeed work?
ExportFeed is a feed management solution that works on WordPress alongside WooCommerce platform. It lets you automatically create product feed across 40 of the biggest merchants online.
Addressing the big question, yes, ExportFeed lets you dropship across multiple WooCommerce platforms.
What does ExportFeed offer?
There are numerous benefits of using ExportFeed for feed management such as:
Sync Product Feed
Imagine not having to worry about manually updating each and every dropshipping sales channel every time there is a change in your inventory. You can leave that hassle to ExportFeed, which automatically syncs different dropshipping channels' feed with a single click!
Time Saving
Depending on the volume of items you're dropshipping, it might take weeks to create a customized feed for every WooCommerce Dropshipping Sales channel. Since ExportFeed does it all for you, you will save time which can be utilized to grow your business.
Professional Support
ExportFeed provides all of its clients' end-to-end support with a group of the dedicated support team on standby to help you solve any and all problems regarding product feed management.
Error Free Product Feed
A majority of dropshippers skip certain dropshipping sales channels simply because the sites keep pointing out a number of errors. By using ExportFeed, you can sit back and let the plugin take care of optimizing product feeds without a single error. And even if they do arise, the support team comes to your rescue!
What's keeping you from trying out ExportFeed and seeing for yourself why it is the best product feed solution?
Try a 7 day FREE TRIAL without any feature restrictions and watch your business take off at full speed!