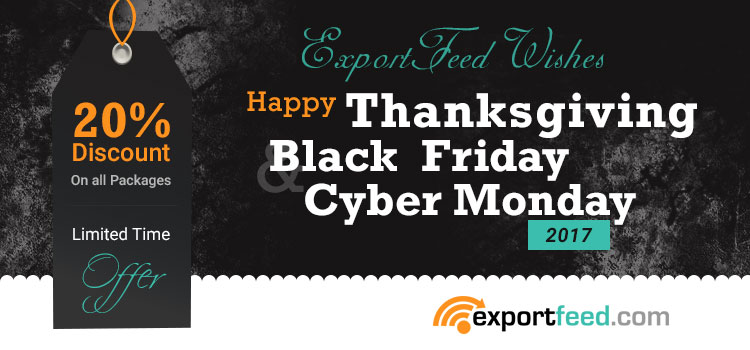 With the peak sales season and celebrations coming right up front, it is the time of the year when shoppers are crawling through Google Merchants, Amazon, eBay, Etsy and other popular merchants' sites.
We believe that your own eCommerce site has been receiving a lot more visitors than other normal business days. Has your revenue increased as expected?
Have you showcased your Thanksgiving, Black Friday and Cyber Monday offers on the Merchant sites? If not, we have been providing a lot of tips on our blogs and help through our support tickets to optimize your feeds for this festive sales.
Along with the tips, here's a Free feed setup for you,  if you aren't using the pro version. So, you have every reason to start with the pro version now.
Whether you have been selling online for quite some time now or you have just launched your eCommerce site, this is the perfect time to promote. Install ExportFeed on your eCommerce platform and create your data feeds for over 40 supported merchants. 
You will be able to use ExportFeed if your eCommerce site is based on these platforms:
We wish you a huge success in Black Friday & Cyber Monday sales.
Happy Selling!