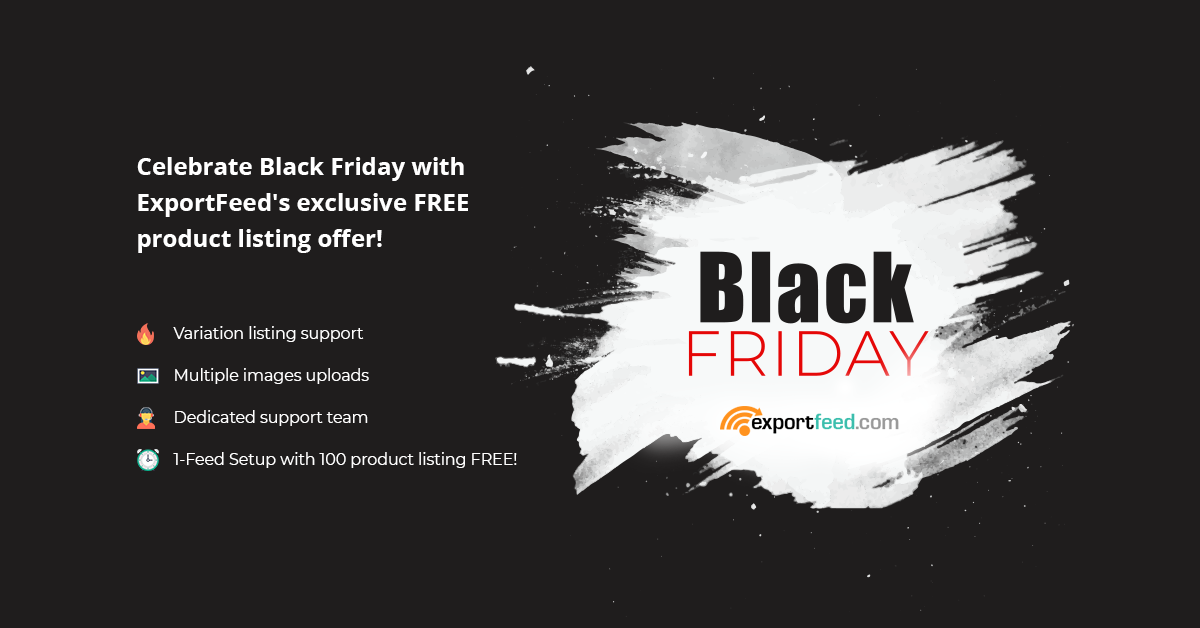 ExportFeed Offer  – Celebrate this Black Friday with More Sales! 
Before discussing the deal that we're offering for Black Friday, we'd like to extend our appreciation towards all the wellwishers of ExportFeed for Thanks Giving 2019.
What's the Black Friday offer?
As we've been providing our products and services to let you sell your products through multiple sales channels, this time we'd like to help you list 100 products in one of your preferred merchants free.
Free Services for this Black Friday
Along with listing 100 products of your choice to your preferred merchants, here are other benefits that you'll get with our Black Friday 2019's offer.
One Product Feed with 100 Products
We'll create a product feed with 100 products of your choice, whether you want to sell on Amazon, Google Shopping, Etsy or other marketplaces.
If you don't find the marketplace in our supported merchants' page, you can even contact us with the demo feed file and we'll try to provide you with the product feed that you need.
Variation Listing Support
With this Black Friday offer, we'll also include all the product variations of your 100 products in the merchant feed. This means, your product listing will not be limited to 100 SKUs – rather the number of parent products will be 100 and all the other product variations of those 100 products will also be listed in the marketplaces.
We'll list variations of your products so your customers can find and buy the products they desire from you.
 Multiple Image Uploads
Listing products on marketplaces with just one image of the product is never enough. It is not convincing enough for your buyers. For this reason, whether you want to sell on Etsy or Amazon or any of the other supported merchants, it is necessary that you create a listing with multiple images per product.
For this, when using ExportFeed products like…
…you can list multiple images. And we'll help you do that when you grab our Black Friday offer.
Dedicated Support Team for Black Friday Offer
When you're using ExportFeed, you have multiple ways to get support. We've been offering help to the ExportFeed service users through
For this Black Friday offer, we have assigned a dedicated support team to help each client list up to 100 products and their variations in their desired marketplaces.
So…
Get your products out in the sales channels and aim for more sales with our limited Black Friday offer!