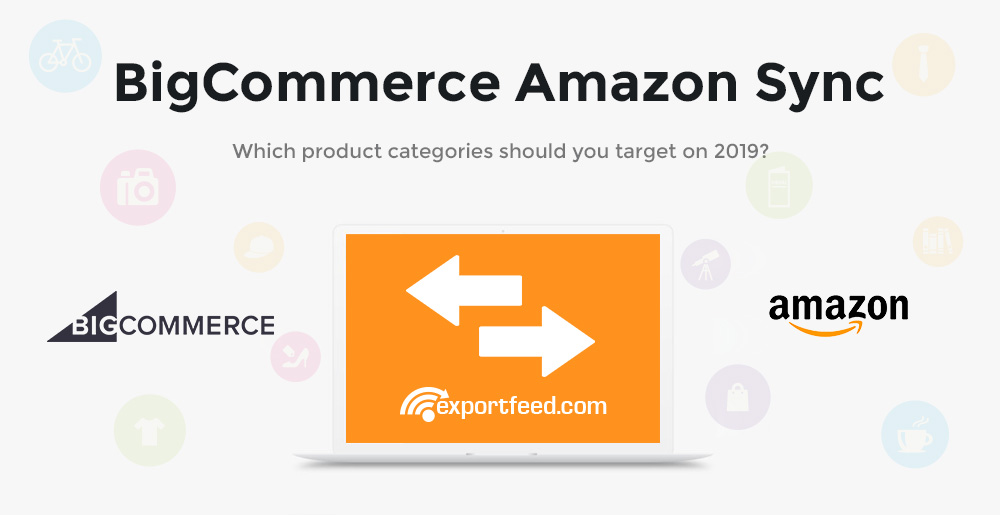 Been selling your BigCommerce products on Amazon already? If so, Great! But do you know what your customers are buying on Amazon lately? Staying aware of this and other changes on Amazon will help you grow your business. But, at first, you need to implement a proper way for BigCommerce Amazon Sync. We'll check that here in brief and then move on to the popular selling categories on Amazon for 2019.
Syncing your BigCommerce Products with Amazon – What you need to know
The basic about the type of information you need to send to Amazon – the required attributes and optional attributes specific to the category.
What you can and cannot sell on Amazon? Over 20 categories are allowed but there are those restricted also and others requiring permissions.
How frequently should you update your product information on Amazon? If it is regarding quantity,  as soon as there is a change & if it is about product descriptions, as soon as you need it.
Can you sell on Amazon.com only or can you sell the same products on other marketplaces also? If you meet the shipping requirements to sell internationally, you can sell apply to sell on North American, European, and a few other marketplaces, Amazon has recently announced that you can do that with the same fee of USD 33.99.
What are the best practices to sell your products on Amazon? Check this post to find out.
Now let's move on to the product category which you should focus to sell on Amazon
Electronics, Computer, and Office:
When it comes to buying computers and electronic items, buyers are found to have been purchasing them from Amazon marketplaces without hesitation. One possible reason for that could be, quick delivery and clear return policies also help to increase the sales of computer and electronics category and this is among the best selling practices on Amazon.
Why should you focus on selling on this category on Amazon? The answer is simple; it is experiencing a 6% annual growth every year. 
What can you sell on  Amazon's Electronics category?
TV and Video
Audio and Home Theater
Computers
Camera and Photo
Wearable Technology
Car Electronics and GPS
Portable Audio
Cell Phones
Office Electronics
Musical Instruments
Amazon Devices
If you are selling products that fall under these categories on your BigCommerce store, you should definitely start sending your BigCommerce Amazon Sync for these categories.
Beauty & Health:
The launch of new brands in this category is a growing phenomenon globally. As a result, new brands are launched on Amazon and even launched through Amazon's brand registry program. However, the interest of millennials seems to be increasing in the Beauty and Health products as the sales have been rocketing for products under this category and so has the interest of Amazon itself. 
If you are wondering why should you sell products under Beauty & Health category on Amazon – After this category was launched in 2013, the value of this category on Amazon has reached over $5 billion. 
What can you sell on Amazon's Beauty & Health on Amazon?
Household supplies
Baby & Child Care
Vitamin & Dietary Supplements
Sports Nutrition
Health Care
Medical Supplies & Equipment
Sexual Wellness
If you are looking to sell your BigCommerce products under Baby & Child Care, Health Care, Medical Supplies and Sexual Wellness, make sure that your products do not fall under the restricted category before creating a product feed and trying to upload them to Amazon.
Clothing, Shoes, Jewelry, and Watches:
This is the most commonly sold product category and one among the most purchased product category on Amazon and on other marketplaces also. All these categories are purchased by men and women of all ages and from everywhere in the world. For this reason, most of the people are considering selling Jewelry and Watches on Amazon marketplaces. So, why should you fall behind?
What can you sell on Amazon's Jewelry and Watches category?
| | | |
| --- | --- | --- |
| Women's | Men's | Both |
| Anklets | Bracelets | Wrist Watches |
| Bracelets | Cuff links | Watch Bands |
| Brooches & Pins | Earrings | Pocket Watches |
| Earrings | Necklaces | Smartwatches |
| Jewelry Sets | Rings | Certified Pre-Owned |
| Necklaces | Shirt Studs | |
| Rings | Tie Clips | |
| Wedding & Engagements | Tie Pins | |
| Smart Jewelry | Wedding Rings | |
| Body Jewelry | Body Jewelry | |
Now, if you are looking to sell your BigCommerce based products on Amazon, you know which Amazon Categories you should target to sell. And if you are wondering how to list your products on Amazon marketplaces, ExportFeed already offers you a great tool.
Why use ExportFeed app for BigCommerce to Amazon Sync?
Include or exclude your the products variations easily
Product information check to avoid listing errors
Orders & Inventory Sync between BigCommerce & Amazon
Customization Options to implement best selling practices
We'll set up your first Amazon Feed Free of Cost!