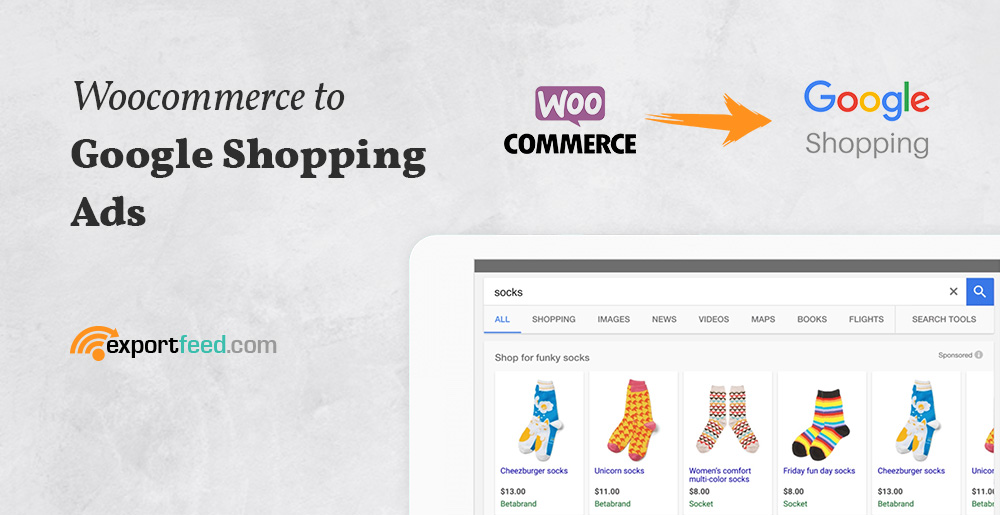 If you are planning to start the Google Shopping campaign for your WooCommerce products this holiday season, we are providing a few tips here to make sure that you meet the requirements for your Shopping ads. 
The basic process first
Create a product feed of your WooCommerce products using ExportFeed

Login to your Google Merchant Center and submit your product feed. 

Connect your Google Shopping center with your Google Ads account

Set up a Shopping campaign for your WooCommerce products 
Understand what happens
1. You create a product feed of your products: Within this product feed, you are storing all the product information that you want to send over to Google Shopping.
The product information includes product title, description, product image links, landing page URLs, your unique product identifiers, product attributes and more.
2.Submitting your product feed to Google Merchant Center: When you create your product feed and submit it to the Google Merchant Center, the information that you submit is verified by Google and processed further to display in Google Shopping.
If your product feed contains errors you'll find them and get resolution tips here. Also, from the Merchant Center, you'll be able to select the target country for ads display.
3.What happens when you connect the Merchant Center with Google Shopping? You are able to set up your product listing ads on Google Shopping for the products you submit to Merchant Center.
Then, you can see the performance data for your campaigns and get loads of specific optimization ideas. You also manage your budget for the shopping campaign on the Google Ads platform.
4.Setting up your Google Shopping campaigns on Google Ads: This allows you to reach to the potential buyers. When your products are displayed in the Google Shopping, your customers are brought back to your website to the specific product detail page.
This provides your customers with the benefit of avoiding all the unnecessary clicks on your site, shortening the conversion funnel increasing sales potential.
Google Shopping sends qualified buyers to the landing page of your WooCommerce Product. So, what should you be careful about?
If you are creating your WooCommerce Google product feed manually, you need to be extra careful about the product details page link or the landing page for individual products. This is provided as the link in your Google feed. Also, if you have optimized your WooCommerce site for the mobile experience, you can provide the mobile URL for each product as mobile_link. 
Apart from that, here are some of the best practices for your WooCommerce landing page for Google Shopping
Must have elements on your WooCommerce landing page: 
The product title should be displayed clearly on your WooCommerce landing page along with the product description and images. In order to not waste the ads revenue, you must ensure that these attributes of your product are well optimized.
You cannot miss to display the Price, Currency, Availability and Buy button. In case of the price of the product, this needs to be identical to what you have submitted in your product feed to the Google Merchant Center.
The correct way of presenting a product to the visitors from Google Shopping
At times, you may be focusing on special promotions for some of your high-profit margin products. So, it may seem like a good idea to display that product to every visitor on your site.
However, for a visitor who lands on a product page is looking for the specific product that they found on the Shopping ads. Making any other product more prominent than the product that a visitor came to your site is not a good practice. 
Collecting emails for remarketing or for other offers: 
While using the pop-ups on your WooCommerce site to grab the email addresses of your visitors is not against the policy, not allowing users to close these promotion pop-ups is a violation.
Along with that, if you need users to be redirected to other pages like acceptance of uses or such required by the local law, you can implement the redirect. But once the action is completed, you should use redirect the user back to the original link that they clicked on your Shopping ads. 
Use variation links in your Google Shopping Feed
When you are sending your product feed to Google shopping, you can set your product URLs for variable products. This way your customers will be able to land on the landing page of your WooCommerce for the exact product and variation.
This will also speed up your conversion process by helping users to find the exact product they were after. 
Use negative keywords section on your Google Shopping campaign
As Google Shopping campaign uses your product attributes as the keywords to display your products, sometimes, your products may show up the unwanted keywords also.
This may gobble up your advertising revenue and also add discrepancies to your analytics data. So, it is a wise practice that you add unnecessary keywords in the negative keywords section of your Google Shopping campaigns when you set it up.
How can ExportFeed help for WooCommerce Google Shopping?
Fast and almost error-free WooCommerce product feeds for Google Shopping

Automatic product feed updates to avoid any data mismatch between WooCommerce & Google

Automatic product attributes mapping between WooCommerce and Google Shopping

Create product feed for all products of a category or handpick individual products

Get help for your WooCommerce Google Shopping feed when you need it.