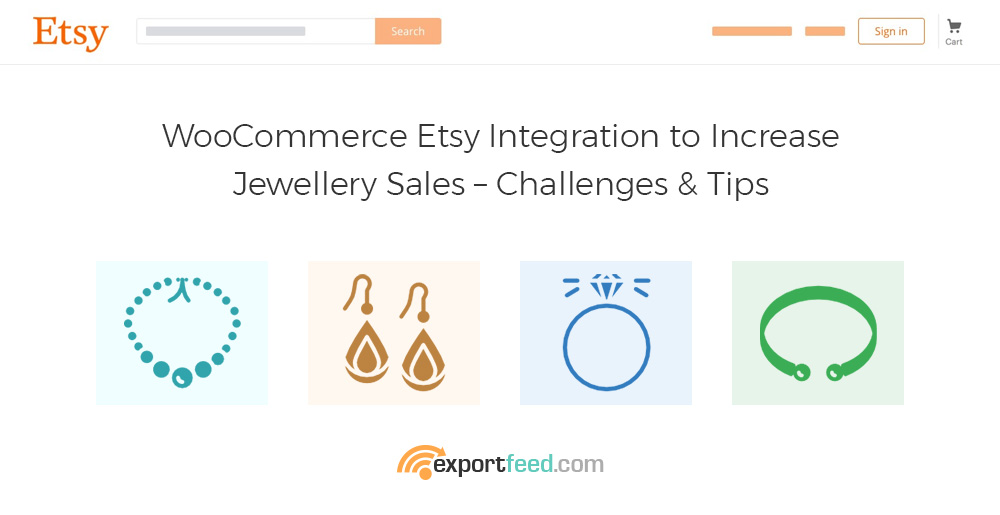 Enhancement to the beauty and style, jewelry are also the dominant category that sells really well on Etsy. But, you can't be a reseller to sell on this category, reselling is only allowed in the crafts and supplies category. We won't look into that at this time, just focusing on selling more jewelry on Etsy from your WooCommerce store.
Let's begin!
The challenges that you'll face while listing jewelry on Etsy are the variations, shipping, and other such custom category based attributes. These are relatively easy when you start listing manually and that's only feasible if you have up to 25 product SKUs at max. And selling up to 25 products SKUs on a marketplace like Etsy won't be able to deliver your expected sales revenue too.
So, how to go about it?
If you're reading this article, you already know that ExportFeed allows you to create your bulk products listing from WooCommerce to Etsy easily and much quicker than doing it manually. Have you tried it yet? If not, you should now.
Selling more products on WooCommerce than you can manually list on Etsy?

How to handle the challenges of listing bulk WooCommerce products on Etsy?
But more than that, how to resolve the shipping and variation related issues on Etsy?
When listing your bulk WooCommerce products on Etsy, you can easily create your product feed for WooCommerce to Etsy product listing using ExportFeed plugin. However, you don't want to keep signing in to your Etsy account every time you want to upload your products.
With ExportFeed, you can easily send your products from WooCommerce directly to Etsy. When selling different jewelry and related products, you may encounter some issues related to insufficient product attribute data. For this, you can easily contact our support team and get the fixes done almost instantly.
If you have just started submitting your WooCommerce products to Etsy, you may have seen that after listing products for the first time, you do not find the SKU values for your products. These values are only listed on Etsy after you re-upload the same feed. This is well explained by our support team.
You can also get more tips to sell your WooCommerce Jewelry products on Etsy by contacting our expert support team.
We already have more features under active development and will release the updated version of the WooCommerce to Etsy plugin soon. However, if you have any feature requests that'll make your process of selling on Etsy easy, please let us know.
Updated Version now includes order sync functionality which reduces the quantity and helps maintain inventory level, helps you skip the Etsy API connection setting and allows you to implement sync settings for title, description, tags, and images.