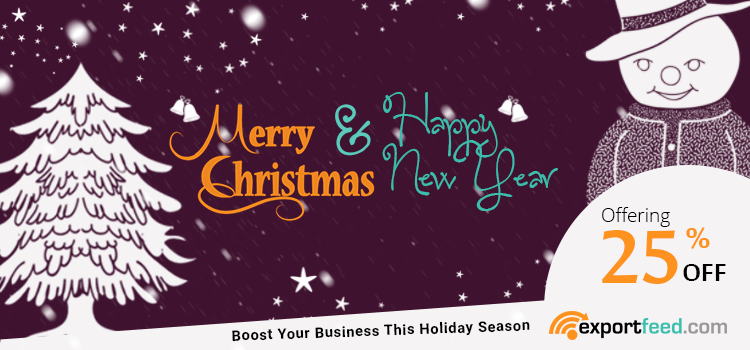 It is the time of the year now to enjoy the most awaited holiday – Christmas and to bid goodbye to 2017. Let's welcome 2018 together.
Here at ExportFeed, many plans were executed during 2017 and many plans have been made for 2018. But all of them are related to helping you use a quality product and improving your sales as an eCommerce merchant. We are grateful towards all the suggestions, comments and feedback we received from you.
ExportFeed is offering a limited time 25% Discount site-wide!
Holiday Selling Tips for Online Shop Owners
If you haven't offered any discounts or promotional offers for your products, this is the right time to do so.  An Earlybird discount always performs better. Posting limited time offers also creates a sense of urgency to increase sales in the holiday season.

Offering free shipping and estimated time to delivery is a crucial part of selling on the holiday season. Even if you cannot offer flat shipping discounts, offering those for location around you will help you grab your local customers.

Look out for the event or occasion based keywords to promote your products and integrate them. "Home decoration for Christmas" will grab more customers during Christmas than "Home Decoration Ideas".

Don't miss to get exposure for your brand or products from the social media platforms. Post wishes and offers using your brand name. Then to avoid the repetition of promotion or offer, you can create those for separate products.

Host a contest for your targeted customer groups and offer freebies if possible.  Eg: You can even create a lucky draw for customers purchasing over $200 and offer a $25 product free of cost for 3 lucky customers.
We hope you increase your sales by implementing these tips to increase your sales during the holiday seasons.  Merry Christmas & Happy New Year 2018!