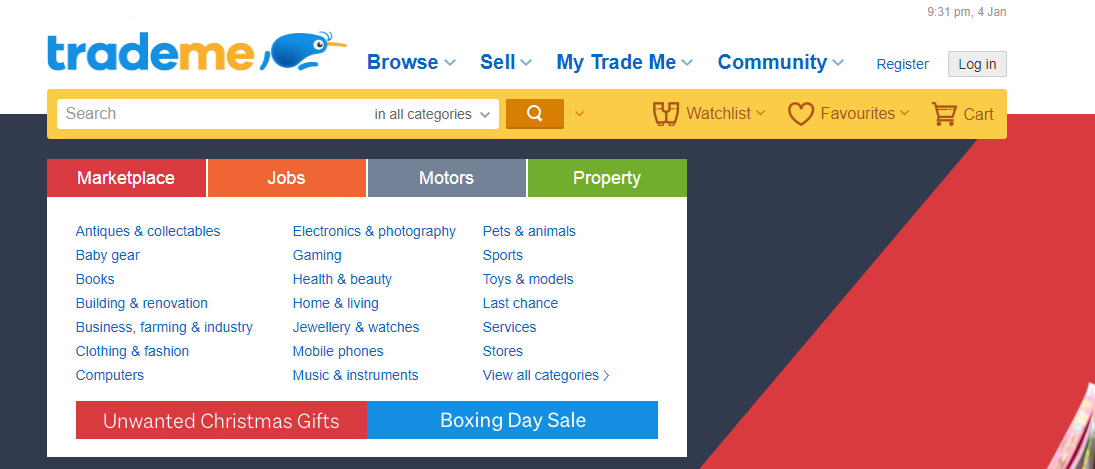 Ever wondered why your product listings on eBay or other marketplaces were never successful among the buyers of New Zealand? The reason is TradeMe.co.nz! This is the marketplace that occupies the largest market share for New Zealand's online shopping. So, we have added feed creation support for TradeMe.co.nz in ExportFeed.
Trade Me offers the sellers to sell used or old products based on fixed pricing or auction listing. Apart from the general categories like Antique & Collectables, Home & Living, Clothing and Fashion or Health & Beauty, this merchant also facilitates job posters and real estate dealers.
Few Reasons that make Trade Me a very attractive marketplace to sell on:
This merchant hosts active buyers and sellers of around 3 Million and the active members every month accounts to around 1.7 Million.

It offers to sell product categories as much as any eBay marketplace would but in New Zealand.

This merchant offers the buyers to purchase products by using mobile apps also which increases the market reach for the sellers as well.

Trade Me stands as the 5th most visited site of New Zealand on 2015 according to data given in Wikipedia.
List on the open Trade Me product categories or Get Your Own Storefront!
Obviously, the more products you list on Trade Me, the more sales you attract. But, it is not just the sales revenue that this platform offers. Apart from your own eCommerce site, you can also qualify for your own Storefront on Trade Me.
With this, you can present your business information on your profile so the buyers can contact your business directly for business deals. You can also have your own banner on the Storefront. Even your individual product listings are identifiable as being sold by a professional seller which in turn, helps to increase your sales.
How do you qualify for your own storefront on Trade Me?
Trade Me requires you to have your business name in your seller account name.

It requires you to have 98% positive feedback on your sales & at least 50 previous sales.

You also need to generate $150 success fee every month with good history and no outstanding warnings.

A onetime setup fee of $399 & monthly cost of $79, but success comes with a price.
Here you'll find more information about owning a storefront in Trade Me.
You can list your bulk products in Trade Me on your own storefront or without owning a store. You can sell your products with fixed price or by providing the option to bid for the buyers. And you get the market exposure to over 1.7 million customers. Now, if you want to send your products to Trade Me, feel free to contact us.