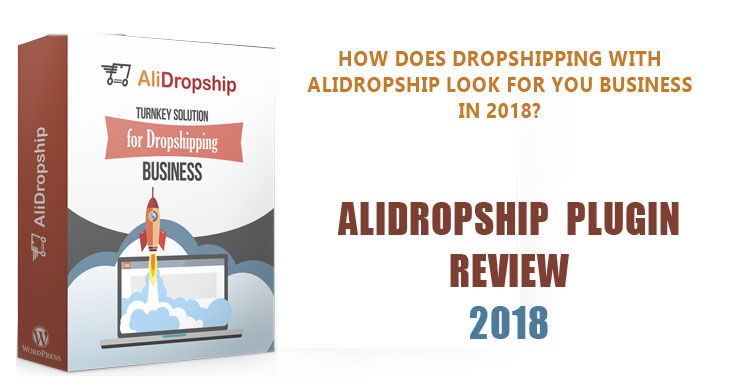 Among those who wanted to start online business, the hot topic of discussion for 2017 was Dropshipping or Affiliate Marketing. And the conclusion was, "why to settle for a piece of pie when you can take the whole pie for yourself?".
In affiliate marketing, the commission that marketers receive is set by the affiliate merchant. Whereas in dropshipping, you can set your own price and the merchant will ship your orders to your customers. This way of directing more profit to the dropshipping business made AliDropship a winner in 2017. But how does this AliDropship look in 2018? Here's the Alidropship review for 2018!
What are the alternative product sourcing sites that may compete with AliExpress in 2018?
Even before starting the comparison between probably the best competitors, we will look into some of the popular marketplaces from where you may want to grab the products.
Amazon: Amazon is full of suppliers but it is also packed with drop shippers like you. What would be the scenario if you tried to dropship a product from another dropshipper's listing? The main supplier would have his profit margin, the dropshipper would add some to that and then you would add your profit to the product. The end buyer would see a higher price and your product may not get the attention from buyer.
eBay: Amazon and eBay marketplaces go hand in hand. It is just a matter of personal preference and experience when someone selects to do a transaction between these two. eBay is also popular among sellers for dropshipping and you can choose from among the sourcing directory the list of suppliers. The only problem you'll face is the price of products that are delivered from AliExpress is cheaper than the other suppliers. You can check the list of suppliers that may be alternative for product sourcing if you are dropshipping on eBay you can follow the sites on the link. But you have to make sure that your products are listed in cheaper prices.
Due to the high profit margin on the products that you can get from AliExpress, it still stands strong among the other competitors in 2018. But, what are the further preparations of AliExpress for the year 2018?
Let's review the features of Alidropship WooCommerce plugin for 2018 here
Woo Themes Support
AliDropship Woo Plugin supports the themes by Woo Themes. As the themes are developed by the WooCommerce, they are specifically designed and developed to meet the demands of eCommerce sites. Therefore the Woo Themes are highly effective to drive sales from your eCommerce site. So using a dropshipping plugin that supports Woo Themes will help to a huge extent for increasing your business.
Direct Import from AliExpress
AliExpress is definitely the best product sourcing platform in today's dropshipping market. So, instead of exporting products in other formats or connecting your AliExpress account with 3rd party that will further import your selected products to your WooCommerce site, the ability to directly import products from AliExpress makes the dropshipping process untangled.
Orders Auto Filling
What was the traditional drop shipping like without automation? Probably – list products, get orders and payment, forward the orders and cost price to the product supplier and request them to fulfil the orders to buyer's shipping address. This process can be automated with Orders Auto Filling so you have to spend less time in fulfilling orders and spend more time to source products that are more profitable to your business.
Products Auto Update
The best product sourcing till date is AliExpress. Now, what if you had to keep manually checking the product inventory, price changes and other changes regarding the product you plan to dropship? This would take the fun of dropshipping businesss out and make it a more complicated business. So, Alidropship plugin offers to Auto Update products when they change in the product sourcing engine.
Import Reviews
Reviews of previous customers for the products and services act as a strong social proof. These reviews help the potential customers to make the buying decision and increase sales on your eCommerce website. For this reason, importing reviews for the products that you are planning to sell makes a lot of sense. Keeping this thought, AliDropship plugin offers to import product reviews to your site and helps you sell more effectively.
Use STARTER15 to get 15% discount on WooCommerce Compatible Version from here!
Pricing Markup Formula 
This feature of the AliDropship plugin helps you to make adjustments to the prices. Depending upon the market conditions, ability to manipulate the pricing can help you increase your profit margins. You can check if the supplies for certain products are low at the moment and the demands are high and make some quick profits in those situations. Or you could set a standard price percentage increase for the products that you offer in your WooCommerce site.
Woo Plugins Support
Just as the Woo themes offer specific visual appeal to increase the conversions in your site, Woo Plugins add the defined functionality to your site. As AliDropship Woo plugin is compatible with the Woo Plugins, you can implement different functionalities to help you run your WooCommerce based dropshipping site.
Compatible with ExportFeed
ExportFeed works to collect the product information on your site and helps you generate product feed files. The product feed that you create match the product feed specifications. And, when you submit the feed, your products will be listed in the merchant sites visible to more customers.
So,  for these and other benefits that this plugin offers, we recommend you to continue using AliDropShip Woo Plugin for 2018 also. And if you are planning to start your dropshipping business we've got a gift for you:
From here you can grab AliDropShip Woo Plugin. We've been able to get a 15% discount code for you. Use STARTER15 to get 15% discount on your purchase while the coupon code is still valid.