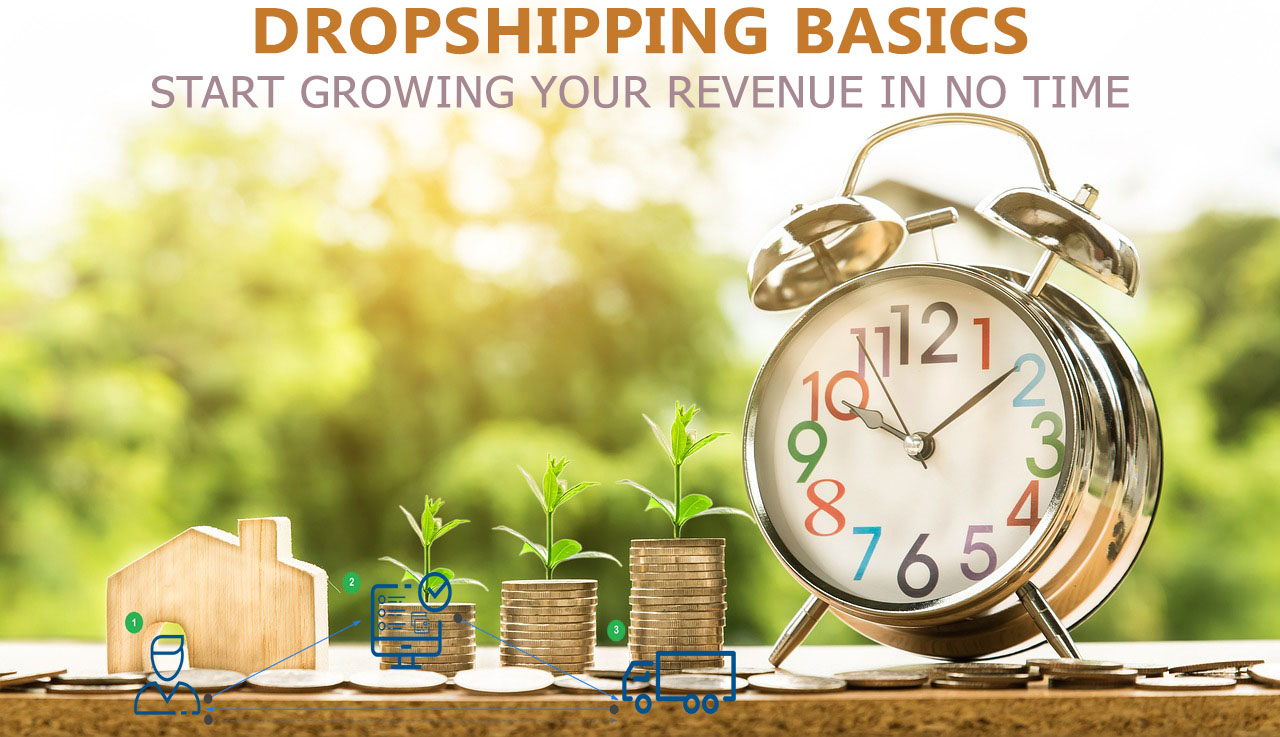 Dropshipping – a relatively new term but a popular way to source a new and stable way of income if you do it correctly. Let's discuss here what you need to benefit from this dropshipping business opportunity.
So, What do you need for dropshipping  business?
A webshop where you can showcase the products that you want to sell
A reliable software that will allow you to import products to your shop
A merchant or a few merchants that supply the products that you want to sell
A reliable software that helps you to increase the market exposure of your products
A reliable software to send orders and check the shipment tracking for effective communication.
Dropshipping is cost effective – but we don't promise it's super easy! Anyhow, it pays off for your efforts!
These will help you get started with the Dropshipping business. Now let's look into the details of each of these:
Starting your eCommerce site
You can go with the hosted solutions like Shopify, BigCommerce or you can start with the popular WordPress with WooCommerce.  Both have their own set of merits and demerits. It depends how much flexibility you want.
If you are really choosy and want a lot of customizations, you can even hire a developer and start with the strong Magento or classic OpenCart platforms. But we suggest you pick among Shopify and WooCommerce because:
You can start on your own by checking a few tutorial videos.
More importantly, you can get your site live in practically no time.
A question may be – Why not just create a listing from dropshippers directly to the marketplaces like Amazon? But having your own site offers you flexibility and also help you apply other monitization techniques. After all, increasing your revenue is the main goal.
Software to import products to your Webshop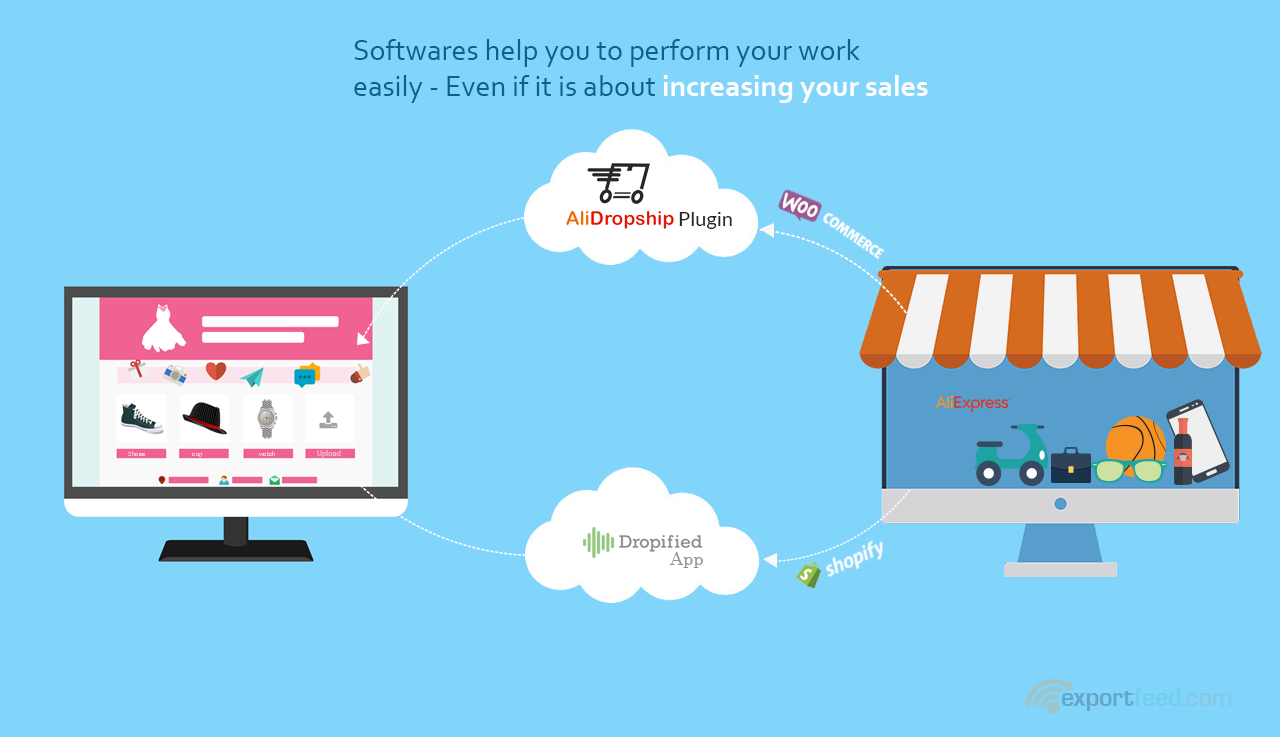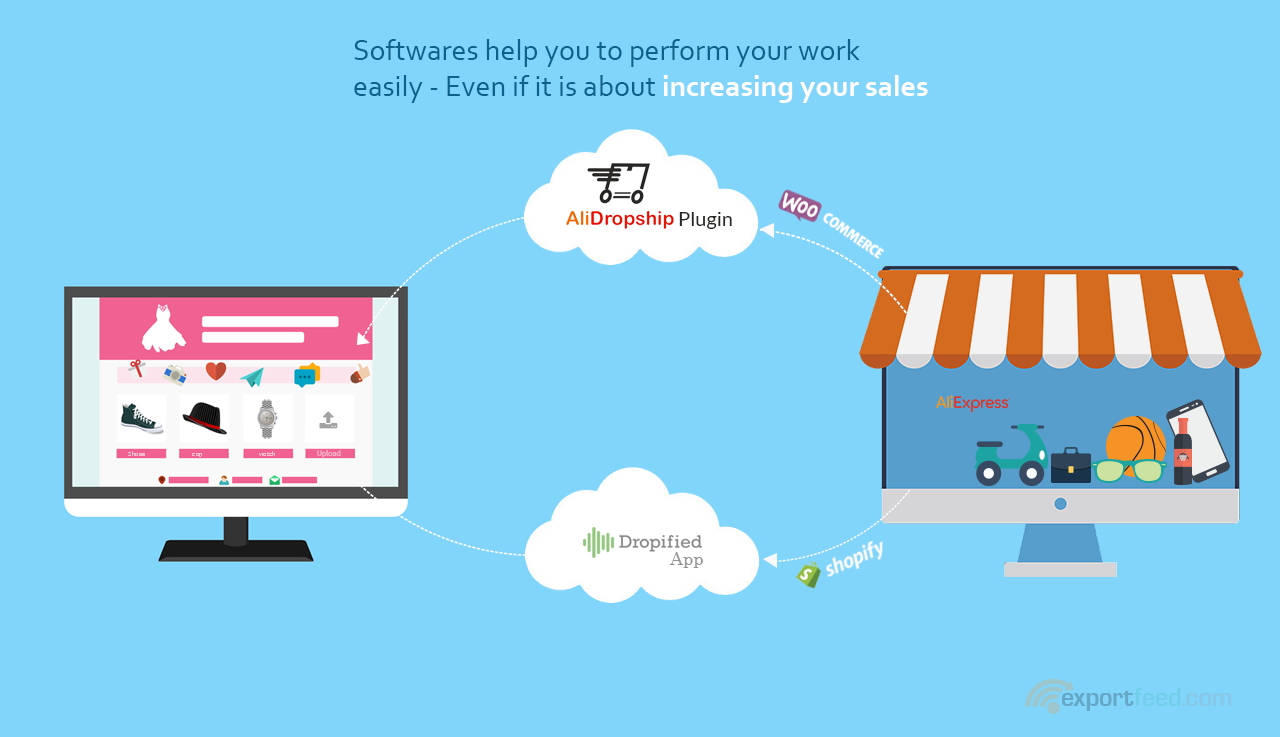 Now that you have your eCommerce site ready, you can start adding the products. If you choose the Shopify platform to create your site, you can subscribe to the Dropified app. This will help you create products in your site according to the listing in the merchant sites. Dropified app helps you to grab products from merchants such as DHGate, AliExpress and a handful of others.
It is obvious that if you are already into blogging, your choice of platform is WordPress. Installing and setting up the WooCommerce will get your eCommerce platform ready.
To import products you can subscribe to the AliDropship plugin compatible with the WordPress.  AliDropship plugin is trusted by a lot of customers and this is at present, the best plugin to help you profit from the dropshipping business opportunities.
Sourcing your products from the merchants
Just as the Ali Dropship plugin is at present the best for Dropshipping business based on WooCommerce, the most popular marketplace that is used by Dropshippers. But, there are a lot of others as well. One of the upcoming merchants is ChinaBrands.
The difference between Ali Express and China Brands is that most suppliers don't have the minimum order quantity but drawback with ChinaBrands is that custom designed and branded products are not offered yet.
Apart from that, you can also source products from the list provided here. This list encloses the suppliers according to the different product category. You can even use this list to select the niche market that you want to start your business.
Increasing your Market Exposure
Importing the products in your site is just the first step. Now you can either invite potential customer to your site or you can make listings to those marketplaces where customers are already searching for your products.
If you have a really good following on your social media, you can choose to promote your products there. With the benefit of having your own website, you can also implement email collection and send out occasional newsletters. You can also implement a good SEO strategy and rank for the Keywords to bring in more potential customers.
However, the quicker way for conversion on dropshipping business is to list your products on different marketplaces. You can install ExportFeed in your web-store, whether you choose to create it on WooCommerce or Shopify.
With ExportFeed in your dropshipping site, you can create product feed for various marketplaces, comparison shopping engines and even affiliate platforms. Create and send your product feed to the merchants and increase your market exposure to sell through them.
Handling the Shipping for Dropshipping without hassle
When you receive your first order, that's the time you know your business is in good health. You now need to ship your orders and complete your end of the bargain.
You could offer a flat shipping rate or display needed shipping charges using apps like InXpress – DHL at Checkout. But, if you do not want to compromise on the shipping date and cost like most of the successful dropshippers, you can use apps like ShipStation or EasyShip and keep a perfect track of your sold products.
These apps are also compatible with the other required apps for dropshipping. And they make strengthen your business potential. So, why not give them a try?