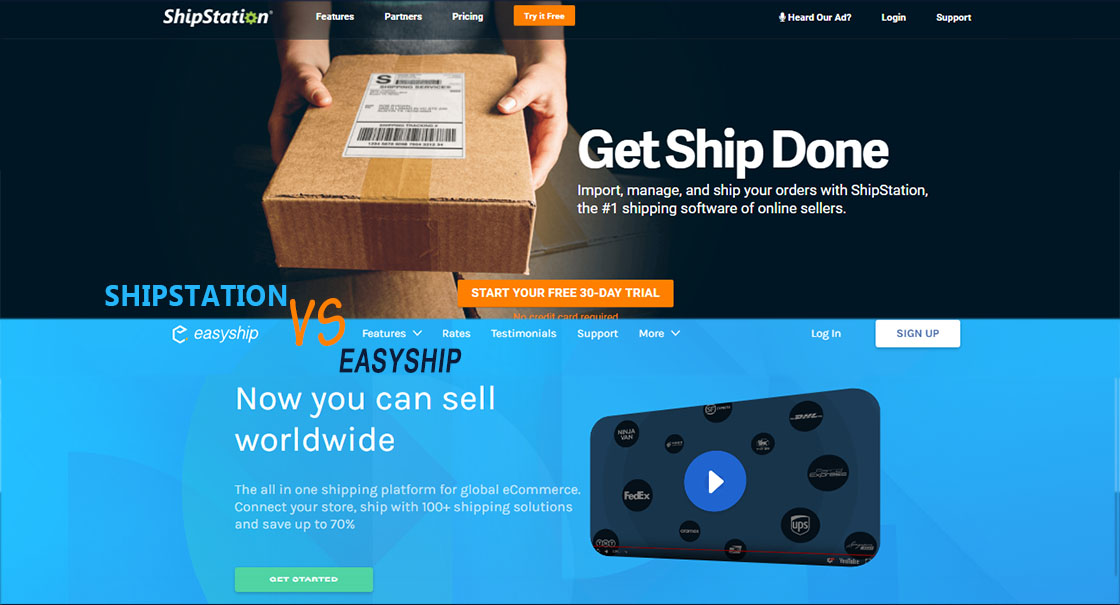 The most important aspect of eCommerce success is letting your customers get the product they purchased within their expected time. This helps to maintain your goodwill and even display social proof in the form of customer reviews.
So what can you do to benefit from this? Answer to this question is using a recognised shipping software.  Here, we'll discuss about the two most popular shipping software – Comparing EasyShip and ShipStation.
These two apps help you get the most of your eCommerce, even dropshipping business by letting your customers know how good of a seller you are. But obviously both of them have their own merits and demerits. So, let's dive into a comparative analysis between these two apps:
How much do you spend on these shipping apps?
Let's start with the first step – It is getting the app for your eCommerce site. Looking at this scenario, when you start a new business, you want to minimize your investment. Luckily both of these apps: EasyShip and ShipStation provide a free trial which is good to start with.
Next point on the same regards, EasyShip also runs on a Freemium business model so it might be a bit more convenient as compared to ShipStation.
Freemium business model allows you to use the software free for unlimited time but there are some restrictions on the features.
However, on the premium plan of ShipStation, the basic monthly cost is $9 and that for EasyShip is based on your shipping frequency and quantity. Looking at the price, it's an easy decision – Let's go with EasyShip, right? But wait there are other comparisons to be made.
Few more of the feature for these two Transport & Logistics App to help you decide which one to go with:
| | | |
| --- | --- | --- |
| Features | EasyShip | ShipStation |
| Platforms Support | BigCommerce, Magento, Shopify, WooCommerce (Total 4 Integrations) | 3dcart, BigCommerce, Magento, Shopify, WooCommerce and others (Total 64 Integrations) |
| Order Tracking | Yes | Yes |
| Order Confirmation | N/A | Yes |
| Order Fulfilment | N/A | Yes |
| Order Management | N/A | Yes |
| Package Tracking | N/A | Yes |
| Permission Management | N/A | Yes |
| Purchase Order Management | N/A | Yes |
| Real Time Comparisons | Yes | Yes |
| Real Time Updates | Yes | N/A |
| Returns Management | N/A | Yes |
| Shipping Labels | Yes | Yes |
| Shipping Management | Yes | Yes |
| Status Tracking | N/A | Yes |
| Vendor Comparison | Yes | N/A |
| Workflow Management | N/A | Yes |
| Sales Tax Management | Yes | N/A |
| Third Party Integrations | N/A | Yes |
| Stock Management | N/A | Yes |
Onboarding Preparedness of these shipping apps
When you setup a new app, it should be intuitive enough to get you started. But if you haven't used a similar product before, even the basic concepts might get confusing. For this reason, there should be an easy access to a lot of those help, faq and support documentations.
How well prepared is the support system of EasyShip and ShipStation to help you get started?
EasyShip offers you with the Knowledge base if you like to find answers for yourself or phone and online support if you need to talk to a real human.
Alike EasyShip, ShipStation also provides you Knowledge base, phone support, online support and video tutorials also. In this regards, they both stand strong in terms of customer support and are well prepared to welcome you to use their apps.
Key Differences between Easyship and ShipStation here
| | |
| --- | --- |
| Easyship Unique Selling Proposition | ShipStation Unique Selling Proposition |
| Domestic & international Shipping | FBA integration for Amazon Sellers |
| Ground and Air Shipping | Being Web app, supports desktop and thermal printers |
| Reduces hassles of Import Duty Calculations | Provides consolidated view of all orders from multiple stores |
Both of these apps have their own unique set of merits and demerits but if you need more managed form of shipping system, you can select the ShipStation app and if you have a random sales value for the recent consecutive months, you can check EasyShip app. But that is just our evaluation, however we would love to hear about your review if you decide to check these app for yourself.
Get the most of Shipping apps by increasing sales volume…
…ExportFeed helps you to do that, exactly!
ExportFeed allows you to grab your product data from your eCommerce platform and list them on 40+ sales channels.
You can optimize your product attributes to suit the needs of customers of different sales channels using product customization.
Product placement is important  so ExportFeed enables you to map the category of your eCommerce with the sales channels.
If your eCommerce is based on Shopify, BigCommerce & Ecwid, you can use our cloud platform and if you are using WordPress, you can use our plugins to help increase your sales.
We'll provide you support to create your product listings on your required marketplaces and even optimize them for better performance.