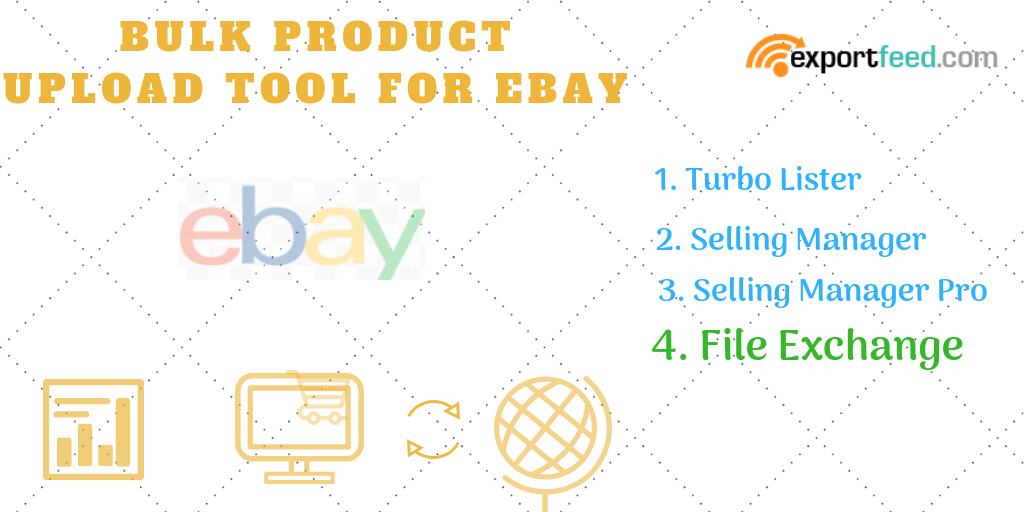 With all the buzz of multi-channel marketing for eCommerce industry, eBay is one of the marketplaces that you don't want to miss! It is a marketplace with $9.567 billion revenue as of 2017 data. As a retailer, what concerns you the most is the number of users you can reach through eBay and that is 175 million according to the data of 2017.
If you have previously sold on eBay or listed your products on eBay, you probably know how this merchant works. However, selling individual products and listing to sell bulk products will have their differences in the process. There are  4 options for eBay bulk upload. Let's take a look at those first to choose which suits you the best:
Turbo Lister: Small to medium businesses, Available free of cost
Selling Manager: Medium volume business, Available free of cost
Seller Manager Pro: High volume sellers, $15.99
File Exchange: High volume sellers, available free of cost.
Since we have provided ExportFeed which is suitable for high volume sellers and small or medium businesses, you can select the File Exchange option without hesitation.
You will find the information about how to create your data feed for eBay using ExportFeed in this link.
However, if you want to create your feed template for file exchange option manually, you can follow these steps:
Steps to start creating your feed for eBay
1. Click on account and subscriptions
2. Subscribe file exchange and agree to terms
3. Click on my eBay
4. Go to file exchange or management center
5. Click on create a download request
6. Now select Active for Listing and Records, Standard for Download Format, select your requirement for Date Range and enter your email address to receive your Download request.
7. You will get an empty CSV format file with the template format. You will need to fill in your product information and upload them to eBay.
Note: You should keep the CSV file that you upload to eBay under 15MB.
Entering product information on the CSV file to list bulk products on eBay is an error-prone process. Undoubtedly, if you have more products, you will spend more time. When you are just starting, it may be fine. With the seller limits in place, you may feel that it is okay, but after you need to create product feed for 50-100 products,  manual option is not feasible. This is where you can make the best use of the Free Version of ExportFeed for eBay.
Can I list products for free on eBay?
If you are looking for an answer to this question, the answer is Yes! eBay has provided 50 products listing for free to help sellers who are just starting to sell on this merchant. But if you are selling these categories, you will not be able to use the free listing: Real Estate, Boats, Cars, Trucks, Motorcycles, Vehicles trailers, power sports, business and industry category, heavy equipment, concession trailers and carts, imaging and aesthetic equipment and commercial press.
On the next post, we will provide information about the feed template columns. The values that you enter in these columns are mostly responsible for how your product performs or what type of status report you get during the product listing.
If you are planning to send your products on eBay using the Volume lister tool, you'll need to create your product feed according to the requirements specified by eBay.  Uploading product feeds without providing the required information or sending incorrect information will only result in error reports.
By using ExportFeed, you will be able to create your product feed for eBay seller central as your products are listed in your own online shopping cart. However, specific features of ExportFeed also allows you to create optimized product listings on eBay by using product customization options.
Here are some of the advanced applications of ExportFeed for product listing on eBay seller:
Create a product feed for a specific category of your shop.
Apply rules to modify titles, descriptions and other attributes.
Exclude the products which are out of stock in your shop.
Update your products on eBay by keeping your feeds updated.
You can use ExportFeed Shopify and BigCommerce apps and plugins free of cost for up to 100 SKUs.
Even if you are on a trial plan, we can offer you a one-time free eBay feed setup.