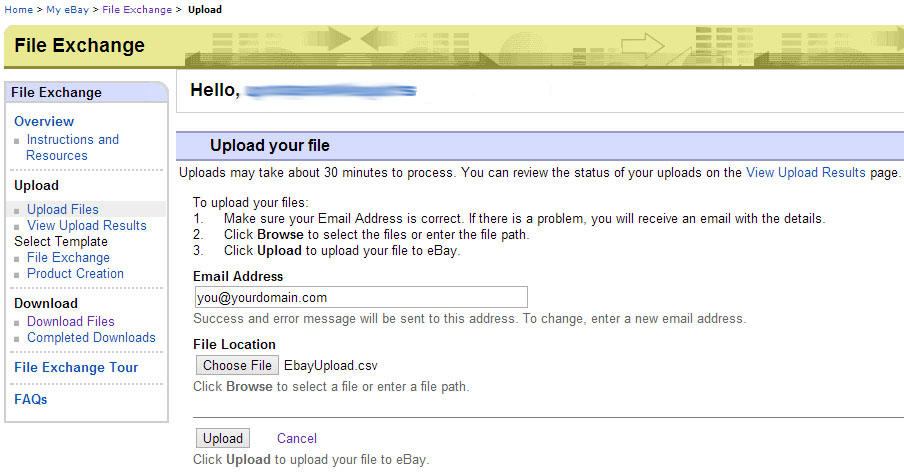 If you have previously sold on ebay or listed your products on ebay, you probably know how this merchant works. However, selling individual products and listing to sell bulk products will have their differences in the process. There are  4 options for ebay bulk upload. Let's take a look at those first to choose which suits you the best:
Turbo Lister: Small to medium businesses, Available free of cost
Selling Manager: Medium volume business, Available free of cost
Seller Manager Pro: High volume sellers, $15.99
File Exchange: High volume sellers, available free of cost.
Since we have provided ExportFeed which is suitable for high volume sellers and small or medium businesses, you can select the File Exchange option without hesitation.
You will find the information about how to create your data feed for eBay using ExportFeed in this link.
However, if you want to create your feed template for file exchange option manually, you can follow these steps:
Steps to start creating your feed for eBay
1. Click on account and subscriptions
2. Subscribe file exchange and agree to terms
3. Click on my ebay
4. Go to file exchange or management center
5. Click on create a download request
6. Now select Active for Listing and Records, Standard for Download Format, select your requirement for Date Range and enter your email address to receive your Download request.
7. You will get an empty csv format file with the template format. Here you will need to fill your product information and upload them to eBay.
Can I list products for free on eBay?
If you are looking for answer to this question, the answer is Yes! EBay has provided 50 products listing for free to help sellers who are just starting to sell on this merchant. But if you are selling these categories, you will not be able to use the free listing: Real Estate, Boats, Cars, Trucks, Motorcycles, Vehicles trailers, power sports, business and industry category, heavy equipments, concession trailers and carts, imaging and aesthetic equipments and commercial press.
On the next post we will provide information about the feed template columns. The values that you enter in these columns are mostly responsible for how your product performs or what type of status report you get during the product listing.