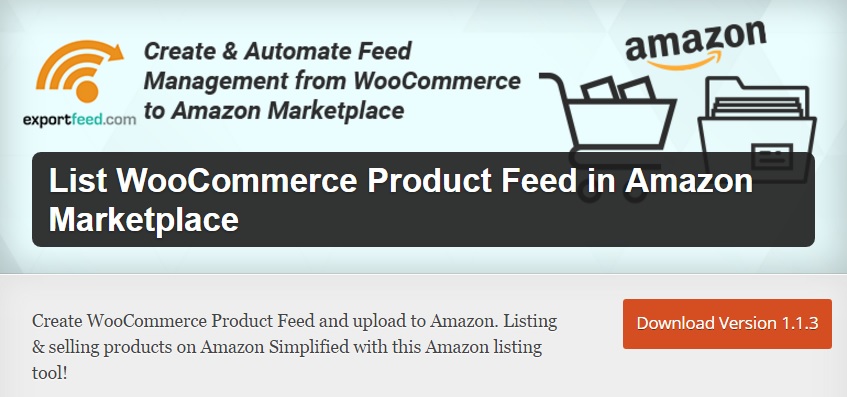 Selling on Amazon is worth a lot of benefits. But bulk listing your products will require a sound technical knowledge also, and apart from that you also need the know-how about how Amazon marketplace functions. For that we have prepared the Amazon seller guide also.
Though the guide includes best seller tips and steps to sell effectively on how to sell on Amazon, we have also provided an Amazon seller tool for WooCommerce users – "List WooCommerce Products on Amazon" to complete the package. However, when you download this free version of plugin, please request us for trial license key to check the full features of the plugin.
Also, we have recently updated this plugin for WooCommerce sellers and released the plugin in WordPress.org free plugin repository. As for the premium version of this plugin, you can contact us to try the full features for 7 days for free.
So, let's take a look at what the latest version of List WooCommerce Product Feed on Amazon presents:
Update With Listing loader template added:
The previous version of plugin required you to import the Amazon templates for the type of products that you wanted to create the feed for. Though it was mostly automated, you still needed to spend a few seconds to download the template, however as the products that are already listed on Amazon, you can use the listing loader template which reduces your headache of entering all the obvious details.
Added Fields for template in create feed page:
We know that not all Amazon product types need the same type of additional information. For that reason, we have added the option to let you add a new column while creating your product feed. What calls for this feature? This is useful when you want to provide additional product attributes that you have listed on your WooCommerce and want to include in your Amazon listings as well. What's the use of it? Flexibility! You have more space to add the product description or attributes that will help you sell those products better on the Amazon marketplace.
Account Adding Issue fixed:
We included the account addition option in the initial release of this plugin. However, while updating this plugin, we found that some of the things could be improved. How could we not make something better when we saw a way to do that? So, now you can use two or more amazon seller accounts seamlessly using ExportFeed.
Template Import Option added:
While importing the feed templates on the plugin, the response from server was found to be a bit slow for multiple template imports. So, we have made importing the templates stepwise – now you'll be able to quickly import the feed templates one by one after selecting and clicking on the Import link.
Submit Feed Issue Fixed:
At times we experienced some issues like delay in feed submission or not reported missing attributes which caused rejection of the feed file. These issues were also backed up by one or two support requests of our clients. So, what did we do? Our developers and technical support staffs went down line by line of the codes and made improvements to completely remove those causes. Now you can use the flawless version of the List WooCommerce Product Feed on Amazon plugin.
Advanced Command Issue Fixed:
We found that some of the advanced commands were not functioning with the integrity they required to. So, to maintain the seamless flow of our product, we have made it compatible with all the previously used advanced commands so you can still use it.
Message Display and other fixes:
The message display about your feed reports are improved in this version of the plugin. Along with that, the template header error message has also been fixed as soon as we found out about it.
Apart from that, we hope you will make the best use of this plugin and increase your product sales on Amazon marketplace. We hope to receive your feedbacks, both positive and negative, so we stay tuned to your demands and further add functionalities to power the growth of your ecommerce site.
Why use List WooCommerce Product Feeds on Amazon plugin?
We often encounter the question about when the other version ExportFeed supports Amazon and 40+ other merchants, why should I use this version of ExportFeed. The answer is simply because, this plugin is Amazon specific. We also found that quite some of our customers intend to sell on Amazon only. For such sellers, if you are loading your site with a plugin that supports over 40 merchants, it wouldn't make any sense.
The functionalities provided by this plugin is specific to that of various Amazon stores and also this plugin provides interface designed to make the user experience better for users of Amazon marketplace. And, if you want us to add some more features in this plugin, please let us know through live chat, support tickets or post a comment below.