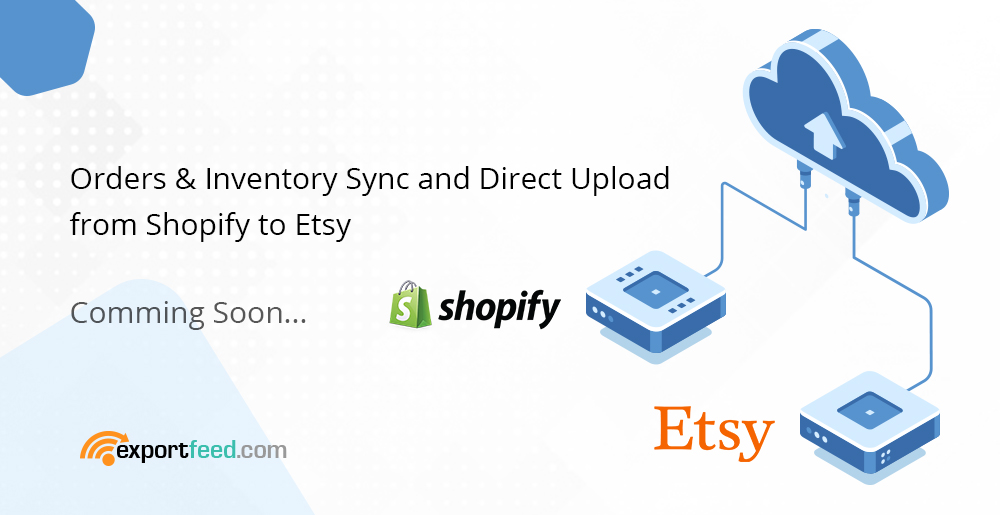 Listing your Shopify products on the Etsy marketplace will help you to reach potential customers and increase your sales revenue. As Etsy is a marketplace which is more popular to sell handmade, antique and custom products if you're selling such products on your Shopify store you shouldn't miss to list them on Etsy.
But a major challenge while running multichannel sales approach is to keep track of inventories and orders. Especially when you are selling products that are limited in quantity.
For this, ExportFeed has prepared to upgrade our Shopify to Etsy app with orders and inventory sync feature. We have completed the first level testing and will be releasing this feature soon.
Who will be able to use this feature?
All our clients on premium subscription plans will be able to use this feature. However, as our trial plan doesn't allow the Shopify to ExportFeed cloud product sync functionality automatically, this feature will not be available to the trial customers. 
 What is Inventory & Order Sync functionality? 
When a particular item in your Shopify store is sold, the stock quantity is reduced and that change is synced to the ExportFeed cloud service. And this change is reflected on your listings in Etsy marketplace as well almost in real-time under normal conditions.
Likewise, when your products are sold in the Etsy marketplace, trigger between ExportFeed and your Etsy account is activated. The order created on Etsy is communicated to ExportFeed cloud and ExportFeed will create an order for that product on your Shopify store exactly as it is on the Etsy marketplace.
This will keep the stock quantities in sync between both your Shopify listings and your Etsy listings.
Quick benefits of being able to use these functionalities
No more fear of overselling and underselling so you improve your goodwill as a seller
Etsy orders are shown on ExportFeed cloud and Shopify so you'll be quick to fulfill orders
Any product-level change in the Shopify store will be reflected on Etsy to keep products up-to-date.
Even if you are selling on Etsy, Amazon, and Shopify, ExportFeed cloud will set Shopify store as the central control and sync stock information to both the other channels in a timely basis to keep your listings updated.
Being able to directly upload products to Etsy from Shopify – what does it mean?
Working with ExportFeed cloud,  you'll first install ExportFeed Shopify app for Etsy and allow some time to import your Shopify products to ExportFeed cloud server.
Next, you'll be able to create a list of products, customize the product data to increase conversion value and prepare those products for export.
Now, traditionally, you'd create a product feed file and grab the product URL or download the file to upload to the sales channel. This caused chances of error and the need to log in to your Etsy accounts.
But now,  after we release this version after you've connected your Etsy account with ExportFeed cloud,  you'll have total control, even to upload your bulk products,  change the product attributes, change product state and even delete products if you need.
Update: Now ExportFeed supports Direct Upload and Orders Sync along with detailed sync settings also!
Existing key features of ExportFeed Shopify App for Etsy Marketplace
Enjoy easy feed management: Simple setup & optimization.
Product variation support in feeds as allowed by Etsy.
Even enjoy the other benefits of product feed customizations.
Get full help from the Experts: Our Support team!
We can offer you a one-time free Shopify to Etsy feed setup also.