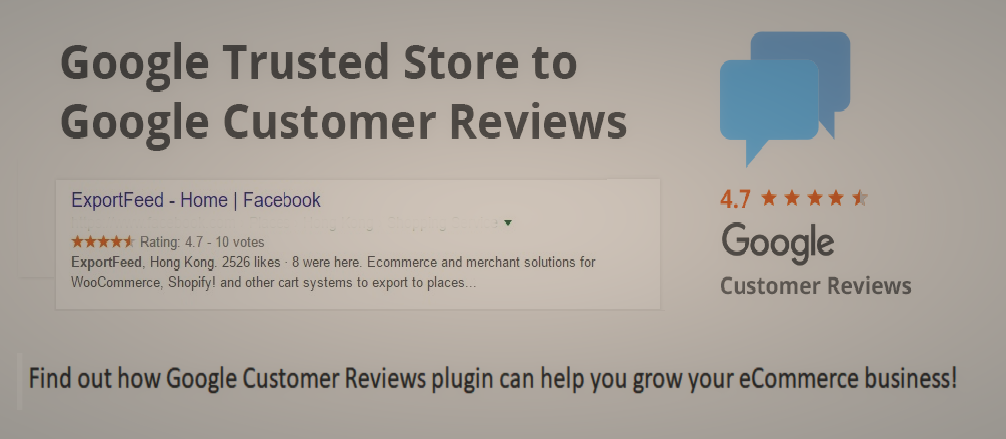 As with the change of Google's discontinued service, we have adhered to the demand for change related to compatibility with Google Customer Reviews (GCR) for our GTS plugin. Merchants who already were in the Google Trusted Store program have been migrated to Google Customer Reviews by Google. If you are using GTS  service from ExportFeed, you can use our updated plugin easily to benefit from Google Customer Reviews.
With the updated plugin, we have integrated:
Survey opt-in module
The badge code
As stated in the Google blog, "With customer Reviews, you can collect valuable reviews about your business for free." You can boast about your seller ratings from  Google in Google Merchant, Text Ads, and Your Site too.
About Survey opt-in module of Google Customer Reviews
This module asks the customers whether they want to take part in the Google Customer Reviews program. It sends the transaction information to Google such as:
Merchant Id
Order Id
Customer email
Customer Country code
Year, month and day
How the opt-in is displayed
Since this information is crucial to Google and to you as well, GCR program requires https on your order confirmation pages. One of the points to take care about is if you are using third-party check-out, you will need to redirect the user to your site for confirmation.
About the Google Customer Reviews Badge
Alike the GTS badge, the GCR badge will help in generating sales for your store by increasing the social proof for your business.  However, the GCR has only taken the Seller Rating from the old GTS program.
GCR provides ratings based on the feedback and ratings that are provided by the customers through the survey opt-in module and displays the badge according to that on your website.
The GCR can be activated from your Google Merchant Center account under the Merchant Center Programs. So, if you have not activated your Google Trusted Store and/or Google Customer Review yet, we recommend you to act now. It is a promising idea to improve the goodwill and the ROI of your eCommerce Store.
You can grab our plugin to make the integration of Google Customer Reviews easy from here.