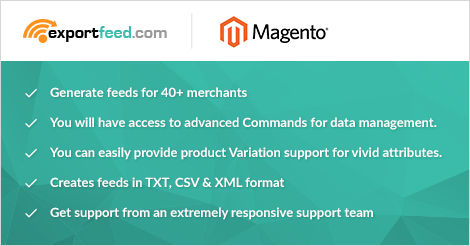 Here's a good news for all the users of Magento based site! We have just released our ExportFeed Extension for Magento.
What's in the newly launched product that makes it useful and attractive? Well, the answer can't be provided in a single statement. In this ExportFeed extension for Magento, there are multiple of features included that will assist you to manage your feeds easily.
One of the most attractive feature of the product is its ability to generate feeds for 40+ merchants. You just have to decide about the merchant you want to list your product on. After that you can generate feeds with a simple click on ExportFeed. The next most important feature is that you will have access to advanced commands to manage your feeds. You can set, delete and map attributes according to your choice. There are multiple other options like these included just to assist you in your daily task.
It's likely that you have multiple products on your list and would want to list all of those with the available merchants. You can do it easily with our newly launched product. Also you can differentiate your product on the basis of size, color and similar other attributes. This is as easy as cutting a pie.
You will be provided with feeds in TXT, CSV and XML format. Now easily generate and export it in any format you like! In case you need any support, we welcome your queries and suggestions heartily. Just you have to do is contact us via live chat on our website or through email.