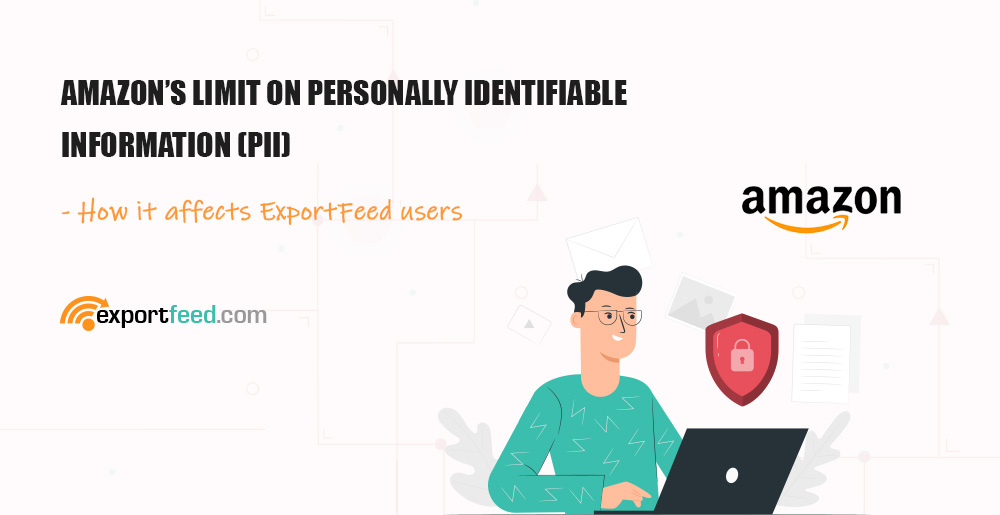 The world's largest online marketplace and cloud computing platform recently broke the news on the importance they put on the data privacy of their users.
You might even have been notified about the changes Amazon made to their Marketplace Web Service (MWS) API Data protection policies which will now put a lot more restrictions on your Amazon data.
Service providers like ExportFeed still do not have the specifics on the range of changes that are bound to happen in the coming months.
However, we're already taking all possible implications on the new security update into consideration to make sure our customers are still able to seamlessly create and manage their listings on Amazon with ease.
Before diving into the limitations on PII, let's briefly take a look into what PII is.
What is Personally Identifiable Information (PII)?
PII, in simple terms, refers to any information that could potentially be used alone or with other relevant data to identify a particular person.
This includes your full name, date of birth, bank account number, email address, Social Security Number (SSN) and even medical records.
People are getting more and more concerned with the amount of information they share with any product/service, which is why Amazon had to make recent changes to their data protection policies.
What falls under Amazon's Personally Identifiable Information (PII)?
The new security requirements set by Amazon limits access to the buyers' personally identifiable information (PII) which include
Buyer name
Recipient name
Shipping address
These fields might only be accessible in case of tax and merchant fulfilled shipping.
How does Amazon's PII limit affect ExportFeed users?
Here's the good news: the new data protection policies will only affect Europe-based businesses.
If you're using Fulfillment by Amazon (FBA), you have nothing to worry about either.
If your online store has a .eu domain, you will need to make some changes moving forward.
From this point onward, third-party services like ExportFeed will no longer have access to this information which creates complications on how we process orders.
ExportFeed features that might be compromised
Order sync
Since we will no longer be able to extract even the basic contact details like the buyer's full name, email address and shipping address, you will only be notified when someone buys your products without knowing anything about them.
You will still be notified when a new order is placed on your store and get their respective product/order IDs.
However, if you do not have access to their contact details, you will have no idea where to ship the purchases.
Inventory sync
ExportFeed's inventory sync will not be affected by the new PII limit to a certain extent.
In simple terms, your inventory will still be synced but if you try to view the buyer's name, it will be inaccessible.
What can European stores do now?
Bluntly put, there really is no way around these new data protection policies.
If you run a small-sized to medium-sized store, you might be able to manually sort through and verify orders.
However, if you get even tens or hundreds of orders each day, manually verifying all orders might be impossible considering the cost of your employees.
Please feel free to contact our support if you want to have a one-on-one session with our expert team.