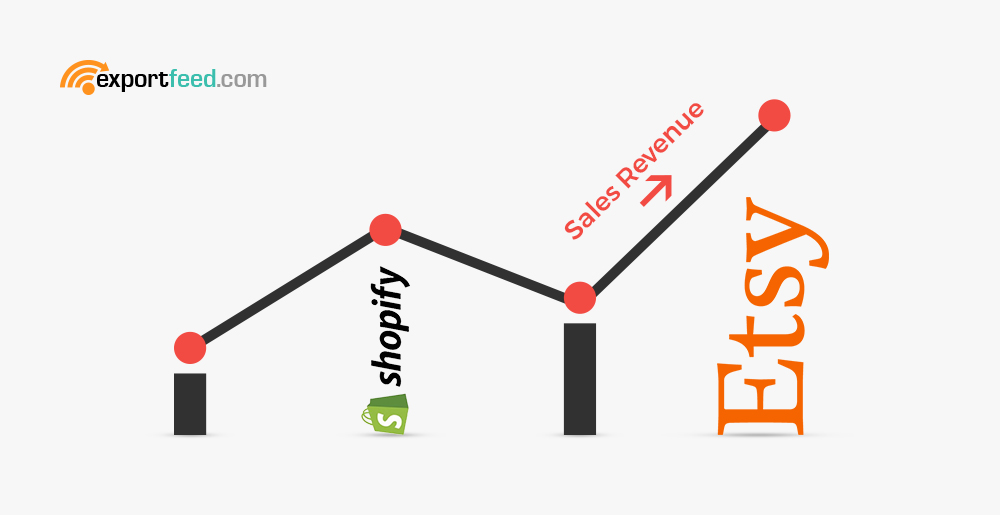 Etsy is a well-known marketplace specifically developed to sell your handmade and antique products. A lot of sellers are looking to sell these products in Etsy and some of them experience massive luck. But, for some sellers, whether it is the technical difficulties or lack of basic marketing and product promotion skills, they get stuck at their first few sales. Here, we'll take a look at the difficulties of an Etsy seller while sending Shopify products on Etsy.
Looking into the selling practices you follow for Shopify
As Shopify is a hosted platform, you don't have to go through a lot of technical hassles when you are populating your products on Shopify. Even more, there is a list of apps on the Shopify app store which helps you to improvise design and functionalities on your Shopify shop. But the most important part is the support system of the Shopify platform which guides you through every step or every point of confusion.
Starting with a trial of Shopify and moving to a premium subscription for your Shopify store.
Setting up the look and feel of your store by selecting the free and premium themes.
Creating the collections/categories to organize your products and setting up payment gateways.
Populating your products In the Shopify Apps store according to your categories.
Running your promotional campaigns for category level, product level or shop level.
Bringing visitors in your site through promotion whether Paid, Organic or other types.
Optimizing the site and product data based on the visitor data to increase the sales of your site.
These are just a few of the mandatory process when you are running your shop on Shopify platform. The underlying efforts that make up for successful Shopify sellers include a lot more of processes and in-depth analysis and optimizations. However, we'll stay with the basics to help you grow your Shopify Etsy sales revenue.
Making your effective Shopify selling practice compatible with Selling on Etsy
Deciding to sell on Etsy marketplace means that you are thinking growth for your business based on Shopify store. This is undoubtedly a great decision. Not just Etsy but the more marketplace you add the better chances of increasing your revenue. However, you need to do it right. Follow the best practices. And continually keep on optimizing your processes.
Integrating your Shopify Store with Etsy
The first thing to do is find a way to connect the products of your Shopify store with Etsy. Simply listing your product once may cause the case of overselling as your products can be bought from two platforms. So you need inventory sync between Shopify and Etsy. This can be done easily by using ExportFeed. Here is how you can start integrating your Shopify store with Etsy.
Install ExportFeed on your Shopify site from Shopify App store.
Connect ExportFeed with your Etsy seller Account.
Select the products or collection of products you want to sell on Etsy.
Make bulk product customization on the products and upload them to Etsy.
Selecting suitable products for Etsy
Any successful seller knows that prospecting product to sell is the first phase of growing your sales. This is a well know trick among dropshippers but it implies to any business. If you are selling handmade or antique products through Shopify, you are good to list your products on Etsy. But as the Etsy marketplace is open for branded products also, you need to find the suitable products from your Shopify store to list them on Etsy. Your best fit product will be a low competition high margin product.
Analyzing the trends of pricing decisions
Before starting to list your products you should search for the same or similar products that you are trying to sell on Etsy. If you have time, it is recommended that you start keeping a track of those products at different times. This gives you the idea of pricing decision about competitor pricing strategy. You can create and implement a better pricing strategy in your Shopify store which gets synced to your Etsy shop.
Setting up a suitable shipping system
One of the business decisions that most sellers do not prioritize is about the shipping part. Take this thought for consideration: As a customer, when you purchase a product, what do you want to happen next? You simply want to have that product in your hands. Setting up an effective shipping system is as crucial as any other of your business decisions. You could use shipstation or EasyShip apps for easy shipping purpose.
If you need any help regarding selling your Shopify products on the Etsy marketplace, please feel free to contact our support team.