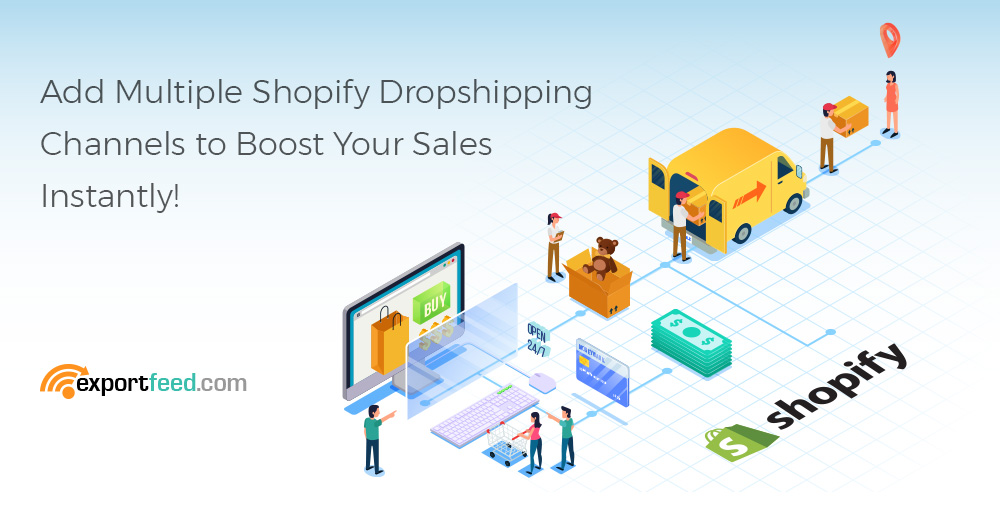 Dropshipping is a fairly new concept that has managed to woo a  large number of Shopify based sellers into starting their own dropship company. And the most common question that most dropshippers have is:
How to add multiple Shopify dropshipping channels?
Dropshipping is regarded as a convenient way to sell products online since the retailer does not need to hold a single product in his/her inventory.
If that sounded too bizarre and too good to be true, let's step back and start with what dropshipping really is:
What is Dropshipping?
Let us suppose you want to start an online site that sells sunglasses.
You contact a supplier, ship a bulk of sunglasses to your inventory and start taking orders. This requires investing a hefty amount of starting capital to import and maintain inventory costs.
In the world of dropshipping, all of this is entirely different and much easier. You simply set up a dropshipping site, start taking orders, receive payment from the customer, and THEN pay the manufacturer to ship the sunglass to YOUR customer. With zero inventory costs, you succeed in selling and shipping without having to worry about either of these costly expenses.
A majority of dropshippers prefer Shopify to run a dropshipping site because it offers the easiest way to set up with minimal subscription fees.
Why do I need multiple Shopify Dropshipping Channels?
Running a dropshipping site is not an easy task since there is a low margin on each sale. If you depend on a single dropshipping channel to earn huge revenues, it's simply not possible.
Hence, the need for multiple Shopify Dropshipping Channels because it ensures a much broader customer reach resulting in a higher revenue from economies of scale.
Simply put, consider our previous example of sunglasses in a brick and mortar situation. Would you prefer a single retail store to display your sunglasses or five major stores that cater to a large number of customers?
Naturally, you'd want multiple retailers because even with low margins, you end up earning a higher amount in revenue from different sources.
On to the next question:
What are the Most Profitable Shopify Dropshipping Channels?
Selecting a number of reliable dropshipping channels that receives high traffic is a crucial step towards making sure you're making the most out of every channel.
Among hundreds of Shopify Dropshipping Channels, these are the ones you should be working with:
Shopify eBay Seller DropShipping
Unless you've been living under a rock your whole life or hit by a lightening to cause major amnesia, you already know what eBay is. Yet to reinforce, it is the world's largest online platform to sell goods and you should not be missing out on it if you want to reach customers almost around the globe.
The benefits of dropshipping on eBay are:
Search Engine Optimization

If you were to dropship using your own site, it would take months if not years for your site to get a decent Google ranking. eBay has the best Search Engine Optimization so you don't have to worry about marketing or paying for traffic.

Discount on Shipping

eBay offers up to 20% discount on shipping for its sellers. As a dropshipper, this is a bonus point for you to choose eBay. Along with that, eBay also offers a directory for product sourcing if you are more comfortable dropshipping using suppliers closer to your location.

Auction Selling

One of the major factors behind eBay's success was its auction feature that allowed sellers to choose between selling products for a fixed price OR in an auction. If you're dropshipping a rare item, put it for auction sale!

Trust and Brand Recognition

When it comes to online selling, there are only a handful of brands that people trust without a second thought, and eBay is one of them. Since its establishment in 1995, it has massively gained the trust of buyers worldwide.
Shopify Amazon Marketplace Dropshipping
There is a reason why Amazon has over 2 million sellers. Amazon has a strong online presence and takes minimal fees from sellers for its best-in-class services.
Amazon and eBay share similar advantages among which the following can be further added:
High Traffic

It is no surprise that Amazon receives one of the highest traffic on the web. During the first quarter of 2016, the company recorded 285 million active users! And dropship to a niche market in Amazon's realms; you will be awarded handsomely!

Higher Margins

Every referral link to your dropshipping site on Amazon will cost you much lesser than the average markup of 50%. Amazon's referral fees are below 20%, allowing you to make profits from an already low listing price.

Fulfillment by Amazon (FBA)

FBA makes your products visible to worldwide Amazon customers while providing fast shipping.

As their slogan suggests, Amazon picks, packs and ships your orders to its customers.

You simply send your inventory to Amazon's fulfillment centers located around the world.

Your products are stored securely. FBA products become eligible for AmazonPrime and free super saver shipping.

It's a win-win for your customers because they get free shipping and for you, it's basically free marketing.

Plethora of Tools

You can use your existing Shopify Store's products and use them to dropship on Amazon.
You can use apps such as Oberlo or Dropified to import products.
You also get to use ExportFeed to send and sync your product information from Shopify to Amazon.
You can optimize your business by using tools like JungleScout for product sourcing decisions.
You can also use tools provided by Amazon or by external apps to improve your pricing decisions (like Re-Pricer Tool).
Shopify Google Shopping Dropshipping
Google Shopping is the best comparison shopping engine on the entire web. It's an important channel to add to your dropship company because CSEs only post information about your product and redirect the visitor to YOUR site to complete the purchase.
If you haven't listed your products on Google Shopping, think about the following benefits you're missing out on:
There is no minimum bid for Google Product Listing Ads

Lowest cost of sale while generating the most revenue & traffic

GSE has a 21% higher click-through rate than text ads

You can add custom marketing messages such as "Free shipping on every order!"

Google OWNS Google Shopping, so you don't have to worry about poor SEO ranking
Other Shopify Dropshipping Channels
Besides the Shopify dropshipping channels mentioned above, you can still use other channels that are more suitable for a particular niche market. Some of them are:
Bing
People who search the Bing Network spend 6% more than the average internet user. It is a great platform to dropship because you can reach a large customer base, including 68 million desktop searchers not reached on Google itself!
Nextag
With over 30 million visitors per month, Nextag is one of the leading comparison shopping sites. It is a great platform for dropshipping since it is considered a top performer for traffic and conversions.
Bonanza
Bonanza boasts over 25,000 registered businesses and is considered the best choice for dropshippers in the fashion industry. You don't have to pay any listing fee and only pay 3.5% closing fee on sales under $500.
Now that you have a list of channels that you can reap benefits from, one big question still remains:
How do I list across all of these platforms without having to worry about the technical aspects of each platform?
Maintaining a single channel alone is not an easy task. Each of these sites has a different way of presenting your products, meaning you'll have to create a product feed manually every time you tackle a new site to dropship.
The problems that arise with maintaining multiple dropshipping channels are:
Spending days on a single channel to set up properly

Having to manually update/sync every channel's product listing

Listing errors

Keeping track of every channel EVERY DAY!
Thankfully, there is a solution to all of these problems and its name is *drumroll* ExportFeed.
What is ExportFeed?
ExportFeed is a Shopify app that allows you to create product feed across 40 different merchants without a hassle and update those feeds automatically.
What does ExportFeed Offer?
Let's address the problems mentioned above and compare how Export Feed solves each one of them and more:
Saves Time

With the help of ExportFeed Shopify App, you spend ZERO time on listing your products across different channels. ExportFeed generates product feeds customized to every channel's specifications.

NO Feed Errors

Trying to list your items across multiple Shopify dropshipping channels not only takes time but a frustrating amount of learning how to do it perfectly in one go. ExportFeed's Shopify app ensures all of your product feeds are error free.

Reliable Support

ExportFeed team consists of a dedicated support team fully invested in solving any problems that your dropshipping feeds might go through. You can sit back and let the pros handle the rest!

Syncing Product Feed

One of the best features of ExportFeed app your entire feed is synced and updated to the merchant sites with a single click. 

Check more useful features of our Shopify app by trying it for yourself.
Sounds good! How do I get started?
First,  you'll need a store in Shopify – that is obvious. But if you haven't created it yet, you can go ahead and register your shop at Shopify from here.
Then, you can download ExportFeed's Shopify App from this link and see for yourself why it is regarded one of the best product feed solutions.
Click this link to try a 7-day FREE TRIAL without any feature restrictions:
https://apps.shopify.com/etsy-integration-sync
Adding multiple Shopify dropshipping channels might sound overwhelming at first, but with ExportFeed's Shopify App, you can dive into this competitive market with full confidence.
Hope you have a wonderful dropshipping experience with ExportFeed!