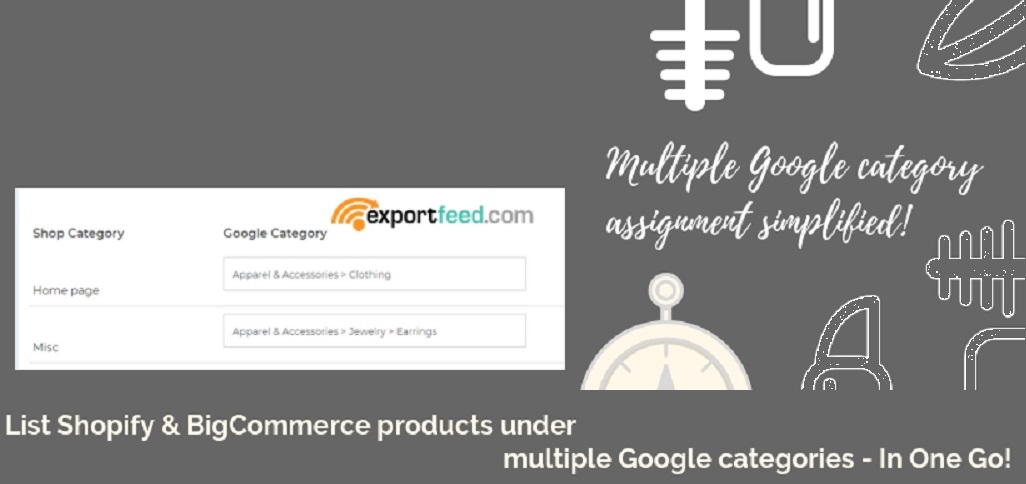 Within the comfort of your own Shopify and BigCommerce store, you don't need to stick to selling products under one category. You could sell products under men and subcategorize products like summer wear, winter wear and so on.
But how would you map that category when exporting your products to Google Merchant center? For this, you need to map multiple categories of your shop to multiple categories of Google merchant.
Luckily, we have made that possible with our Shopify and BigCommerce apps. You can now include multiple categories of your BigCommerce or Shopify Store and assign them to their corresponding categories in the same Google feed.
What has changed?
Previously while using our ExportFeed cloud service through our BigCommerce or Shopify apps to create Google feed, you were able to:
Previously…
Create product feed by selecting all products of a category

Create product feed by selecting individual feeds by category
You were still able to filter out the products by the values for minimum or maximum price and others values like title, product SKU, keywords etc. However, individual product selection was only able to list products of  within a single product category.
The changes
But now, you can mash-up products of multiple categories within the same feed using individual product selection. And again, you can create your product feed for all category products using the filters too.
If you are an avid user of ExportFeed cloud service, you will enjoy this part in every step, from selecting the different products of different categories, assigning different categories of your store to those of Google Shopping, and even naming your feed and submiting to Google.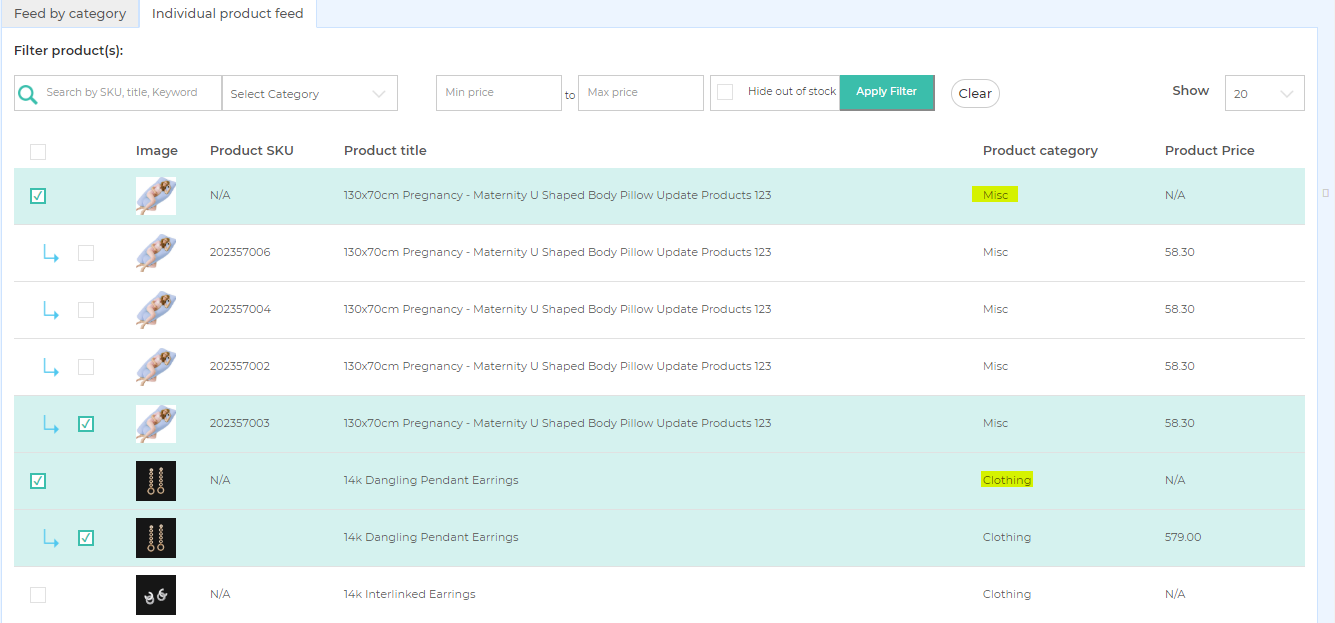 Brief steps to use this feature
Connect ExportFeed cloud to the Google Merchant center

Go to dashboard and click on Sell on Google button

Now, click on the Individual product feed tab

Select individual  products of ANY Product Category

Complete selecting the products you want list on Google

Now, scroll down and assign different Google categories to your store categories

Give a uniquely identifiable filename to your feed and upload the feed URL to your Google Merchant Center
What can you achieve with this?
You can select all products with a certain title and compile them to a Google feed to start selling through Google shopping.

List all your products of BigCommerce or Shopify within a specific price range and upload them to Google Shopping.

Avoid the limitation of creating products feeds for a specific Google product category.
Note: This feature is enabled on Individual product feed only and the direct product upload is not applicable when you are creating individual product feed.
Haven't used our Apps yet? Check them out with a 7 Days Free trial offer!