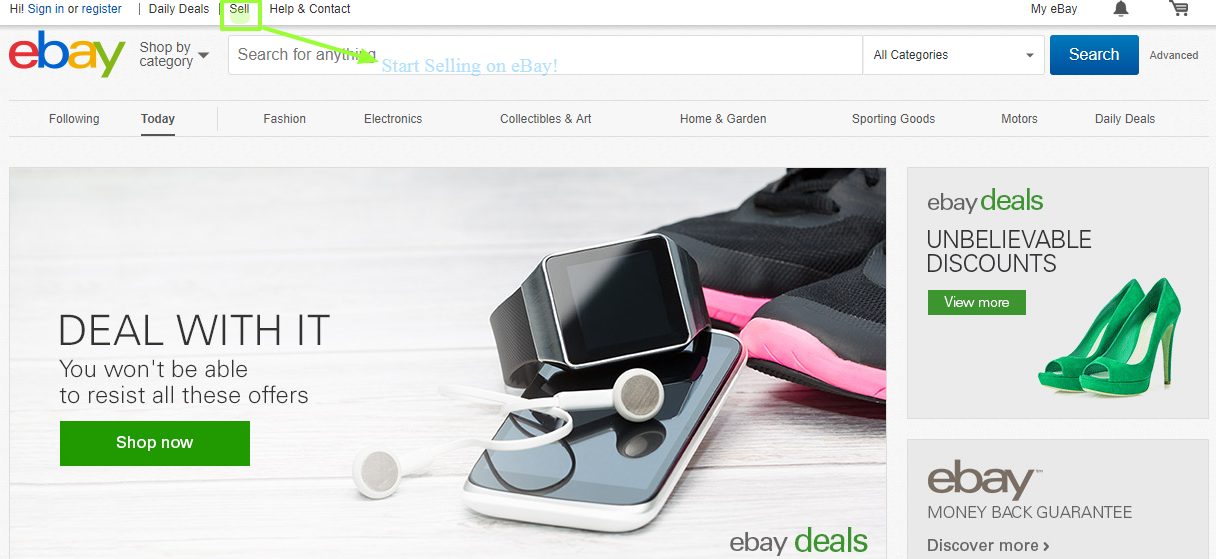 Setting up your own online store is pretty easy when compared to the time and effort required to improve the sales or even making your first sale. You'll find a ton of ideas to promote your online store with a single google search but your actual need of making a sale is simpler than all of those ideas. Instead of trying to bring in all the visitors to your site and hoping you could sell, how about sending your products to some place where the customers are already actually searching for them. How about selling your products on eBay also?
Starting the process of Selling on eBay – The registration!
When you visit the eBay site, at the top right corner, you will find an option to sign-in or register on eBay. Clicking this link will start your process of registering on eBay and provide the required information.  The eBay site keeps your information private so you don't have to worry about the information leak.
When registering on eBay, you will be presented with two option
Personal Seller Account
Business Seller Account
Looking into what purpose these two seller account serves:
Personal Account: Helps people to sell the items that you have in extra. This account helps when you are not starting to sell as a professional but just selling away to clean up space in your garage or attic.
Business Seller: Business seller account will offer you some privileges including higher seller limits than personal seller account. If you are looking to make some decent income by selling on eBay you can register as a business. Moreover, if you are representing an organization that would like to sell products on eBay, you would require registering a Business account.
We will discuss the differences between personal and business seller account in the upcoming blogs.
What information is required for a Personal seller account and what is required for a Business Seller Account?
Personal Account:
Basic information such as First Name, Last Name, Email Address and Password is enough to register a personal account.
After you provide your personal details, you will be redirected to the eBay homepage. At the top menu, you'll find the link "Sell" to start selling. Click on that link and you'll be requested with some more personal information related to your physical address.
After providing the personal information to eBay, you will straight be asked for the product listing information. Follow along with this process and you will start selling your personal items on eBay soon.
Business Account:
To register a Business Account, you will need to enter Legal Business Name, Legal Business email, Password, and legal business phone number.
Next, you'll need to provide a unique username and you will be redirected to fill up next form about your business information.
For business information, you will need to submit the physical address of your legally registered business, your relationship with the business and a way to contact you.
You will also need to enter your mobile number so you can receive a call or SMS for the account verification.
Next step, you will need to provide information such as Business Type, Total value of Inventory (optional), and business website (optional)
Business Type: You can select from the options – Sole proprietorship, Partnership, Individual, Non-profit, Government
Total Value of Inventory (optional): You may fill in the information or skip providing information in this optional section by selecting the Not Sure from drop-down menu.
Business Website (optional): If you are providing your website URL, it's better if you provide the full URL (http://www.yourwebsite.com) or leave it empty as this is also an optional field.
Now the final step of registration is when you provide your credit card information or connect your PayPal account so you can receive your payments from eBay and you can be charged for your eBay seller fees as well.
Paypal: If you select PayPal as your payment gateway, you will be redirected to PayPal page so you can verify your account
Bank Account: If you select this gateway for your billing purposes, you will provide your bank information such as Account Name, Bank Name, Routing Number, and Checking Account Number. The bank Name is only accepted for the US Banks.
Note: When you are using Bank Account for your billing purposes, you will be required to provide credit/debit card details as a backup method.
Credit or Debit Card: When you setup your billing address as Credit or Debit card, payment info that you are required to enter are:  Card Number, Security Code, and Expiration Date. If you are not using your own Credit Card, you can edit the Cardholder's information right here.
After registering your business on eBay seller, you can login to the eBay using the account you created. You'll find the Sell Link on top menu and by clicking on that, you can start listing your products.