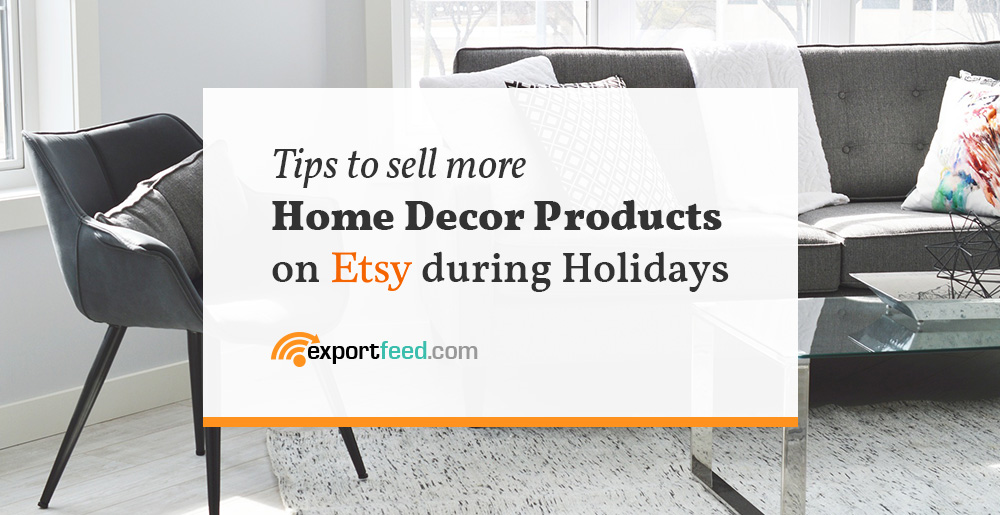 Home Decor products are suited for the Houzz marketplace, right? Yes, that's true but if you're dealing with handmade or antique products, you also have the Etsy marketplace. Why Etsy? Because Home Decors is among the top-selling category during the holidays for Etsy.
During the holiday season, you need to improve the physical presence of your home. Renovating the looks and feel of your house begins with small changes like the image on your wall, or the flower vase, or something similar.
What can you sell on Etsy within the Home Decor category?

The above screenshot shows all the subcategories products that you can sell on Etsy. However, when selling for the holiday season, here are some specific sub-categories that you shouldn't miss to sell.
Table linens
Fold-up decorations
Simple jar candles
Wall decals
Himmeli wreaths and ornaments
Papercraft and origami decorations
Serve wares (better sales in antique)
Ornaments (rings, jewelry, necklaces)
The sales of these products will depend upon the materials and patterns used. Etsy is more popular among buyers to buy handmade products, allowing the buyers to select product variants based on patterns and materials is a good way to increase sales.
The material variation for different products will be different. The variation for vase will not be the same as the variation for ornaments. However, we'll list the material variations that are popular for the Home Decor materials especially during the holiday season.
Wood
Straw Reeds
Origami Papers
Yarns
Fresh foliage
Others depending upon your product type.
The common mistakes of Etsy sellers
Most of the time, sellers on Etsy are more experienced and seasoned in their craft than presenting their crafts. But the core point is what looks good on Etsy grabs more attention and sells more. This is true for every marketplace. Here are some more points that you should consider when listing your Home Decor category products on Etsy to increase holiday sales.
1. Use of images
An image speaks more than a thousand words, so when you take a picture of your product for Etsy, you need to ensure you portray the product correctly. Along with that, keeping thoughts about the lighting conditions, background, image quality, etc will have an impact on your sales. You can list a product with up to 10 images on Etsy, make sure to use that facility.
2. Use of Tags
Etsy allows you to enter up to 13 tags per product. As tags work like keywords for Etsy search results, you should be a bit creative while using tags on your products. Think of your product tags as the alternative search keywords that a buyer will use to search for your products on Etsy.
3. Use of Description
Most of the sellers only use this section to describe the product that they are selling. But what is in it from the buyer's perspective? If you've already sold the product in Etsy or elsewhere, you can use the product description to answer the most common questions about your products.
If you are selling Home Decor products or Craft Tools through your site based on WooCommerce, Shopify or BigCommerce, and want to increase sales through Etsy, ExportFeed can help you list your bulk products on Etsy without any hassle.
Few benefits of using ExportFeed
Prepare your bulk products to import into your Etsy store easily
Include or exclude product variations while importing on Etsy
ExportFeed apps & plugins auto-assign your product attributes to Etsy attributes
You can receive orders and inventories sync features when using ExportFeed
Get support for our extremely responsive support team for product listing issues & even 1st-time setup free
Need to talk to our support team?