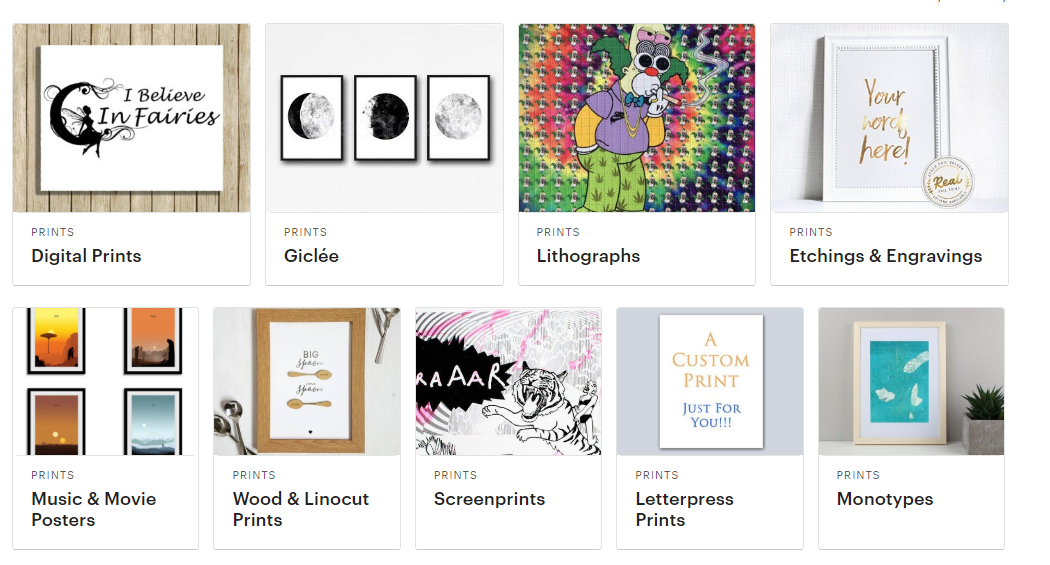 Thanksgiving cards, halloween posters, christmas celebration banners and a lot more of print materials are sold on Etsy during the holiday season. So, what are you planning to sell?
A few of the options that you have to sell your prints: 
Mugs

Bags,

Key chains

Pillows, and

Blankets
If you are selling these, then it may be a feasible option to re-invent your Etsy store with holiday themed products for sale. 
Let's look at what sells really well under the Etsy's print category during the holidays
Tips for selling holiday products on Etsy under Prints sub-category
Commonly categorizing, under the Arts & Collectibles > Prints category on Etsy, you will find products that can be digitally downloaded or can be ordered in printed form.
Your strategy to sell products under this sub-category should be different if you are selling the digital products. However, in this post we'll cover the holiday selling tips for printed materials instead of selling downloadable products.
Create proper product listings
With proper product listings, we mean that you should include keywords in your title, descriptions and tags. Apart from those, you should also use high quality images of the products. And provide all the relevant attributes of the product while creating your listing.
If you are already selling through WooCommerce, BigCommerce, or Shopify and have created a proper listing on one of those platforms, you can use ExportFeed to save time while listing on Etsy.
Get exposure before holidays
Etsy doesn't only offer you to create listings but also use promotions. Etsy promotions are recommended if you are listing your product for the first time. You have the option to make product promotions inside of or Etsy or outside the platfom as well.
Especially, if you start getting product exposure using promotions before the holidays, during the peak sales season,  your products will have collected some product reviews which will help in boosting further sales.
Communication skill is the key
When your products are promoted and you start getting some inquiries from the customers, you need to ensure a professional tone, that's what Etsy recommends. Along with that, if you already have some frequent questions which buyers ask about your products, you can add them to your product description also.
Where a proper and professional communication can definitely secure you a sale, a poor communication skill can cost you your seller goodwill through negative product reviews.
Stock your best-seller products
We understand that your stocking will cost you extra. But, if you are promoting your listing and keeping a really good communication, you don't want to be swamped with excessive orders that you can't fulfill. For this, it is better to have an extra helping hand to keep your main products stocked than having customer wait to receive their orders.
Also, it is highly likely that the cost of craft tools that you use to product your product will go higher during the holiday season, so at least keep a good stock of them for the holiday season.
Offer discount on your promoted products
When you are promoting your products, it is a good idea to promote them with discounts. At least 25 percent of products sold on Etsy during the holiday are those which are promoted products with discounts. If you can, offer around 20% discount on products as that is the visible trend among Etsy sellers.
However, if possible, make sure to surprise your buyers with an extra gift even if they purchased on discount during the holiday season. This'll help create a pool of loyal returning customers.
If you need help in creating product listing on Etsy, please feel free to consult with our knowledgeable support team.