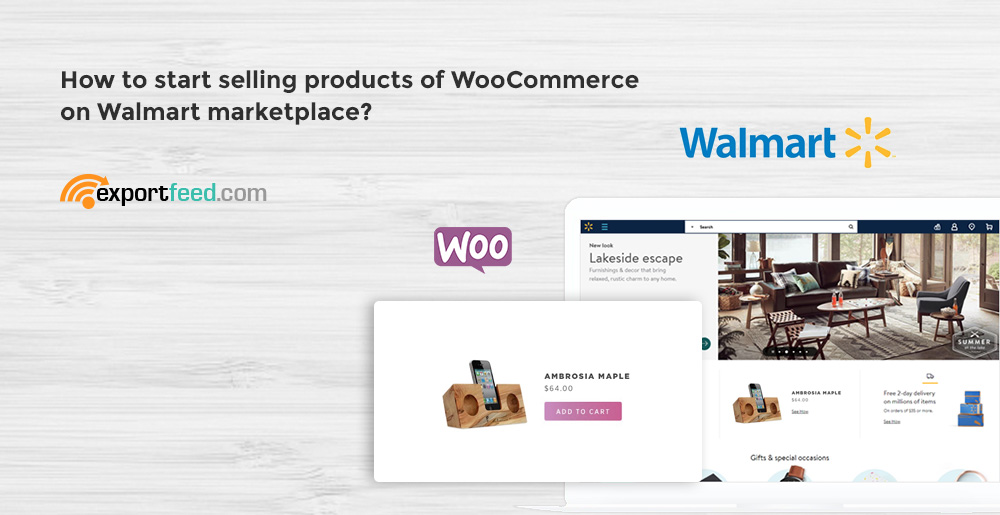 Looking to get more customers for your WooCommerce business? Tried the popular marketplaces and comparison shopping engines? Want to challenge yourself into serving more customers and thus increasing your business profits? Try sending your products from WooCommerce to Walmart marketplace.
We, at ExportFeed, have integrated Walmart product feed requirement on our WordPress plugin. Now, you can create your product feed using ExportFeed for Walmart and other popular marketplaces. Just one plugin to meet all merchant feed requirements.
Quick benefits of selling on Walmart
Offer your products to millions of customers visiting Walmart

Avoid unwanted competition with reasonable product pricing.

Start listing your products without any setup or monthly fees

Get access to the required tools to optimize your conversions

Bulk upload your products of WooCommece to grow sales
Interested to sell on Walmart now? Wait, you need to be approved as a seller first!
Unlike Amazon, eBay or most of the other marketplaces, Walmart requires you to get approval before starting to list and sell products.
Necessary information to get a seller approval from Walmart
Primary contact information including the registered name of your business

Business information including the physical address of your business

Product assortment information including the product categories you sell

eCommerce & Marketplace experience including how successful you were on Amazon, eBay, etc.

And finally how you usually conduct the operations of your business.
Make no doubts, Walmart will not hesitate to reject your application if you do not provide your business information carefully.
Now, if you're wondering if your products will be the reason for your seller account rejection, you can feel easy at this point. Over 35 million products are being sold at the Walmart store. So,  it is less likely that your product will be the reason for your account rejection. However, when making your bulk listing of WooCommerce products on Walmart, some of your products may be rejected.
Common reasons for product listing error on Walmart
Products missing SKU: SKU value that you send to Walmart defines your products and this is how your product orders are sent to you. You can't miss sending your WooCommerce product SKUs to Walmart.
Missing product type information: If you have an experience of selling on Amazon, you already know how important the product type information is. Walmart also requires this information for a successful listing.
Missing category mapping: You need to map your WooCommerce product category to that of Walmart. Or else, how would the Walmart marketplace know where to list your products. Luckily ExportFeed allows you to handles this part flawlessly.
Invalid product title: When listing products on WooCommerce, you may have closed the title within quotations for higher attraction. This will not be valid for Walmart listing. You are not allowed to use any special characters on the product title.
Missing GTIN values: Alike Google Shopping and Amazon marketplaces, you need to send your GTIN for products to Walmart also. Without this value as your external product identifier, you will get errors while listing products on Walmart.
Summarizing how to sell WooCommerce to Walmart
Get approval as seller on Walmart
Install ExportFeed plugin on WordPress
Create product feed for Walmart marketplace
Avoid any errors or contact our support
Submit your feed to Walmart