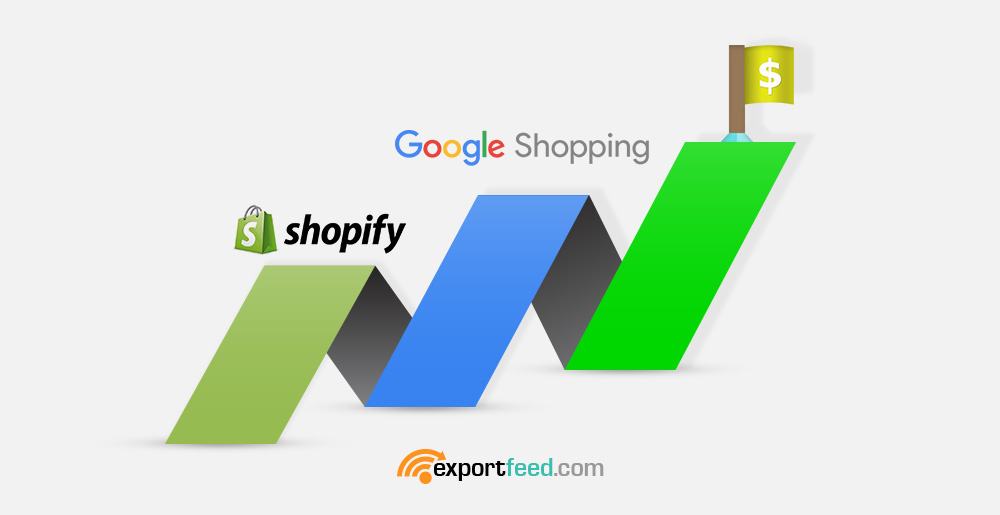 Google Merchant – http://www.google.com/merchants
(Google Merchant Center, Google Merchant Shopping, Google Shopping)
Export products from Shopify to Google Merchants.  Export variations, product descriptions, product prices, pictures and images, sizes, colors and other product details from Shopify with only a few clicks!
We can:
Export WooCommerce to Google Merchants: 
Your products in WooCommerce based store can be easily exported to Google Merchant. When you install ExportFeed plugin in your WordPress, it will connect with your WooCommerce to get the product data and display it to you while creating feed. You can check the feed creation process from WooCommerce for Google Merchant here.
Export Joomla VirtureMart to Google Merchants:
Our Joomla VirtueMart extension is now available in the Joomla Extension Directory. If you are looking to list your products in Google Merchant center in order to improve your eCommerce revenue, you can download ExportFeed extension from there and use it. ExportFeed extension for Joomla is also available for 7 days trial period with full functionality so check it out.
Export Shopify to Google Merchants:
Installing Shopify app of ExportFeed will make your feed creation process really easy. Also for bulk products, we offer cloud based processing for Shopify stores to increase your feed performance. But more than that, with ExportFeed installed in Shopify you will not just be able to create feeds for Google Merchant but for 40+ other high performing comparison shopping merchants and even affiliate platforms.
Export OpenCart to Google Merchants:
ExportFeed app is also available for OpenCart users. You will be able to get the extension from here:  If you are installing ExportFeed on your OpenCart platform, we have provided the installation and feed creation manual. Please make sure to check it out. Also, let us know if you have any confusion regarding the steps.
Export BigCommerce to Google Merchant:
Exporting your BigCommerce based products to Google Merchant center has never been easier before. All you need to do is browse the BigCommerce Apps Marketplace and install ExportFeed app in your store. After you activate the app, you will be able to select Google Merchant and select the product categories that you want to include in your feed file and even schedule for automatic feed updates.
Export WP ECommerce to Google Merchants:
Whether you are using WooCommerce or WP Ecommerce, installing ExportFeed plugin in your WordPress will help you to create your product feeds for multiple merchants and you can also receive our first class support regardless of whether you are a trial user or a premium user. So don't hesitate. Start your multichannel marketing with ExportFeed today to sell your products through merchants like Google, Amazon, eBay, Etsy, Bing Ads, Pricerunner, Sale.com and more.
Exporting your items to an alternate merchant supplier is an awesome approach to offer more items, get more SEO value and grow your business mindfulness. The majority of our customers use 3-5 merchant suppliers to guarantee their advertising objectives are met. Typically this implies – Google Merchant, Amazon Seller, Bing Ads and a couple of others.
Consider this, you have put much time and exertion into your shopping cart framework – why not widen its allure and usefulness – just by including our answer – normally in only minutes! Offer, showcase and advance in numerous different areas – all utilizing the same shopping cart framework you are utilizing today.
Also,we can also synchronize (sync) product information (all details, images, prices, inventory) from Y to other platforms.. For example:
Export Shopify to Amazon Seller Central
If you have just started your Shopfiy store or whether you are running it for some time now, sending your product feeds to Amazon Seller Central is easy and effective with ExportFeed. All you need to do is connect your Amazon Seller account, download the templates, select product categories, click on "get feed", and then upload them to Amazon marketplace. It's practically done within minutes.
Export Shopify to Amazon Sponsored Products
Sending your Shopify products to create listings for Amazon Sponsored Products is a really effective way to increase your ROI. Whether you are selling books, home decors, attires or other Amazon categories, ExportFeed offers you the easiest and best way to list your products in Amazon and increase your revenue.
Export Shopify to AmmoSeek
AmmoSeek is a merchant that not many sellers find useful but to those who are running arms and ammunitions and related magazine stores online, it is like the seller's heaven. A lot of enthusiasts visit this site on a regular basis and for that reason; we have integrated the feed template of AmmoSeek.com in our Shopify ExportFeed app.
Just install the ExportFeed extension from Shopify app store and create your product feed for this amazing merchant to list and sell your products through AmmoSeek.
Export Shopify to AvantLink
If you are selling your products through affiliate networks, you may have considered "Avantlink – the next generation affiliate network" as well. But in order to send your bulk product feeds manually to this affiliate network and to make the products available to your affiliate agents, sending product feeds to Avantlink is the best way.
So we have included the feed template for this channel in ExportFeed for Shopify app in order to help you market your bulk products through affiliate network easily.
Export Shopify to Become
If you are looking to sell your products that fall under categories like: Home and Garden, Electronics, Computers, Jewelries, Clothing and Accessories, you can export your shopify products to Become. Listing your products in this merchant through ExportFeed saves you time and effort while increasing your sales.
If you are already selling through Amazon or Ebay and Etsy, this may be your next preferred marketplace.
Export Shopify to Beslist.nl
For eCommerce promotion, it is a wise decision to target the customers of a specific country or even region. For this, if your potential customers are the residents of The Netherlands, sending your product feeds to Beslist.nl can generate good amount of revenue for your business.
If you're wondering how to list your products to Beslist.nl, we have solved the technical hurdles for you. Simply install ExportFeed in your Shopify store and create feeds for Beslist.nl easily.
Export Shopify to Bing! Ads
Many eCommerce marketers have the opinion that after Google ads and Facebook targetin, Bing Ads serves as a good source for customer pool. So, if you are still not advertising your products through Bing Ads, it may be the right decision to start now than never.
We have integrated the Bing Ads feed specification in our ExportFeed template so you won't need to go through the technical parts.
Export Shopify to Bonanza
Selling custom-made products? Looking to increase sales by increasing marketplaces channels? Bonanza should be the next stop for your product listing! Though this merchant may not have started as early as Amazon and eBay but it surely is stealing a niche of their customers and giving them a run for revenue.
So, don't miss out when you can list your products on Bonanza simply by creating Bonanza feeds through ExportFeed.
Export Shopify to eBay Seller
"Why eBay Seller?", one might ask. But the answer is right ahead. How many times have you bought products off from eBay yourself? And how many product suggestions has eBay sent you directly in your inbox? Don't you want to take the revenue benefits from marketing effort that eBay puts in to sell products?
And now that we have made a system to generate eBay Seller product feed easily so that you can list products in this giant marketplace, we highly recommend that you start sending your product feeds to eBay by using ExportFeed today.
Export Shopify to eBay Commerce Network
Send your Shopify products to eBay Commerce Network and get benefitted by the performance based eBay ads that this merchant offers. One of the prime reason to use this merchant would be the reason that, their app is downloaded for 291Million times.
But not just that, can you miss listing your products to a merchant with 162 Million active buyers when sending your products there is so easy with ExportFeed?
Export Shopify to Etsy
Have you been listing your products on Etsy one by one? Takes a lot of time and effort but it is definitely worth it. However, now with ExportFeed installed in your Shopify store, you don't need to manually list your products.
You can bulk upload your products and save time while advertising your products to over 15M visitors of Etsy.com by sending product feeds.
Export Shopify to Facebook
Creating a business manager account in Facebook is easy. But easier than that is to reach your potential customers with Facebook ads. But how do you create your Facebook catalogue without first creating your Shopify product feeds for Facebook?
In order to easily target and sell your Shopify based products to shoppers on Facebook, ExportFeed offers you to create your Shopify product feed for Facebook. Isn't that wonderful?
Export Shopify to Gifts.com
Ever picturized the range of products you sell wrapped up in a gift wrap. If yes then you know that like-minded people would love to buy your products for their loved ones. So why not send your data feeds to the merchant that solely signifies importance of gift giving culture.
We have integrated the feed specifications in ExportFeed template for gift.com. It is easy for you to now create product feed and list your products in this wonderful marketplace.
Export Shopify to GoDataFeed
Send your product feeds from Shopify to Godatafeed for content optimization, sales performance analytics and other features that this service has to offer.
Export Shopify to Google Merchant Shopping
Enjoy the benefits of listing your products on Google Merchant. Get your products in front of those millions of audiences when they even search in the Google Search engine. Also, benefit from listing your product ads on the Google ad network and get the web traffic for your eCommerce site to boost your SEO and Conversion rates.
All these benefits, simply by creating and sending your product feeds to Google Merchant by using ExportFeed.
Export Shopify to Houzz.com
Selling home decoration products? You can find no other merchant better than Houzz.com. It has been dominant in the web for some years now and any DIY home improver or professional service provider prefers to either take tips or grab products from this merchant every once in a while.
So why not get grab your potential customers from Houzz.com when you can by sending your Shopify product feeds to Houzz.com using ExportFeed?
Export Shopify to Kelkoo
Send your product feeds to Kelkoo and list your products on the Kelkoo network. This merchant has proven that it's worthy of advertising your products by acquiring Le Guide. A lot of affiliate publishers are waiting in Kelkoo to grab your products and advertise them in their site to increase sales for you.
So why not send your Shopify data feed to Kelkoo network by using ExportFeed today?
Export Shopify to Newegg
This merchant offers you to create listing for a wide variety of categories. And one peculiarity about this merchant is that it also offers to sell your digital products like Software and services.
If you are selling from among these categories such as: computer systems, components, electronics, gaming, networking, automotive, home and tools, health and sports, apparels and accessories and even hobbies and toys, you can send your product feeds to Newegg using ExportFeed to increase your sales.
Export Shopify to NexTag
Simply by installing ExportFeed in your Shopify platform, you can create and export your product feeds to this high performing merchant. This merchant lists baby products, Books, CDs & DVDs, clothing and accessories, PC softwares and hardwares, electronics and even flowers and plants.
There are many other categories that are supported by this merchant and we have included the feed specifications for all of those categories in ExportFeed to help you add this merchant to your channel.
Export Shopify to PriceGrabber
With your products listed in PriceGrabber, you will have the access to numerous global visitors of this site and also the majority of online shoppers of UK. Send your Shopify based products with ExportFeed to increase sales through this merchant.
Tip: This marketplace offers information about the top searches so you can create optimized feeds based on that info to increase your feed's sales performance.
Export Shopify to PriceFalls.com
Apart from the regular apparels and accessories, home improvement and electronics supplies and appliances, this merchant also sells memorabilia and collectibles. This is definitely one of the marketplaces where shoppers with some specific taste hang out so if you are looking to increase the sales of your products, you can create and send your Shopify data feeds to PriceFalls simply by installing and using ExportFeed.
Export Shopify to PriceRunner
Pricerunner is a marketplace that lists items and prices from brick and mortar stores to product prices from advanced shopping engines. Why? To provide the best deal to UK customers like a real comparison shopping engine.
The best part about PriceRunner is that you can list your products for free and if you are a paying retailer, they'll include your website's link on the product as well. Now why wouldn't you want to list your products on this merchant when ExportFeed in your Shopify can easily generate feeds matching their template specifications?
Export Shopify to Pronto.com
With the tagline "When you shop here, you shop everywhere", this marketplace unveils the best deals on products that any shopper looks for. It displays the results from Amazon, eBay and other eCommerce sites that have listed their products in Pronto. This site quickly gives in an impression that their visitors are informed visitors with cash ready in hands to purchase the displayed products.
So don't miss out on the amazing sales that you can have by listing your Shopify based products on Pronto.com using ExportFeed.
Export Shopify to Rakuten.com
This ecommerce giant based on Japan offers a list of product categories which we have included in the ExportFeed feed templates. But the core benefit that attracts shoppers to buy from this merchant is the assistance for undelivered and defective products.
So if you are sure to deliver the products you sell as promised, make sure to list your products on Rakuten (global.rakuten.com) for a global outreach.
Export Shopify to Sell.com
Sell.com is a global marketplace that explicitly states "We help you Sell". In this platform, you can setup you own store and list products there. This merchant offers flat fee structure for listing on different plans so there's no commission charge per sales.
Listings in this merchant bring you the visitors directly to your product pages so you have traffic benefit for both SEO and conversion. Also, your listings for first 30 days are offered for free. List your Shopify products on sell.com using ExportFeed today to grab these benefits.
Export Shopify to Shareasale.com
ShareaSale is a leading affiliate marketplace and if you are looking to increase the sales of your eCommerce site through affiliate publishers, you will be able to create and send your data feed for bulk product listing by using ExportFeed.
We have integrated the feed templates specified by Shareasale in ExportFeed to reduce your technical work. Also, if you need support for this or any other merchants, we are always present at your service.
Export Shopify to Shop.com
This merchant offers services specific shopping destination including countries like: United States, Canada, Mexico, United Kingdom, Spain, Australia, HongKong, Taiwan, and Singapore. It also offers global shopping options.
One of the main reasons that listing your products on shop.com almost ensures your sales boost is that, shop.com offers cashback upto 50% to the online shoppers. And with ExportFeed installed in your Shopify, listing your products to this merchant is almost effortless.
Export Shopify to ShopMania
This merchant offers product categories such as clothing, CDs and DVDs, Baby Products, Computers, Electronics, Gifts, Health and Beauty products, Home & Garden products and other categories. Creating a merchant account with ShopMania and listing your products there means partnering to receive high quality traffic for your site and increasing the conversion rates to boost ROI.
As we have integrated all templates required to create product feed from your Shopify store to boost conversions, there is no reason for you not to list products in ShopMania using ExportFeed.
Export Shopify to ShopZilla
Shopzilla is one of the leading marketplaces that lists your product making it available to numerous shoppers as well forwards your product feeds to other merchant sites as well. This way the product listed in ShopZilla gets more market exposure and generates more sales.
If you are looking to list your Shopify based products to ShopZilla, ExportFeed meets the entire product feed specifications while creating your product feeds.
Export Shopify to WebGains
Webgains is another leading affiliate platform where merchants list their products so that affiliates can join their platform and promote your products for certain percent commission that you offer.
If you want to increase sales of Shopify based products, you can easily create data feed from your Shopify based store and send those products to Webgains using ExportFeed.
Export Shopify to GPAnalyse
This merchant is definitely the leader of comic book stores and operates globally. So if you are a dealer of new and used comic books it is imperative that you send your product feeds to GPAnalyse.
As we have integrated the product feed specifications for GPAnalyse for CGC Comics recently, make sure to increase your sales by creating and sending your product feed using ExportFeed.
Export Shopify to Miinto
If you want to expand the sales of your clothing and accessories to the customers of The Netherlands, Norway, Sweden and Denmark, then sending your product feeds to make a product listing in Miinto.com is definitely the way to go.
Miinto lists the products produced by boutiques so if you sell these products, we definitely think that you send your product feeds to Miinto. We have also integrated the feed specifications for Miinto in our ExportFeed Shopify app.
With ExportFeed installed in your Shopify based eCommerce store, we have also offered to create your product feeds in these file formats:
Export Shopify to PDF
Export Shopify to XLS
Export Shopify to CSV
Export Shopify to Text