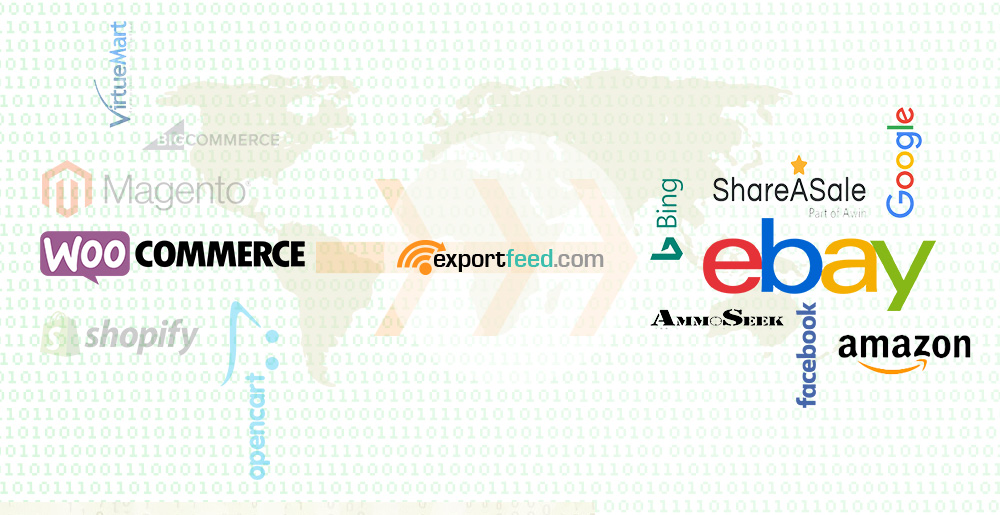 eBay seller: eBay Products, eBay Products ads, eBay.com
Export products from WooCommerce to eBay Seller.  Export variations, product descriptions, product prices, pictures and images, sizes, colors and other product details from WooCommerce with only a few clicks! We offer to provide a personalized demo and needed support to help you accomplish product export from WooCommerce to eBay seller.
We also provide you with the services to:
Export WooCommerce to eBay Seller
WooCommerce is a plugin for the WordPress platform. Installing WooCommerce will provide you the functionality of eCommerce on your site. It is an easy way to start an online retail business. So, this is accepted and implemented by a lot of business owners.
WordPress plugins repository also provides a lot of other plugins. You can find plugins for adding functionalities or designs. WooCommerce compatible themes are used to create alluring websites. A well-presented product really necessary to increase product sales on your site.
But, optimizing your WooCommerce site takes time. …so, what doesn't?

– Selling WooCommerce products on eBay using ExportFeed!
ExportFeed offers to list your WooCommerce product on eBay in easy steps. Install ExportFeed plugin in your site and create product feeds, submit those feeds to eBay and start thinking about fulfilling orders.
Export Joomla VirtueMart to eBay Seller
Joomla is a CMS with a varied capacity to build any type of site. But install VirtueMart extension and you'll have an eCommerce site ready for you.  VirtueMart has a number of dedicated user groups so finding a solution to any problem that you face is easier through the discussion forums. Also, they provide the support. But, the other extensions that can be VirtueMart is the main strength.
Listing your products on VirtueMart is EASY but,

Exporting them to a marketplace like eBay is PROFITABLE!
Put some thoughts on to it. Regardless of your marketing efforts and advertisement cost spent, you will hardly get close to the average visitors of eBay. So, create VirtueMart product feed for eBay and you'll grow your business as the exposure for your products grow on eBay!
Here's the answer to your "how" question. Simply install ExportFeed extension on your Joomla site along with VirtueMart or Hikashop. Then, you're able to create your product feed for eBay. You'll create product feeds with ExportFeed
that matches eBay seller specifications for easy acceptance,
customized feeds to sell those products on eBay which you want, and
optimized feeds for higher visibility and conversion through eBay.
Export Shopify to eBay Seller
Shopify is among the top hosted eCommerce solutions that ever emerged.  It provides a plethora of inbuilt functionalities that fulfill your demands for a normal eCommerce site. But more than that, it provides an app market. Choose from the list of free and paid apps. The apps are tested vigorously before releasing in the market so they are safe to use.
Safety is an absolute must. But, you can't deviate from the motive!

– And the motive is to maximize sales!
If you're running your eCommerce based on Shopify, you made a good choice. However, you are missing an opportunity if you are not creating eBay product feeds. You're definitely making a business mistake if you're not sending your Shopify product feed to eBay.
ExportFeed Shopify app provides you to meet your needs for eBay product feeds. It is a pretty straightforward process. All you need to do is:
Install ExportFeed app from the Shopify app market & let your product sync.
Click on Add Sales Channel on ExportFeed Cloud to add eBay Seller.
Select your product category to sell on eBay and create the product feed.
Export your Shopify products feed to eBay and watch your business grow.
Export OpenCart to eBay Seller
OpenCart is a strong and widely used platform to create eCommerce sites. Many mature sites operating on the different eCommerce niche are still based on OpenCart. This platform also offers the modules that add functionalities to your online retail shop. If you've been an OpenCart shop owner for some time, you're probably looking for more opportunities to grow.
After all, after starting a business, you don't want to reach a certain height and stop. You want to go as high as you can. And ExportFeed offers you just that.
Target & achieve the maximum heights for your OpenCart business.

Use the power of multi-channel marketing with ExportFeed!
Marketplaces like eBay seller offer you to list your products on different categories. You can get the attention from the visitors of eBay and maximize your sales revenue. The only consideration is to get your OpenCart products into the right eBay categories without making errors.
Manually listing your products on eBay is an option. But for an adequate amount of profit, you need to list bulk products. So, creating OpenCart product feed for eBay is your best choice. And with ExportFeed, you save time, increase accuracy and get all the support you need.
Export BigCommerce to eBay Seller
BigCommerce is another hosted platform that's on the rise. If you are running your eCommerce store based on BigCommerce, you already know about the apps marketplace. What you may not know is that we have added ExportFeed in the app store under the Marketing category.
ExportFeed app on the BigCommerce store offers to help you expand business through multiple marketplaces. And obviously, we haven't missed the eBay Seller. Why?
eBay seller is important because it offers the regular listing and the auction listing. This is definitely the peculiarity about eBay marketplace. When you start selling, you have the seller limit in play to (seemingly) restrict your growth. That's when you make the best use of a mixed strategy to list products under regular listing and auction listing.
However, when you are already a seller on BigCommerce, you already know the basics.
Listing more product on eBay means more customer attention.

…and increased chances of securing more sales.
ExportFeed for BigCommerce helps you to send your products on eBay on the go. Finding it difficult to believe? Why not try our BigCommerce to eBay Seller app for yourself.
Amaze yourself with what we have in store for you!
Send products from shopping carts like WooCommerce to eBay Seller and hold on tight!
OR…
Exporting your items to an alternate merchant supplier is an awesome approach. You get to offer more items, get more SEO value and grow your business mindfulness. The majority of our customers use 3-5 merchant suppliers to guarantee their advertising objectives are met. Normally this implies – eBay Seller, Amazon Seller, Google Merchant and a couple of others.
Consider this, you have put much time and exertion into your WooCommerce Shop – why not expand its allure and usefulness – just by including our answer – WooCommerce product feed for eBay! Offer, showcase and advance in numerous different areas – all utilizing the same shopping cart framework you are utilizing today. We're already working to add more eBay marketplaces to help you grow.
Also, we can also synchronize (sync) product information (all details, images, prices, inventory) from WooCommerce to other platforms. For example:
Export WooCommerce to Amazon Product Ads
Apart from eBay seller listing, Amazon products ads or which is now transformed to Amazon Sponsored listings is also a great way to increase your sales. For this, you need to submit your WooCommerce product feed on the Amazon marketplace. Then you need to select the products and set campaign for Amazon product ads.
Export WooCommerce to Amazon Seller
Amazon Seller or Amazon seller central is the gateway for your products to enter into Amazon marketplaces. As of the time when we're updating this post, there are 11 Amazon marketplaces. You can list your products on Amazon USA and Amazon Mexico also if you have a professional seller account of Amazon Canada. Alike, having Amazon India's account will also present you with similar benefits. But, you will speed up your product feed management work if you use ExportFeed Amazon plugin. This plugin allows you to
connect multiple Amazon marketplaces with your WooCommerce
sync you products, inventories, and orders both ways – to and from WooCommerce to Amazon.
displays error reports and we'll help you to resolve them
Export WooCommerce to AmmoSeek
If you're selling ammunition or related magazines and goodies through your WooCommerce store, you have a great opportunity for growth. Ammoseek is one of the best merchants that'll help you spread the news about your products to the potential customers. But, Ammoseek has a special request, you need to keep updating your product feed in a very short time interval.
Now, would you be able to manage that manually or would you use a reliable tool like ExportFeed plugin for that?
Export WooCommerce to AvantLink
Bulk products affiliate campaign is one of the best activities for eCommerce shop owners.  Sending your WooCommerce product feed to AvantLink and other merchants like eBay commerce network is a surefire way to win lots of sales. ExportFeed allows you special features like adding your affiliate merchant ID in the feeds you create so you have less hassle of managing your affiliate campaign.
Export WooCommerce to Become.co.uk
Become.co.uk is one of the top comparison shopping engines where you can list your WooCommerce products. They qualify the customers and then send the traffic over to your site to complete sales. If you are selling products which come under these categories…
Home and Garden
Electronics
Health and Beauty
Computers
Jewelry
Clothing and Accessories and others
and your target customers are mostly from the UK, you shouldn't miss listing your products on Become.co.uk. Send your WooCommerce product feed to Become using ExportFeed and win more sales.
Export WooCommerce to Sell.com
Sell.com is a global marketplace that explicitly states "We help you Sell". In this platform, you can set up your own store and list products there. This merchant offers flat fee structure for listing on different plans so there's no commission charge per sales.
Listings in this merchant bring you the visitors directly to your product pages so you have traffic benefit for both SEO and conversion.  List your WooCommerce products on sell.com using ExportFeed today to grab these benefits.
Export WooCommerce to Miinto
If you want to expand the sales of your clothing and accessories to the customers of these countries…
 Netherlands,
Norway,
Sweden and
Denmark,
Belgium
Poland
…then sending your product feeds to make a product listing in Miinto.com is definitely the way to go.
Miinto lists the products produced by boutiques so if you sell these products, we definitely think that you send your product feeds to Miinto. We have also integrated the feed specifications for Miinto in our ExportFeed WooCommerce plugin.
Export WooCommerce to Bestist.nl
Beslist.nl is one of the major go-to online shops for most of the customers of the Netherlands along with eBay, Marketplaats, Bol etc and others. If you want to target and sell your WooCommerce products to the customers of beslist.nl, you can install ExportFeed plugin and follow the intuitive product feed creation process.
Export WooCommerce to Bing Merchant Ads
Bing product ads campaign is the hidden gem that every experienced eCommerce marketer knows about.  You can set up ads for almost every legal product category. You will be able to create your product feed for Bing product ads using ExportFeed. If you are planning to increase the sales of your WooCommerce products on
the USA,
UK,
Australia,
France,
Germany &
Canada
Bing Ads will be the perfect solution with lower cost and respectively higher returns. You can start using this ExportFeed plugin to create your WooCommerce product feed for Bing Merchant catalog, Amazon seller feeds, eBay Seller feeds and more.
Export WooCommerce to Bonanza
Bonanza is a marketplace that hosts almost every product category that you can sell through your own WooCommerce store. But in particular, if you are selling custom-made products, you'll have a difficult time finding a suitable marketplace. Bonanza is one of such marketplace which will come to your rescue.
You can also sell your custom made products on eBay Seller after you buy the UPC codes for those products. As for Amazon, you can apply for GTIN exemption or go through the process of Amazon Brand registration. However, Bonanza and Etsy are better merchants for custom and handmade product types. Create your WooCommerce to Bonanza product feed using ExportFeed and grow your sales today.
Export WooCommerce to eBay Commerce Network
eBay commerce network is one of the most happening affiliate platforms. This platform offers to promote the bulk products of your WooCommerce shop on eBay commerce network to get more sales through affiliate promotion.
In order to promote your products on the eBay Commerce Network, you need to register as an advertiser and upload your product feed to your account. You will need to create your campaign, set your cookie period, define affiliate commission but the results are worth it.
There's a lot of tasks to be done when you start affiliate campaign, and by using ExportFeed's plugin for WooCommerce to eBay commerce network, you'll ensure that the main part, sending product information to the affiliate marketers, is error-free.
Export WooCommerce to Etsy
Etsy is one of the most happening marketplaces for sellers of the USA and Canada after Amazon and eBay Seller. However, Etsy tops the chart if it is about selling custom or hand-made products. If you are planning to sell your WooCommerce products on Etsy, you can download ExportFeed's WooCommerce to Etsy plugin from here.
Export WooCommerce to Facebook
Facebook Shops are the breaking point in online retail where social meet commerce is actually implemented. Selling with the social security is the best form of conversion optimization. And one more way to see the Facebook shops is that, for those whom you can't invite to visit your WooCommerce based eCommerce site, you can invite them to like your Facebook shop and Facebook will send the activities on your page to their feed.
To start your Facebook shop, you can create an account on the Facebook Business manager and then create a shop page. But, how do you create the products? ExportFeed is the answer.  Simply, install ExportFeed plugin on your WooCommerce, select Facebook as the merchant and create your catalog to submit products on Facebook.
Some of the other merchants including eBay Seller that you can create your product feed using ExportFeed plugin are:
Export WooCommerce to Gifts.com
Gifts.com is a unique marketplace. It offers product listings categorically based on demographics and occasions. If you need to buy a birthday gift for a kid or a bridal gift, you can view these categories and easily choose one from gifts.com.
By meeting this specific requirement and reducing the confusion regarding buying appropriate gifts, this merchant has a pool of loyal customers. Take a look at your WooCommerce shops and select the products that can be gifted on various occasions. If you send your products to Gifts.com along with eBay seller, Amazon and others, you will be able to increase your sales.
Export WooCommerce to Google Merchant Shopping
Google shopping is a comparison shopping engine that works on the cost per click model. If you search for specific products on the google search, you will find some product ads in the results. These are the Google product listing ads. To display your products on Google Shopping, you'll need to connect your Google Merchant (product source) account with Google Adwords (bidding strategy) account.
But, the real source of your product information is your WooCommerce Store. To link your Google Merchant account with your WooCommerce, you can create feeds using ExportFeed plugin. Your product feeds created using ExpoortFeed are up to date with the products of your WooCommerce, and as Google Merchant fetches the product information from feed URL that you provide, your products displayed on Google Shopping are always up to date.
Export WooCommerce to Houzz
Houzz is another marketplace which specializes on a specific niche. It encloses product and services related to your complete house and industrial related needs. If you are selling products that fit under the mentioned categories, you shouldn't miss the opportunity to increase sales through Houzz.com. ExportFeed plugin installed on your WooCommerce will enable you to create Houzz product feed.
 Kitchen & Dining (Sinks & Faucets, Kitchen appliances, Cabinets etc.)
Bath (Bathroom & vanities, Showers, Bathtubs, Tiles, etc.)
Bedroom (Beds & Headboards, Beddings, Dressers, Nightstands etc.)
Living (Coffee and Accent tables, Rugs, Sofas & sectionals, Home decors, artworks etc.)
Lightings (Chandeliers, Pendant light, Flush-Mounts, Table lamps, Floor lamps etc.)
Furniture (Living room, Kitchen & Dining, Home, Office, Outdoor, bedroom etc. )
Decor (Rugs, Mirrors, Wall decors, Decorative accent, artworks etc. )
Home Improvement (Hardware, Tile, Bathroom, Fixures, Heating and cooling etc.)
Outdoor (Patio furniture, Outdoor Decor, Outdoor lightening, Pool and spa etc.)
Export WooCommerce to Kelkoo
Kelkoo is a comparison shopping engine. It started in 1999 and has been able to win the loyalty of European customers. Any WooCommerce shop owner who would like to enter or win a market share of the European market can benefit from this merchant. Sending your WooCommerce products to Kelkoo will not just help you to get your products into the European markets but will also keep your advertisement cost controlled.
Kelkoo also offers affiliate platform through Kelkoogroup.com to market your WooCommerce shop. If this platform seems interesting and beneficial to you, using ExportFeed plugin will allow you to create your product feed for Kelkoo merchant flawlessly.
Export WooCommerce to Newegg
Selling tech products through your WooCommerce shop? Newegg could be your sales booster. Make sure to match your WooCommerce product categories with these Newegg categories for appropriate listing and increased sales.
Computer Systems & Components
Electronics & Gaming
Networking & Office Solutions
Software & Services
Automotive & Industrial
Home & Tools
Health & Sports
Apparels & Accessories
Hobbies & Toys
Export WooCommerce to NexTag
Nextag is a comparison shopping engine which allows you to get referral traffic to your WooCommerce website. For sellers with the confidence that their products can beat the market competition, Nextag, Google Shopping and eBay seller platforms serve really well to increase sales.
As Nextag runs on a cost per click model, your advertisement cost expenditure is always under your control. Nextag also lists products categorically so you'll need to map your WooCommerce category to Nextag category when creating product feeds. ExportFeed plugin offers this and many more of such functionalities. You can start with the trial version of ExportFeed if you want to sell on Nextag starting today.
Export WooCommerce to PriceGrabber
PriceGrabber is also a comparison shopping engine that works on the CPC model. So this merchant allows you the flexibility to control your campaign cost completely. Also, it sends visitors to the product detail page of your site so it also increases the conversion as well as SEO value of your WooCommerce site.
Another plus point of sending your WooCommerce product feed to PriceGrabber is that alike eBay Seller, this merchant also keeps on experimenting and implementing its own marketing activities. It even sends weekly newsletters announcing Weekly Specials to the subscribers.  Getting your products sent by PriceGrabber is a certain way to increase sales. But, you'll need to send your product feed first using ExportFeed plugin.
Export WooCommerce to PriceFalls.com
PriceFalls is a marketplace alike eBay Seller. How? It offers to list your products by matching categories, displays best offers,  helps to get widespread reach. And the most common point between eBay seller and PriceFalls is that it allows online retailers to list products under Fixed price or create an Auction Listing. Here's how you'd typically list your products on PriceFalls:
At first, you have to decide whether you will go for a Dutch auction type of sale or Fixed Price selling.
The second step is usually to choose a category for your product. You can also list three subcategories for your product.
The third step is to provide a detailed description of your product. For eg.Title and Brand name.
The fourth step is to set a price for your product.
The fifth step is to provide a description regarding the payment procedure.
The process above will be time-consuming if you're listing more than 10 products. However, you can create product feed of up to 100 SKUs free of cost using ExportFeedd plugin.
Export WooCommerce to PriceRunner
Pricerunner is another comparison shopping engine which offers to list your WooCommerce products just like eBay seller does. But in contrary to the eBay seller, this merchant doesn't sell the products on its own platform, rather it sends the visitors to your site. This gives you the sales benefit with added SEO points for conversion through your site. The product categories which are popular in this eCommerce merchant at the time of revising this article are:
Sports and outdoors
Phones
Computing
Sound and vision
Small home appliances
Kids and family
Photography
Gaming
If you're looking to Export your WooCommerce products to PriceRunner, you can easily do that with ExportFeed plugin will meet the requirements.
Export WooCommerce to Pronto.com
Pronto is a search engine used for shopping products. One of the factors that it displays the search results is the payment by eCommerce site owner. If you are sending your WooCommerce product feed to Pronto, you can start by using ExportFeed plugin.
When sending your products to Pronto, for any category of products, there are 6 mandatory fields that you must send over. these are:
Title: The title of your product. This is automatically extracted from your WooCommerce product title when you are using ExportFeed plugin to create your Pronto product feeds.
Description: The product description is another mandatory field for all product categories when sending products to Pronto.  The product description (long) is automatically extracted in the product feed that you create using ExportFeed.
SalesPrice: The price value of your WooCommerce shop is used to provide the SalesPrice to Pronto. If you are using Regular Price and Sales Price, while creating product feed with ExportFeed, the lower price will be mapped to SalesPrice for pronto.
Condition: Default condition is the "new" and the other values that you can use on your WooCommerce Pronto product feed are "used" and "refurbished"
Category: This is the product category of your WooCommerce Shop that needs to be mapped with that of Pronto.
URL: This is also a mandatory value in Pronto feed and almost all other merchant feed including eBay Seller, Amazon, Google Shopping and other popular ones. This will also be extracted automatically when you are creating your Pronto a
 Export WooCommerce to Rakuten.com
Rakuten is one of the most popular marketplaces and is growing every year adding new functionalities to offer to the buyers and sellers. This marketplace accepts your product information and helps you grow your business. You can create your storefront in Rakuten as well as you can also advertise on this platform.
To launch your WooCommerce business on the Rakuten marketplace, simply install ExportFeed plugin alongside your WooCommerce and create your product feeds that match the exact specifications required by Rakuten.  The product categories that you can list on Rakuten are:
Electronics
Clothing, Shoes & Accessories
Home & Outdoor
Beauty & Personal care
Health
Sports & Fitness
Bags & Luggage

Toys, Toddlers & Baby
Pet Supplies
Media
Food & Beverage
Office Supplies
Automotive & Parts
Export WooCommerce to Shareasale.com & WebGains
Shareasale is one of the leading affiliate platforms. If you are interested in the promotion of your products through affiliate marketing then, ShareaSale is definitely the one you should go with. To expand your affiliate marketing campaigns, you can also add eBay Commerce Network, Webgains, and, Avantlink.
ExportFeed plugin offers specific features to create your product feed for ShareASale. It offers you to add merchant ID while you are creating your WooCommerce product feed. You can also exclude products or increase the price of products on your feed, and make more customizations as you feel necessary.
Export WooCommerce to Shop.com
If you are targeting to increase your business through the countries mentioned below, you cannot miss sending your products over to shop.com
United States, Canada, Mexico,
United Kingdom, Spain,
Australia,
HongKong, Taiwan, and Singapore.
Like, eBay Seller and Amazon companies use their own new experimental and proven marketing strategies to increase sales, this merchant also holds some of such tricks under the hat. The products that you send to sell.com are often times offered to the online retailers at a cashback of up to 50″ %. This almost always ensures sales for your product feed batch.  And with ExportFeed installed in WooComerce, listing your products to this merchant is almost effortless.
Export WooCommerce to ShopMania
Receive high-quality traffic for your site through this merchant.  In order to start the promotions of your WooCommerce products in ShopMania , you need to register a merchant account on the partner portal of this merchant. After that, you will be able to submit your product feeds which you create using ExportFeed. Here are the product categories that you can promote through ShopMaina:
Clothing,
CDs and DVDs,
Baby Products,
Computers,
Electronics,
Gifts,
Health and Beauty products,
Home & Garden products and
other categories.
Export WooCommerce to ShopZilla
Shopzilla is among the leading marketplaces that list your product making it available to numerous shoppers as well forwards your product feeds to other merchant sites as well. This way the product listed in ShopZilla gets more market exposure and generates more sales.
If you are looking to list your WooCommerce based products to ShopZilla, ExportFeed meets the entire product feed specifications while creating your product feeds.
ExportFeed helps you to

sell through 40+ merchants,

offers a free trial, and

provides a clear walk through to get you started quickly. So,