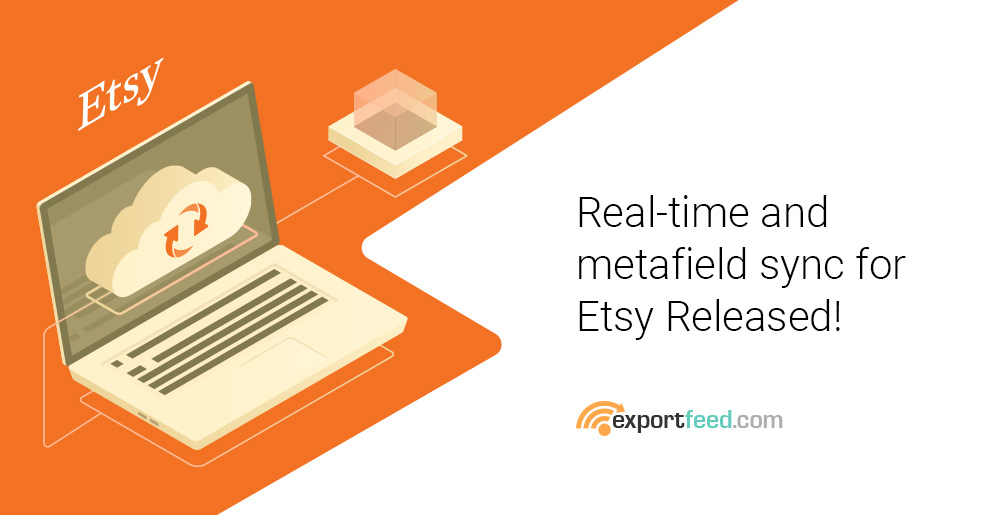 We're starting 2020 strong with a much-needed feature that has been requested by ExportFeed's customers for some time.
Our development team has been quite busy working on new features while making sure they're quality-tested very meticulously before releasing them. 
Let's dive right into it!
Real-time sync
ExportFeed customers will now be able to sync all of their orders and inventory in real-time instantly. Pretty self-explanatory. 
This will be a huge benefit for Shopify stores that have hundreds of thousands of products. You can be assured that you do not oversell or undersell because of slow sync time.
Pricing packages eligible for real-time sync
Since this is an exclusive feature that is suitable for bigger stores, we're offering real-time sync to two packages:
Super Seller ($89.99/month with 100k SKUs) and

Platinum Seller ($129.99/month with over 100k SKUs)
Metafield sync
ExportFeed is one of the first companies to roll out this exclusive meta-field sync feature.
It will not only help you stay visible across multiple search engines but also help you reach a significantly bigger audience and ultimately result in higher sales.
Here's what meta-field sync can fetch from your products and feed them to search engines like Google and Bing:
SEO title

Amazon bullets

Custom price

Google Schema support

Search engine friendly data
Pricing packages eligible for metafield sync
You will be able to enjoy the full benefits of ExportFeed's metafield sync feature with three packages:
Advance Seller ($59.99/month with upto 50k SKUs)
Super Seller ($89.99/month with 100k SKUs) and
Platinum Seller ($129.99/month with over 100k SKUs)
What if I am already subscribed to these plans?
You have nothing to worry about.
If you have purchased any of these eligible subscription packages, you will still be able to integrate the metafield and real-time sync feature through your existing dashboard.
Interested to learn more about these features? Get in touch with our support team and we'll set everything up in no time!