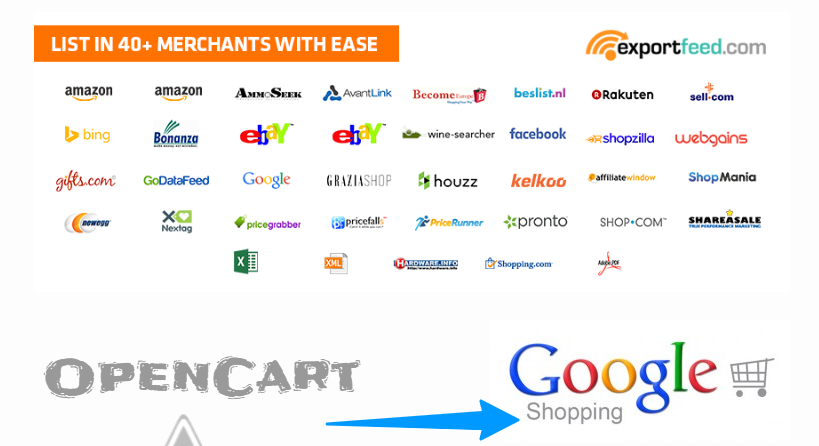 Google Shopping – http://www.google.com/shopping
(Google Merchant, Google Merchant Center, Google Merchant Shopping)
Export products from OpenCart to Google Shopping.  Export variations, product descriptions, product prices, pictures and images, sizes, colors and other product details from OpenCart with only a few clicks!
We can:
Export WooCommerce to Google Shopping
Export Joomla VirtueMart to Google Shopping
Export Shopify to Google Shopping
Export OpenCart to Google Shopping
Export WordPress ECommerce to Google Shopping
Exporting your items to an alternate merchant supplier is an extraordinary approach to offer more items, get more SEO value and widen your business sector mindfulness. The majority of our customers use 3-5 merchant suppliers to guarantee their promoting objectives are met. Typically this implies – Google Merchant, Amazon Seller, Bing Ads and a couple of others. Consider this, you have put much time and exertion into your shopping cart framework – why not widen its allure and usefulness – just by including our answer – typically in only minutes! Offer, showcase and advance in numerous different areas – all utilizing the same shopping cart framework you are utilizing today.
Also, we can also synchronize (sync) product information (all details, images, prices, inventory) from Y to other platforms.. For example:
Export OpenCart to Amazon Product Ads
Export OpenCart to Amazon Seller
Export OpenCart to AmmoSeek
Export OpenCart to AvantLink
Export OpenCart to Become
Export OpenCart to Bestist.nl
Export OpenCart to Bing! Ads
Export OpenCart to Bonanza
Export OpenCart to eBay Seller
Export OpenCart to eBay Commerce Network
Export OpenCart to Etsy
Export OpenCart to Facebook
Export OpenCart to Gifts.com
Export OpenCart to GoDataFeed
Export OpenCart to Google Merchant Shopping
Export OpenCart to Houzz
Export OpenCart to Kelkoo
Export OpenCart to Newegg
Export OpenCart to NexTag
Export OpenCart to PriceGrabber
Export OpenCart to PriceFalls.com
Export OpenCart to PriceRunner
Export OpenCart to Pronto.com
Export OpenCart to Rakuten.com
Export OpenCart to Sell.com
Export OpenCart to Shareasale.com
Export OpenCart to Shop.com
Export OpenCart to ShopMania
Export OpenCart to ShopZilla
Export OpenCart to WebGains
Export OpenCart to PDF
Export OpenCart to XLS
Export OpenCart to CSV
Export OpenCart to Text